BE Recognized As Global Leader In 5-Star Reviews, Awarded By Business For Home
April 28, 2023
By Team Business For Home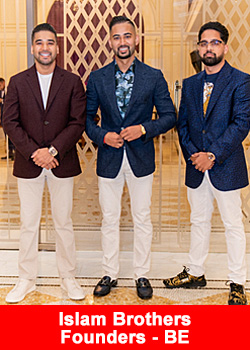 With close to  1,000 reviews,  an important part of the Business For Home Momentum website metrics, BE took the Nr. 1 position
The prestigious Business For Home organization has just announced that BE has been crowned the Global Leader in 5-Star Reviews, a testament to the company's commitment to delivering outstanding customer experiences. This remarkable achievement highlights BE's dedication to excellence and its successful efforts in garnering an abundance of positive feedback from satisfied customers worldwide.
BE has consistently demonstrated its ability to meet and exceed customer expectations, resulting in an unprecedented wave of positive feedback from clients who appreciate the quality of services provided. This achievement underscores BE's devotion to constantly refining its offerings and adapting to the ever-changing needs of its diverse clientele.
BE's ecosystem offers several financial opportunities to members, creating several streams of income under a single umbrella. The company's products and services span various industries, all of which the members can tap into, including the financial market, immersive virtual world, and online marketing.
The key to BE's success lies in its customer-centric approach, which focuses on understanding and addressing the unique needs of each client. This attentive strategy ensures that customers receive tailor-made solutions that not only meet their requirements but also exceed their expectations. In an industry where competition is fierce, BE's commitment to excellence has set it apart from its rivals and propelled it to the forefront of the global market.
In response to the award, the leadership team at BE expressed their gratitude to Business For Home and emphasized the role of their customers in this extraordinary accomplishment. The company's management acknowledged that their customers' trust and continued support have been instrumental in driving BE's growth and propelling it to new heights of success.
"On behalf of BE's founding team, we—Monir, Moyn, and Ehsaan Islam—would like to express our heartfelt gratitude for this prestigious recognition from Business For Home. We are truly humbled and honored to be named the Global Leader in 5-Star Reviews, an award that underscores our commitment to customer satisfaction and the pursuit of excellence.
We would like to extend our sincere appreciation to our valued customers for their unwavering trust and support. It is your positive feedback and satisfaction that have driven us to continually strive for excellence in everything we do. Your experiences with our products and services have been instrumental in shaping the growth and success of BE, and we are profoundly grateful for the opportunity to serve you.
We also want to acknowledge the hard work, passion, and dedication of our incredible team at BE. Without their tireless efforts and commitment to our vision, we wouldn't have been able to achieve this monumental milestone. They have been instrumental in delivering the exceptional quality and service that our customers have come to expect from us.
As we celebrate this significant achievement, we remain focused on our mission to provide unparalleled value to our customers through our innovative offerings and exceptional customer experiences. We pledge to continue pushing the boundaries of excellence in our industry and to explore new opportunities that will benefit our customers and partners.
BE Founders With Ted Nuyten BFH

Once again, we extend our deepest gratitude to Business For Home, our customers, and the entire BE team. This award is a testament to our collective efforts and serves as a source of inspiration for us to continue striving for greatness.

Thank you for your continued support, and here's to a future filled with even more successes and milestones together."
As BE celebrates this significant milestone, the company remains steadfast in its dedication to excellence and its unwavering focus on delivering outstanding customer experiences.
About BE
BE is a next-generation ecosystem made up of a unique concept of 'Live & Learn' which includes e-learning and travel platforms with a comprehensive set of tools for independent business owners.
The BE ecosystem uses artificial intelligence technology, to offer a decentralized, transparent, and empowering space for people from all walks of life, regardless of their educational or financial background, to build their very own multimillion-dollar business from their smartphone.
For more information, please visit www.be.club
Recommended Distributors BE