Bravenly Global Achieving Strong Month-Over-Month Growth In 2023
April 30, 2023
By Team Business For Home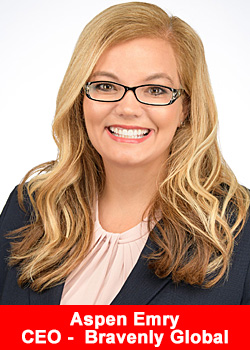 Bravenly Global has grown exponentially over the past 12 months (700% increase to $8 million in sales) and continues to grow each month in 2023.
The two-year-old USA-based healthy lifestyle company achieved strong month-over-month sales growth in January, in February, and in March 2023; over the last two months, Bravenly experienced over +60% growth.
The company reported 80% Customer-to-Distributor ratio, with over 70% of their monthly revenues coming from Customers' orders and re-orders.
CEO Aspen Emry shared:
"When my husband Brent (COO) and I started Bravenly a little over two years ago, we wanted to change lives and bring value-packed, craveable products that really work, coupled with an opportunity that has a positive, empowering impact on families' lives.

It's so rewarding to see tens of thousands of people enjoying these results-driven products, and hear the wonderful, heartfelt stories of people that love how they're feeling better and restoring their optimal health."
 Bravenly recently launched their new Pina Colada Rush Extreme, an all-natural beverage designed to deliver healthy essential energy, vitamins, laser-focus, boost mood, and on-point appetite control, and tastes like a delicious pina colada; this new nootropic drink quickly became one of the top-selling most popular products ever launched.
The company's product line now totals 16 healthy lifestyle products, with a 17th new breakthrough product on the way, to be launched over the coming months.
These much-loved, consumer-friendly products are paired with an extraordinarily generous and modern compensation plan that allows Brand Partners to earn a substantial income, even from simply building a customer base, paying out between 55% to 59% – ON THE DOLLAR.
Bravenly Global was ranked #12 in the Business For Home Top Direct Selling Compensation Plan 2023 poll, which included 750 companies and was voted on by over 30,000 people globally.
Several months earlier, Bravenly was also #14 in the most recent Business For Home Top Direct Selling Companies 2023 poll, which included 220 companies and was voted on by over 47,400 people globally.
Bravenly's Brand Partners are also excited about the company's first-ever incentive trip this June to the luxurious, all-inclusive Jewel Grande Montego Bay Resort in Jamaica.
Ashley Walmer, Vice President of Field Development for Bravenly, shared:
"Our Bravenly community continues to grow by leaps and bounds! Our newest products, our life-changing events and our outstanding incentives are ground-breaking and attractive to so many.

Our best-in-class training, tools, coaching and content are the most comprehensive in our space right now, that are produced and maintained by corporate; that way, our field leaders don't get burned out trying to create them all on their own. And they're 100% free to every Brand Partner."
Aspen added:
"We're happy and proud that so many incredible people have chosen Bravenly as their home – with many more to come, as we experience this exceptional growth each month! In times like these, people are choosing faith over fear.

Bravenly is a safe haven, a rock where entrepreneurs can confidently plant their flag and build their futures together in a community of like-minded people, based on friendship, family values, fairness, faith, fun, transparency and collaboration. We're grateful that we can create a generational impact for many years to come, together."  
About Bravenly
Bravenly Global provides a superior suite of healthy, crave-able lifestyle products that produce results, re-orders and a ripple-effect, paired with a generous, multi-faceted, revolutionary compensation plan, and supported by unmatched tools and training for modern social marketers.
Whether you're joining us as a Customer, an Ambassador (affiliate), a brand new Brand Partner, or a proven industry leader, Bravenly offers unmatched value, rewards and success at every level. Privately-owned, debt-free, and dedicated to transparency, integrity, faith, fun and family values, Bravenly Global is dedicated to its mission of positive impact and growth in countless lives across North America. To learn more, visit www.bravenlyglobal.com
Recommended Distributors Bravenly Global