Global Network Marketing Industry Leader, Doan Duc Dong Joins QuiAri
May 7, 2023
By Nicole Dunkley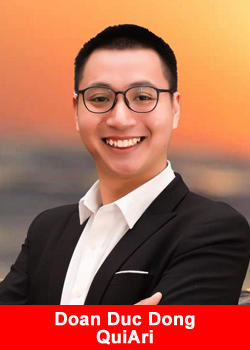 While most 25-year-olds are still trying to figure out their purpose in life, QuiAri Champion Promoter, Doan Duc Dong has been busy building a global empire. He got into the Network Marketing Industry early on, while he was still a student.
Doan Duc fell in love with the business model of helping others to achieve success. He recently joined QuiAri because he loves the products and wants to be part of helping millions of people around the world achieve their dream lifestyle.
"I grew up in the country – born into a poor family. All I had were big dreams, but in the Network Marketing industry that's all you need to get started. 

I joined not knowing anything about the business, but I was eager to learn and worked very hard. When I was first introduced to QuiAri, I felt excitement, sincerity, and complete love.

This is a company that is in business for all the right reasons. They want to help people improve their health and achieve their dreams, which aligns with what I do best.

I decided to commit myself 100% to the business, following every training guide, and the weekly Live Events hosted by our Founder & CEO, Bob Reina. In just 5 months at QuiAri, I achieved the rank of Champion,"
stated Doan Duc Dong.
Doan Duc Dong went on to say that in his experience in the Network Marketing Industry, he has never seen a Compensation Plan pay commissions in under 5 minutes around the world.
QuiAri has been the first and only company to do so ever since they opened for business in October 2019. Doan Duc also said he takes QuiAri's antioxidant supplements every single day and could feel a difference right away. 
"I didn't know much about the Maqui Berry before QuiAri, but I was excited to try the products.  In the first 2 months, QuiAri Shake and Energy helped me lose 11 pounds.

I don't even know where the fat went. I was still eating normally, just once a day and smaller portions because I always felt full.

I didn't have to give up the foods I loved. In fact, I can now comfortably eat them without overeating.

All I did to get to this point was drink a delicious shake daily, take 1-2 Energy tablets, and that's it. I've sampled QuiAri's new product, Prime Gel, and I can't wait to make that a part of my routine,"
said Doan Duc Dong.
The world has been patiently waiting for the release of the 3rd product in their line of antioxidant-rich supplements. It's called Prime Gel, a delicious blend of scientifically proven, proprietary ingredients chosen specifically for their anti-aging antioxidant levels, nutritional profile, and tantalizing taste.
In addition to Maqui Berries and QuiAri's proprietary Maqui Berry extract, MaquiX®, Prime contains an exclusive YouthX Blend – S.O.D, Resveratrol, and Pterostilbene – which helps repair free radical damage, protect cells against future harm, and reverse the signs of aging.
Doan Duc is preparing his teams for the launch of Prime. QuiAri's Founder & CEO, Bob Reina, has generously shared weekly updates about the launch and offered sneak previews new Marketing and Training materials that will help Doan grow his business.
Doan Duc believes that the momentum generated from the new launch could help him to the very top rank of the Compensation Plan – Purple Diamond. 
"I'm very excited and happy to be one of QuiAri's most successful Leaders.

My dream is to reach my personal sales goal of 1,000,000 meals globally.

It's mostly for peace of mind. That would be quite a bit of lives transformed, and the thought of it makes me happy.  Achieving this goal would also help generate extra income for the 10,000+ people on my team.

That makes me feel pretty good, too! It can be done. We have outstanding Support at QuiAri, and our momentum is growing every day,"
said Doan Duc Dong.
As a Champion Promoter, Doan Duc receives very generous rewards – a Rank Advancement Bonus paid instantly, higher Team Commissions and Matching Bonuses, and he is one rank away from earning a Lifestyle Bonus. 
"I have to thank Bob Reina and the Executive Team for creating such an incredible product and generous Compensation Plan as well as my Teams, Doi Nhom Vo Dich and V.System.

It's an honor to be part of one of the fastest-growing companies in the world. In the next 5 years or so, my dream is to create at least 20 Diamond-level Promoters.

As long as we stay focused on the mission and follow the step-by-step instructions in the Purple Diamond Training Guide, there is nothing stopping us from reaching our goal,"
stated Doan Duc Dong.
To learn more about QuiAri, their products, and the opportunity to become a Promoter, visit https://quiari.com/en, or follow them on social media @QuiAriOfficial.
About QuiAri
QuiAri is the #1 health and weight loss movement in the world today. Featuring exclusive, breakthrough products (QuiAri Shake and QuiAri Energy) featuring the world's new #1 superfruit, the Maqui Berry, people everywhere are losing weight, boosting their energy levels, and improving their health. What started as an idea has now become a worldwide phenomenon, gaining a passionate following in over 100 countries. But that's not all! We boast an exciting opportunity to promote QuiAri products and earn commissions within 5 minutes after each sale through industry-first, state-of-the-art payment technology. Combining unrivaled products with the fastest payout, the fastest cycling binary, and one of the highest-paying compensation plans in the industry, there's no doubt QuiAri is helping people live healthier, happier lives. To learn more, please visit quiari.com.
These statements have not been evaluated by the Food and Drug Administration. These products are not intended to diagnose, treat, cure, or prevent any disease.
Recommended Distributors QuiAri