Stefan Kassing Named iGenius Director of Global Education
June 16, 2023
By Nicole Dunkley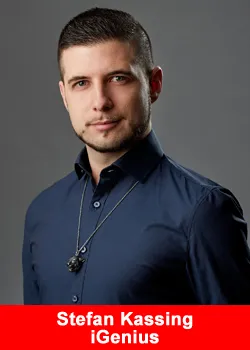 Stefan Kassing recently accepted the position of Director of Global Education at iGenius. With his new role, Stefan will be responsible for developing and implementing the global education strategy for iGenius.
He will lead a team of education experts who create innovative and high-quality learning content and experiences for iGenius customers. Stefan will also be involved in designing and delivering internal training and development programs for iGenius' educators.
Stefan Kassing is thirty-three-years-old and is from Trier City in Rhineland-Palatinate, Germany. In 2014 Stefan got married and he and his wife have welcomed two beautiful sons into this world. The birth of his first son kickstarted the beginning of his career as a trader. 
Stefan said,
"For me, trading is the best way to achieve financial freedom. It's a personal challenge that puts personality factors such as perseverance, determination, self-awareness, and confidence to the test. 

The combination of personal development and financial success is unique. I've always felt responsible for my own life and I've always had a kind of authority issue that forced me to create my own environment.

Trading has helped me find my place in society."
President of iGenius, Chad Garner, said the following about Stefan and his new role,
"We are very excited to announce Stefan as our Director of Global Education. We believe that he will add tremendous value to our team.

Stefan has an impeccable understanding of the markets and is a great educator.

We believe his strengths and consistency are exactly what we need to bring the iGenius education to the next level."
Stefan is a highly valued trader and educator. He has a great performance record with trading and is very well known out in the field. When asked why he chose to put his roots down with iGenius he said, 
"For me personally, the biggest difference between iGenius and all the other companies is that we are strictly regulated by our parent company, Investview.

I have to have a legal basis for everything, so we don't get attacked from the outside. Otherwise, all my work to date could be destroyed in the future.

I don't want to be legally vulnerable. With this base, I can give 100% and not be afraid."
Stefan's main focus is to create an educational environment where everyone, everywhere, in every language, enjoys and succeeds. His goals with his new role as Director of Global Education are to add and implement new products that will give great value to the iGenius platform.
Stefan wants to improve the infrastructure between the distributors and corporate team so that the onboarding process is easier. Ultimately, Stefan wants to take iGenius to its absolute limits so that iGenius members experience the best of the best.
Stefan is excited to join the iGenius corporate team. He feels like even though the iGenius platform is already quite solid and successful, he will have a great impact and help strengthen the educational foundation. 
Insta: stefan_kassing_official
About iGenius
iGenius helps members amplify their quality of life by providing leading edge financial tools, education, and opportunities. iGenius can help you take control of your future and start living brilliantly. For more information about iGenius, visit: www.igeniusglobal.com.
iGenius LLC is a wholly owned subsidiary of Investview Inc., (OTCQB:INVU), a public company. For more information on Investview and the ability to participate in Investview's growth, please visit investview.com or email [email protected].
Recommended Distributors iGenius