The Power of Persistence: Jennifer Hyder's Journey to Legacy Leader at Beyond Slim®
June 27, 2023
By Nicole Dunkley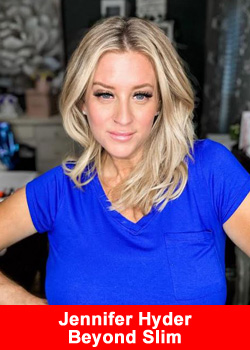 Jennifer Hyder exemplifies the true essence of resilience. The Vested Legacy Leader has achieved over 8 million in lifetime sales in the direct selling industry and has attained more than $500,000 in team sales with Beyond Slim in less than 6 months. Nevertheless, her success did not come without hardship.  
Jennifer shares,
"From ashes, you rise. No matter how far you can be knocked down, you can truly stand up again."  
After a difficult divorce, Jennifer found herself with nothing but suitcases, a minivan, and the responsibility of raising her three sons. Jennifer then embarked on her entrepreneurial journey after joining her current husband in opening three of their own restaurants. However, in 2018, they faced the devastating loss of their entire life savings when the business failed through no fault of their own. 
When most would have given up, Jennifer made the brave decision to fully immerse herself in the direct selling industry. With hard work and unwavering determination, Jennifer was able to fully support her family in just six months.  
"I realized the power that this business could have. Something that I love about this industry is how it works around you, not the other way around." 
Fast forward, Jennifer had left her previous company and eagerly join the Beyond Slim community after falling in love with the taste and phenomenal effects of ZipSlim®. Jennifer believes that the drink has enabled her to make a long-desired shift in her health and lifestyle.  
"At 50 years old, hormones and stubborn weight can be a very difficult thing. [ZipSlim] has been able to fuel my body with the ingredients I've needed in my system for a long time. For me, the weight loss is just a happy side effect because the energy and how my body feels every day is more than I could've asked for." * 
Jennifer has always been cognizant of what she's putting into her body. With ZipSlim, she has no uncertainty about the quality of the product or the science behind such life-changing results.  
"I believe in Beyond Slim because it works. It's a simple product that just makes sense. I know what we have here. And hands down, I know what we have is the best." 
Jennifer has witnessed the impact of Beyond Slim not only for herself and her family but for those who she has introduced to the industry. The part she has enjoyed the most is seeing those who trusted her thrive right along with her.  
"It's not just me. It's not just the leader that it's all happening for. It's the people on my team. Their success is a big deal to me." 
Beyond Slim has changed the trajectory of Jennifer's family. Not only does she feel more comfortable in her own skin, but she has more energy to spend quality time with her children.  
"What motivates me every day is knowing that what I couldn't do six months ago, I could do today. We've been able to do things that we've never been able to do before." 
The Beyond Slim community has a special place in Jennifer's heart. She is happy to have found a home where members of all positions and levels have the opportunity to win.  
In the upcoming months, Jennifer is looking forward to being more present in her kids' lives now that she has the freedom to do so. As momentum continues to build around Beyond Slim, Jennifer is thrilled to grow with such a strong community and watch the increasing success of those who trusted in her message!  
*Fifty overweight people (BMI 28-36) using a key ingredient in ZipSlim™, along with a lower calorie diet (1350 calories for women/1850 calories for men), lost 30 pounds in just 13 weeks, compared to just 10 pounds for those following the lower calorie diet alone. 
Recommended Distributors Beyond Slim