The Spellbound Co. From The Uk Launches The TLC Travel Lifestyle Club
June 27, 2023
By Team Business For Home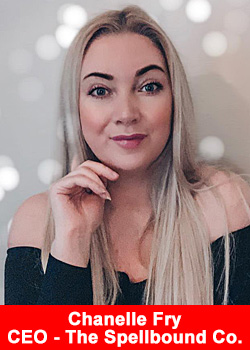 "The Spellbound Co." from the UK, has just made an exciting announcement of entry into the service space with a bold new offering "TLC Travel Lifestyle Club" to their existing product range.
CEO and Creative Director, Chanelle Fry comments:
"Until now Spellbound has released many beautiful products from hand-poured candles, Rose Quartz infused skincare, empowerment clothing, our famous crystal Elixir water bottles through to bath and body items which we hand-make in the UK.

As the only Self-Care Direct Sales company, we are proud of our company pillars of Self-care, Empowerment, and Ambition. We are delighted to enhance our offering and expand internationally with our forthcoming launch this July and introduce 'TLC' the Ultimate Travel & Lifestyle Club."
The launch of TLC this July, initially in the UK and USA, encapsulates the company's mission and will extend its offering into a world-class system of wholesale travel pricing, exclusive lifestyle amenities, and global experiences. TLC has been designed to assist modern travelers with an unbeatable system to enable them to "Save More, Travel More & Learn More".
With its low-cost membership model, members can access vast wholesale pricing on over 1.5 Million hotels, Villas and Apartments, cruises, activities and more. TLC will consist of a Tier 2 membership, from Visionary to VIP level, both including access to Travel Lifestyle Academy, a program of education including business, social media training, wellness and spiritual coaching.
Spellbound and TLC are created by Chanelle and Terry Fry who have extensive experience within the travel space, pioneering a movement and achieving Top Leader status within the industry themselves, prior to launching The Spellbound Co. in 2022.
On the forthcoming launch, Chanelle said:
"We are so excited to share the heart of Spellbound's mission now through TLC. It's the perfect way to bring together every aspect of personal growth, empowerment, and ambition under one roof.

We believe that travel is food for the soul and enriches our lives and well-being greatly. This paired with the Academy program included within the club brings a new holistic but powerful enhancement to our Ambassadors and Customers, and we anticipate many lives to be positively impacted and enriched through the club."
TLC Travel Lifestyle Club launches this July, available in both the UK and USA market for those wanting an experience like no other. For more information please speak to an existing Ambassador.
About The Spellbound Co.
Chanelle Fry, co-founded the company, and is a Mum from London, UK. One of the top Network Marketing Female leaders in the industry, international speaker, trainer and Business Coach with a huge focus on freedom, travel and helping women create passion led businesses.
Caroline Ray, Mum to Chanelle, has had a long, successful career in education and previously worked in media.Our candles hold power in their intention, in their beauty and craftsmanship.
But this is a brand that will be bringing you more and more, we aim to push the boundaries. Just like we do in our lives, we don't settle. We believe in a life of evolution, growth, support and positivity. For more information please visit www.TheSpellboundCo.com