Vision Show by One More International
June 27, 2023
By Nicole Dunkley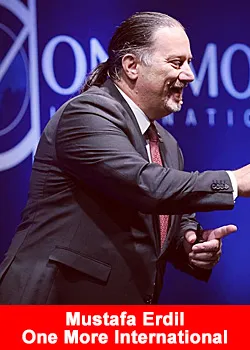 Vision Day, which was held for the 7th time this year, took its place in the memories with another magnificent organization!  
This magnificent organization, which is held twice a year, continues to make an impact in the network marketing sector every time. It continues to be the signature of One More International with career ceremonies, expert speakers, impressive shows and many more.  
The opening speeches at Vision Day 7 event, held at the enchanting Antalya EXPO Center, were delivered by Global President Mustafa Erdil and Global 2nd President Sevcihan  Saygılı Erdil. 
Alper Volkan Karpuz, the Chairman of the Executive Board, gave a presentation explaining the vision of One More International and introducing the World Travel Qualification. 
The presentation received a lot of attention from the audience. During the presentation,  Karpuz announced that members who meet the necessary requirements will be given a trip to the Brazilian Rio Carnival. This proves that One More International is a global brand that values its team. 
Vision Day 7 stage continued to bring together famous names with the industry. Ms.  Saadet Şen, a world-renowned motivational speaker and Specialist Doctor Çağlar Karpuz gave a wonderful presentation to the audience.
Along with these two individuals, whom we spent productive time within both motivation and the industry, there were new songs by DJ Elize and Nehir Karabulut that were specially prepared for One More International. The songs are titled "Hug Life with One More!" and there were also enjoyable and enthusiastic dance performances that were specifically prepared for Vision Day 7. 
One More recently launched a brand called Pawsy by One More, along with three new products. To showcase these products to users, a professional theater team prepared a play.  The launch event, which was intended for animal lovers, featured a talented dog who accompanied the actors and won the admiration of the audience. It was an enjoyable and proud moment, both for the actors' accomplishments and for the deserving individuals taking the stage.  
The One More family is eagerly anticipating Vision Day 8, but they will likely continue talking about this unique day for some time to come.
About One More International
One More International is a group of companies based in Turkey, Istanbul, with companies in 19 countries around the world, selling wellness products produced with TTS technology to the world. It aims to be the right platform for professionals who want to establish a global Network Marketing organization.
One More International, which has been in a steady growth trend since 2014, wants to further increase its global growth rate with Vision Day 7. Today, One More International trades with 107 countries of the world. For more information, please visit onemoreinternational.com