Beyond Slim® Launches Beyond Slim University 
July 21, 2023
By Team Business For Home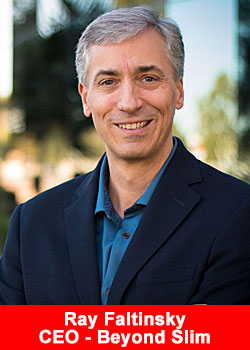 Where Education Meets Success
Beyond Slim®, the Social Referral Marketing® company, is taking Social Referral Marketing education and success to a whole new level with the launch of Beyond Slim University™ (BYSU). This unique training program is designed to empower Coaches and Influencers of all levels. Whether you're a seasoned pro or just starting out, BYSU offers comprehensive training, strategies, and tools to help you succeed in your Beyond Slim business.
"We've had 10 straight months of double-digit growth and that's been prior to the launch of BYSU."
Ray Faltinsky, Founder and CEO of Beyond Slim stated:
"I can only imagine with the next 10 months are going to look like with the launch of BYSU.  Our future is unlimited."
Led by Shelley Watson, Sales Force Motivation and Development Director at Beyond Slim®, BYSU takes education and training for Coaches to the next level.  With Watson's 30 years of direct sales experience and a master's degree in Educational Leadership, coaches can tap into a wealth of knowledge and gain insights into the most effective ways to build and grow their Beyond Slim business.
Shelley Watson, an experienced online curriculum designer says:
"BYSU is not your average training program – it's a dynamic learning management system that has been designed to feel like taking a college course in Social Referral Marketing.  have made sure BYSU accommodates all learning styles, even providing closed captioning for our deaf community. This is truly a one-of-a-kind program in the industry."
So, what can you expect from BYSU? The program features training on everything from using the virtual office to extensive product training, and it even teaches you how to run your business entirely from your phone. And as if that's not enough, top industry leaders also provide personalized advice, tips, and training. It's like having a team of experts right at your fingertips. The best part is that BYSU is included for free as part of the Beyond Slim Coach enrollment fee.
BYSU also offers advanced courses that dive deep into the Reboot 66 System and Scientific Studies by Dr. Mark Drucker, MD. Plus, you'll get insights and a Verified Coach Course from Franz Snideman, the former trainer to Tony Robbins.
Watson herself guides Coaches through a detailed look at the Beyond Slim compensation plan as well as developing good leadership skills. Rachell Kellogg, Vice President of Sales and expert in team development, will also share her expertise on how to successfully start and build a Beyond Slim business. These courses are a must-have for anyone aspiring to start a Social Referral Marketing business or looking to take their existing business to new heights.
Rachel Kellogg says:
"Having a foundational learning tool like this will free up a leader's time to focus on building and growing more leaders. Growing leaders is where everyone wants to be, it's just hard when you have to spend so much time onboarding or answering the same questions over and over. BYSU will bridge this gap and set all our coaches up to run."
To bring the BYSU experience to life, Beyond Slim has partnered with Verb Technologies. This dynamic learning management system seamlessly integrates with the multimillion-dollar business builder app, enhancing the learning experience for coaches like never before. "It has been a pleasure working with Beyond Slim and supporting their impressive growth,"
JJ Oswald, Senior VP of Sales for Verb Technologies stated:
"Adding our training and onboarding features to the app will support Beyond Slim's momentum by creating a simple, intuitive, gamified learning environment for their Coaches.  I am excited to see the impact of improved duplication and retention on their business"
With BYSU, Beyond Slim is not only committed to helping experienced entrepreneurs but also aims to assist the 90% – those who may not have prior experience in building a Social Referral Marketing company but are eager to learn and grow.
And the rewards don't end with knowledge and skills. Upon completion of the program, coaches will receive badges, certificates, promo codes, and exclusive BYSU branded merchandise. It's just another way Beyond Slim is showing their appreciation and support for coaches who invest in their own success.
Beyond Slim University is not just a training program – it's a game-changer. It's designed to conveniently and swiftly provide coaches of all levels with the right skills and strategies to build and grow their Beyond Slim business. With the top-notch training, tools, and expertise BYSU provides, coaches can rise to new heights in the industry while leading a fitter, healthier, and happier lifestyle.
About Beyond Slim
At Beyond Slim, nothing is more important than our mission to help millions of people become Fitter, Healthier, and Happier. The science behind ZipSlim® speaks for itself, and the care that has been put into our Metabolic Reboot will help you build lasting, healthy habits.
When it came time to decide how best to take this mission to the world, we decided to put people first, innovating an entirely new model we call Social Referral Marketing™. Find out more about Beyond Slim and its amazing product, ZipSlim at www.beyondslim.com
Recommended Distributors Beyond Slim