Direct Sales Industry Veteran, Om Prakash Singh Joins QuiAri
July 29, 2023
By Nicole Dunkley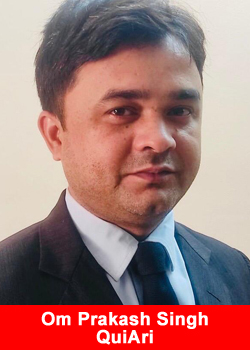 Global expansion has been an important part of QuiAri ever since they decided to open for business in late 2019.
Even back then, QuiAri was just as ambitious as they are today, and their global success proves that following old MLM traditions simply will not work for a company built around speed and success.
QuiAri Promoter, Om Prakash Singh, a 13-year industry veteran from Ranchi, India said that he liked QuiAri for being ahead of their time, and especially liked their Founder & CEO, Bob Reina from the very beginning.
"I was with another company when I first heard about QuiAri but I remember being very impressed – global commissions paid in 5 minutes, products featuring the new #1 superfruit, Maqui, and a very successful Founder & CEO on a mission to help people look (and live) their best.

I joined part-time as a Promoter to try it out, and quickly realized I was missing out on a huge opportunity by not working my business full-time. I decided to go full-time, and I'm so happy I did. QuiAri has exploded all over India and the rest of the world.

It's not just in the big cities. Even smaller towns in India know about QuiAri and are curious to learn more.  Now with the recent global release of QuiAri Prime, there is even more momentum in India. I set a goal for myself to help countless people achieve their physical and financial goals in the next few years,"
said Om Prakash Singh.
QuiAri Prime is a new gel product that contains a delicious blend of scientifically proven proprietary ingredients with potent anti-aging antioxidant power and an exclusive "YouthX Blend" featuring S.O.D., Resveratrol, and MaquiX®, a proprietary Maqui Berry extract that boosts the antioxidant power of the berry up to 10 times.
Om said he is lucky to have joined QuiAri as he is one of the first to introduce Prime to India and the 100+ countries the company serves. He said he has been successful in promoting QuiAri Shake and Energy and his commissions are paid in 5 minutes or less.
"Every MLM product is a so-called 'game-changer,' but QuiAri has science that proves it is like nothing the industry has ever seen.

QuiAri's Scientific Advisor, Dr. Juan Hancke, is the #1 Maqui Berry expert in the world. He helped develop the products.

The shake, available in chocolate or vanilla, tastes incredible – no grit, no chalky aftertaste, and the Energy tablets are smooth. No jitters or crashes.

Prime is the same – sweet, delicious, and full of antioxidants to help with aging. I love QuiAri products so much and I have felt the difference,"
said Om Prakash Singh.
Aside from QuiAri products being unique, Om said the Opportunity entices many Prospects to join. 
'5-Minute Pay is exciting because you just don't hear of it anywhere else, but that is not the only reason why my Team has grown so quickly. There are 7 different ways to earn commissions and lots of support from top leaders.

They all help new Promoters get their businesses off the ground quickly. That includes support from Founder & CEO, Bob Reina. Bob is a fantastic CEO that loves helping both Customers and Promoters whenever he can.

For example, Promoters or Customers that sign up for AutoDelivery can get up to 28% off, which is one of the most generous discounts I've seen. For Promoters, Bob will not hesitate to give up his time or resources to help you succeed.

The latest QuiAri Prime launch is the perfect example. As if a groundbreaking, new product wasn't enough, we also received new and redesigned marketing, videos, training guides, websites, Portal, and more – all for free. He wants us to have every advantage to get to the top,"
said Om Singh.
Although Om specifically called out Bob for his kindness, he said that everyone he has met at QuiAri has been generous with their time and helpful. 
"I get to work with great people every single day that are here to help. Even leaders, like Super Star Promoter, Prashant Rao, are eager to help me learn and grow.

I shouldn't be surprised, since QuiAri is known for having fantastic support, but it does make a difference in my productivity and performance.

I'm happy to be here, and I like to work. It doesn't feel like a job to me. It feels like a family,"
stated Om Singh.
As everyone knows, big dreams require a big opportunity. QuiAri certainly overdelivers when it comes to the opportunity. Om said he is very optimistic about the future at QuiAri. 
"I believe a company that cares this much about people is destined for success and will have a positive impact on the world. I'm having fun, my business is growing, and I'm creating a legacy for my family. There is nowhere else I'd rather be than QuiAri,"
said Om Singh.
To learn more about QuiAri, their products, and the opportunity to become a Promoter, visit https://quiari.com/en, or follow them on social media @QuiAriOfficial.
About QuiAri
QuiAri is the #1 health and weight loss movement in the world today. Featuring exclusive, breakthrough products (QuiAri Shake and QuiAri Energy) featuring the world's new #1 superfruit, the Maqui Berry, people everywhere are losing weight, boosting their energy levels, and improving their health. What started as an idea has now become a worldwide phenomenon, gaining a passionate following in over 100 countries. But that's not all! We boast an exciting opportunity to promote QuiAri products and earn commissions within 5 minutes after each sale through industry-first, state-of-the-art payment technology. Combining unrivaled products with the fastest payout, the fastest cycling binary, and one of the highest-paying compensation plans in the industry, there's no doubt QuiAri is helping people live healthier, happier lives. To learn more, please visit quiari.com.
These statements have not been evaluated by the Food and Drug Administration. These products are not intended to diagnose, treat, cure, or prevent any disease. Please note the QuiAri business opportunity offers unlimited income potential. However, QuiAri makes no guarantee of financial success. Success with QuiAri results only from successful sales efforts, which require hard work, diligence, skill, persistence, competence, and leadership. Your income will depend upon how well you exercise these qualities.
Recommended Distributors QuiAri