A Founding Member In Network Marketing: Good Or Bad?
August 1, 2023
By Team Business For Home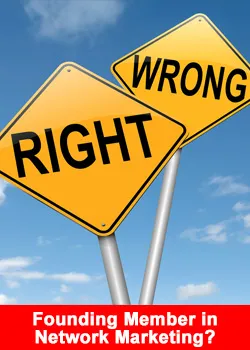 Several Network Marketing or MLM Start-ups offer a "Founding Member" package. The definition of a founding member:
A founding member refers to an individual distributor that is instrumental in the establishment or creation of a company. These individuals or are involved in the early stages of a Network marketing company's formation and play a significant role in its inception and development.
They might have capital, expertise, or other resources to bring the company into existence. Founding members often have a unique status within the company and may have specific rights, responsibilities, or privileges as a result of their foundational role.
Overall, founding members are key stakeholders in the early stages of an entity's formation, and their contributions can have a lasting impact on its development and success.
Founder package offerings can be a way to fund a start-up, however according to our community that is not the way to go.
Most products based start-ups in the direct sales marketing channel need somewhere between $5-$15 million to finance the first 3 crucial years.
We asked our large community of Network Marketing professionals about their opinion and experiences:
Jenny L. from the USA:
"I was a Founding Member of a company and I am glad I did. I received a quarterly bonus that was six figures. Founder programs are optional and not mandatory. If someone a is serious and wants to help pioneer a new company it's a beautiful program."
Sven G. from Switzerland:
"Founding Member = strategical with extra benefits -> OK Founder Packs = Cash collect -> run!"
Rachel K-K from the USA:
"If an MLM company asks the field for money… it's not a good sign… run! I believe the idea of "founding members" should be the ones who build the foundation of the culture in a new company."
James L from the USA:
"Never pay for a founders pack – that equates to the company isn't well funded and they need your money to launch!"
Laura L. from France:
"It depends if the founder package is only available at the beginning of a company / market or if it's "surprisingly" back for every black Friday…"
Jordan K. From the USA:
"It's usually some sort of bonus pool on the override of company sales in the future. This is in exchange for helping create that initial momentum when the company is still considered high risk (no proven track record). Helps the company early and hurts them in the long run."
Rob H from Australia:
"Founders Kits are just a grab to boost the cash flow as the founders do not have enough money to fund the start up of a brand new networking company! Buyer be very aware. This does not work. Take a look at the MLM history and all the companies that are no longer here that invented the famous Founders Kit…."
Please be advised, do your own due diligence (research) about such an offering!
"Due diligence is a systematic investigation or research process undertaken by individuals to evaluate and verify the accuracy, validity, and potential risks associated with a business transaction or investment. It is a crucial step taken to gather relevant information and make informed decisions, ensuring that all aspects of the situation are thoroughly assessed and understood."