Finding Community and Self: Jackie Fisher's Perseverance Leads to Success with Beyond Slim®
August 15, 2023
By Nicole Dunkley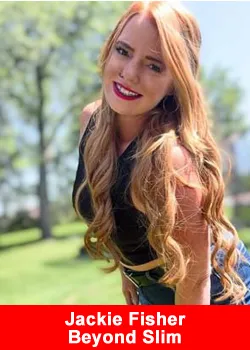 Jackie Fisher, mom of four and loving wife to her disabled husband, has been in the direct selling industry for almost a decade.
Before finding ZipSlim®, Jackie was drained and burnt out from the hustle of the industry. Despite having no intentions of starting over, both the product and the structure of the compensation plan convinced Jackie that this was an opportunity she couldn't pass up.
"For me, this industry has always been about finding a community. There came a point at the end of 2022 where I was tired and walking away from the industry until I found Beyond Slim!

I knew in my heart that this was something that could change the lives of so many everyday men and women and needed to shout it from the rooftops."
The past few years have been nothing short of difficult for Jackie and her family after losing their first home and all belongings to a fire. Jackie began gaining weight from stress and felt both mentally and physically exhausted. She spent a year and a half trying to find a product that would help her feel like herself again. The answer was ZipSlim.
"I was hooked at first sip. I was able to work all day as a nurse and come home and continue to be productive. That was big for me. Eight months later, it just keeps getting better. I really am living a fitter, healthier, and happier life thanks to Beyond Slim."
Jackie expresses immense gratitude to the Beyond Slim community for providing her with a sense of security and comfort during life's recent obstacles. 
"In January 2023, my husband was in a car accident, spending weeks on life support. He is doing well now, but ZipSlim along with my Beyond Slim community is what kept me going during those long days." 
Jackie's unwavering perseverance has translated directly into remarkable success with Beyond Slim. Her team has achieved $461,000 in lifetime sales since November, and Jackie has earned the impressive ranking of Gold Influencer. 
"The dollar amount blows my mind, but what truly fills my heart is the fact that my team and I have helped over 1,500 people to live a healthier life."
Jackie encourages newcomers to simply take that leap, regardless of others' opinions. She believes that the sooner you start, the bigger the impact you can make, and the greater the legacy you can create.
With excitement for the future, Jackie eagerly anticipates collaborating with the corporate team on new product launches and embracing the journey with Beyond Slim as it continues to transform more lives. 
About Beyond Slim
At Beyond Slim, nothing is more important than our mission to help millions of people become Fitter, Healthier, and Happier. The science behind ZipSlim® speaks for itself, and the care that has been put into our Metabolic Reboot will help you build lasting, healthy habits.
When it came time to decide how best to take this mission to the world, we decided to put people first, innovating an entirely new model we call Social Referral Marketing™. Find out more about Beyond Slim and its amazing product, ZipSlim at www.beyondslim.com
Recommended Distributors Beyond Slim