Rain International Welcomes Two Network Marketing Legends to Boost Training and Duplication Efforts
August 9, 2023
By Nicole Dunkley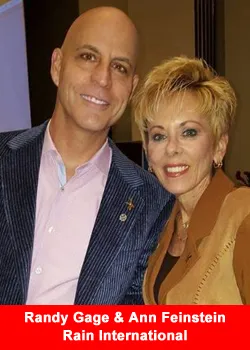 Rain International, is thrilled to announce a new consulting partnership with industry champions Ann Feinstein and Randy Gage.
With over 60 years of combined experience in the industry, Ann and Randy bring a wealth of knowledge and expertise that will significantly enhance Rain's training and duplication strategies.
Ann Feinstein and her husband David have dedicated more than three decades to the network marketing profession, achieving remarkable success by building multi-million-dollar teams across 40 countries. Their career in the industry is highlighted by prestigious accolades, including serving on the Leadership Advisory Council and President's Circle.
Ann was also honored with the Global Ambassador and Inspiration of the Year awards, solidifying her position as one of the Top 100 Direct Selling Mentors. Together with David and their three beloved Yorkie pups, Ann captivates audiences through her engaging social media presence on Facebook, Instagram, and TikTok.
Randy Gage, a true network marketing icon, has been instrumental in launching businesses in developing countries and providing expert training to top income earners in numerous companies. His extensive real-world experience serves as the foundation for his methodologies, having successfully built a team of over 200,000 individuals across 50 countries.
As an accomplished author with 14 books, including bestsellers like "Direct Selling Success," "Making the First Circle Work," and "DEFCON 1 Direct Selling," Randy's impact on the industry is far-reaching. In recognition of his contributions, he became the first inductee into the Direct Selling Hall of Fame in 2014. Off the stage, Randy enjoys playing third base on the softball field.
Rain International has secured the expertise of Ann and Randy to spearhead critical initiatives, including developing cutting-edge marketing materials and establishing a duplicable system. Their collaboration with top field leaders aims to catapult them to unprecedented levels of success within the Rain organization. The duo will conduct transformative training sessions via live-streaming and in-person events.
Rain's Ascend event in Norway this September will be a must-attend occasion, featuring pre-event leadership training and empowering segments by Ann and Randy. Attendees will have the unique opportunity to learn from these industry giants and gain invaluable insights into achieving unparalleled success.
"We are absolutely delighted to welcome Ann Feinstein and Randy Gage to the Rain International family,"
said CEO Byron Belka.
"Their unparalleled expertise and vast experience will undoubtedly inspire our consultants to achieve new heights of success.

With their guidance and our renewed focus on building a strong leadership team, we are confident that Rain International will continue to thrive and set new industry standards." 
As part of their commitment to growth and excellence, Rain International is also actively reinvesting in its corporate executive leadership by bringing new talent onboard. By infusing fresh perspectives and expertise into the leadership team, Rain is primed to enter its next phase of growth and innovation. 
About Rain International
Rain International is the global leader in seed-based nutrition, offering unique products engineered from cold-pressed seed oils. Each seed contains more nutrients per part than anything on the planet, providing your body with the power to live youthfully and healthily. Our mission is to advance global health through seed-nutrition, one person at a time. Discover the transformative benefits of Rain International's seed-based products and find a Rain Partner at www.rainintl.com.
Recommended Distributors Rain International