The BE Disrupt Tour 2023: A Phenomenon Engaging Over 15,000 Attendees Globally
August 18, 2023
By Nicole Dunkley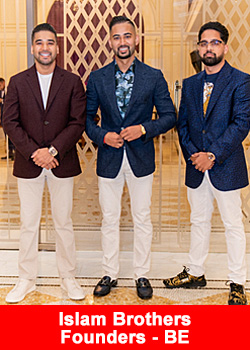 Imagine stepping into an arena bursting with energy, inspiration, and a collective dream. That's precisely what BE's Disrupt Tour 2023 felt like.
Kicking off on June 4th in Slovakia and echoing through 14 vibrant cities over two captivating months, this tour was no ordinary event. It was an enchanting dance of ambition, innovation, and camaraderie.
The Momentum Begins in Slovakia
Guided by BE's forward-thinking Chief Visionary Officer, Monir Islam, and flanked by the company's top leadership, the tour was conceptualized to fuse global aspirations with local dreams, ensuring that every city's story was intricately woven into BE's grand tapestry.
LATAM's Heartbeat and Resonance
In the lively terrains of Latin America, BE's disruptive ethos found a harmonious resonance. From Paraguay's infectious energy to Quito's historic charms in Ecuador, each stop echoed a message of collective ambition.
Colombia's myriad cities – Medellín, Cucuta, Bogota, and others – further amplified this feeling. From Guatemala's rich cultural landscape to Vancouver's cosmopolitan vibrancy and Cartagena's infectious energy, the tour was an exhilarating roller coaster of emotions and revelations.
Unprecedented Attendees and Extended Engagements
The BE allure proved irresistible. Some cities, buoyed by the massive influx of attendees, extended their events over two days! With a minimum of 2000 attendees per city, queues stretching beyond sight, the message was crystal clear: The BE opportunity wasn't just appealing; it was transformational.
Concluding in Grandeur: Los Angeles to Riccione
The crescendo built from Los Angeles to a grand climax in Riccione, Italy, but the echoes of this tour's success promise to resound for a long time to come.
Voices from the Ground
Monir Islam reflected,
"This tour has been a monumental chapter in my career. The energy, the hospitality, the sheer number of passionate attendees—it's been humbling.

Our leadership's dedication has left me in awe. On behalf of my brothers, Moyn and Ehsaan, a heartfelt thank you to all.

Our journey to innovate and serve continues. Our mission to provide a place of work for 10 million people by 2032 continues." 
Ivan Martinez, a Royal Ambassador, encapsulated the sentiments of many when he noted,
"A profound thank you to Monir, Moyn, and Ehsaan. Your tireless efforts are forging a prosperous and lasting future.

BE isn't just a company; it's a beacon of hope and promise. It's a home for the next 10 years and beyond"
To encapsulate, the BE Disrupt Tour 2023 wasn't just an event – it was a testament to a grand vision and the enduring power of community. If this spectacle passed you by, fear not: BE's horizon is boundless, and the journey is only just beginning.
About BE
BE is a next-generation ecosystem made up of a unique concept of 'Live & Learn' which includes e-learning and travel platforms with a comprehensive set of tools for independent business owners.
The BE ecosystem uses artificial intelligence technology, to offer a decentralized, transparent, and empowering space for people from all walks of life, regardless of their educational or financial background, to build their very own multimillion-dollar business from their smartphone.
For more information, please visit www.be.club
Recommended Distributors BE