The BE Turkey Dream Retreat 2023 That Everyone's Talking About
August 30, 2023
By Nicole Dunkley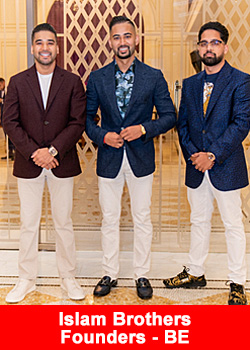 Whenever BE organizes a retreat, it's not just an event; it becomes a landmark experience.  Picture a world where fairy chimneys touch the sky, hot air balloons float dreamily, and moments so profound they're etched into the very fabric of memory.
From August 12-15, 2023, Cappadocia, Turkey, became the canvas for over 100 BE Publishers' epic tales. Judging by the vibrant buzz on social media, the publishers, hailing from Europe and Latin America, have truly immersed themselves, sharing the captivating essence of their BE Dream Retreat adventures.
A Luxurious Escape in Cappadocia
Dwelling in Amazing 5-Star Suites Nothing but the best for our BE Publishers! Housed in one of Cappadocia's premier 5-star hotels, over 100 participants indulged in a top-notch comfort. Four days of panoramic views, gourmet cuisine, and starlit nights awaited BE publishers.
Exclusive Training Sessions by BE Co-Founders Ehsaan and Moyn Islam and Industry Leaders
Attendees were in for a treat as BE's CTO, Ehsaan Islam, shared exciting updates about their platform's current updates and future enhancements.
This was closely followed by a captivating session by Moyn Islam, the CEO, who delved deep into the core values, vision, and diverse offerings of the company. The event wasn't just about the top brass; other seasoned leaders also stepped up, sharing wisdom on topics like event planning, team recruitment, and maintaining a positive outlook.
"We can't help but extend our deepest gratitude to Moyn, Monir, and Ehsaan Islam. Every BE retreat is a testament to their vision, dedication, and the promise of magnificence.

These experiences are not just trips; they are chapters in our collective story, pushing us to aim higher and dream bigger. At BE, we are always rewarded in the highest way possible,"
shared BE Royal Ambassador, Monono Franco.
All-White Affair in Cappadocia: A BE Tradition
Concluding the retreat was BE's traditional all-white soirée, held amidst Cappadocia's breathtaking scenery. Dressed in impeccable white, BE publishers illuminated the evening, exchanging hopes for their businesses and personal dreams. This tradition stands as a testament to BE's commitment to unity and ambition.
BE CEO Moyn Islam and CTO Ehsaan Islam, the two of three pillars behind BE's success, warmly reflected on the retreats, saying,
"Every single retreat is woven with our publishers in mind. It's our heartfelt way of saying thank you, acknowledging the hard work, and every dream they've chased. For us, these events aren't just celebrations; they're reunions.

Sharing joyous moments with their teams, families, and partners is our way of giving back. With each retreat, our promise is simple yet profound: to make tomorrow even more special than today. Because at BE, we believe in creating memories that last a lifetime."
Bali Beckons: BE's Upcoming Retreat 
As the last rays of the sun dimmed on the Cappadocia retreat, the shimmering prospect of the next adventure was unveiled. The 'Island of Gods', Bali, awaits BE publishers this coming October. Known for its tranquil beaches, verdant terrains, and a soul-stirring ambiance, Bali pledges an unparalleled experience. To all BE publishers, brace yourselves; for while many adventures lie ahead, the BE saga has merely commenced.
About BE
BE is a next-generation ecosystem made up of a unique concept of 'Live & Learn' which includes e-learning and travel platforms with a comprehensive set of tools for independent business owners.
The BE ecosystem uses artificial intelligence technology, to offer a decentralized, transparent, and empowering space for people from all walks of life, regardless of their educational or financial background, to build their very own multimillion-dollar business from their smartphone.
For more information, please visit www.be.club
Recommended Distributors BE