Top Industry Leader, Shari Rogers Joins QuiAri
August 5, 2023
By Nicole Dunkley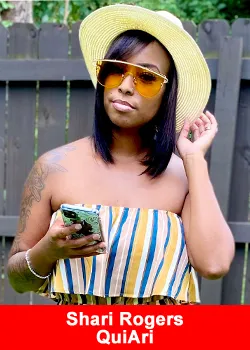 QuiAri Promoter, Shari Rogers, who currently lives in Atlanta, Georgia, has been in the Network Marketing Industry for over 18 years now.
She's excited because she found QuiAri at the absolute perfect time in her life. She is a single mother, and her daughter is getting ready to go off to college. It won't be long before the bills start rolling in, but she has a plan.
"Through my success over the years in the Network Industry, I am in a position to help pay for my daughter's tuition. I'd like to pay all of her tuition, so she has a fresh start in life after graduation with zero debt. 

I believe QuiAri is the opportunity that can help make that happen. The products are unlike anything I've ever seen, I love helping people, and they have a global network of over 100 countries worldwide.

Plus, everyone on my team LOVES industry-first 5-Minute Pay. Once Prospects see how 5-minute pay works, it cannot be unseen. I've been at many good companies, but none where the products and opportunity are perfectly aligned to benefit Promoters,"
stated Shari Rogers.
With a generous Compensation Plan that provides Promoters with 7 unique ways to earn, including Speed Bonuses, no one is surprised to see that the company's momentum is at an all-time high. QuiAri Founder & CEO, Bob Reina built a successful system that revolves around superior-quality products and the power of duplication.
Shari loves that about QuiAri. She believes duplication is the way to get to the top ranks as well.  QuiAri provides Promoters with the "Purple Diamond Guide" to teach them how to duplicate success and continually grow their business.
"I found success in this business quickly because of duplication. I kept an open mind and picked up on it quickly.

The first company I joined was an online marketing and chat sales service. Within a few short weeks, I was promoted to the top. QuiAri's Founder & CEO, Bob Reina has taken duplication to an entirely new level.

I learned that teaching duplication does not have to be complicated. QuiAri's Founder & CEO, Bob Reina, has narrowed it down to 4 simple steps – and it works. My business is booming," 
said Shari Rogers.
Shari went on to say that even understanding duplication, it does not guarantee success. She said both Promoters and Customers want cutting-edge products – products that have a certain 'wow factor.' QuiAri Products check every single box. They are exciting, unique, and appeal to everyone. 
"QuiAri Shake, Energy, and Prime are game changers. They are the first products with Maqui, the world's new #1 superfruit, to be introduced to the global market, and are the only products with the MaquiX® extract.

The antioxidant levels are more powerful than any other known Superfruit. I'm pushing 40 and my body is changing. QuiAri feeds my body the nutrients it needs to help keep my health and energy where it needs to be,"
said Shari Rogers.
Maqui is known to support and promote:
Anti-aging properties

A strengthened immune system

Digestive and gut health

Inflammatory response

Skin health

Healthy weight loss

Healthy hair

Sustainable energy levels

Eye health

Brain health

Healthier sleep cycle

Cardiovascular system health
"All of these benefits packed into 3 delicious products is incredible. I've felt the difference – more energy, fewer cravings, and less belly bloat. QuiAri is now part of my daily routine. It helps my body get everything it needs,"
said Shari Rogers.
The products and opportunity are important to Shari, but also being surrounded by good people is what she calls the "cherry on top."
"The Corporate Team has over 400 years of combined MLM experience. I feel good about my future at QuiAri. Our Founder & CEO, Bob Reina and Kristie Reina are terrific leaders, and they make it fun to be part of something really big.

Especially with new Prime, QuiAri's new antioxidant, anti-aging gel that just hit the market. It is yet another extraordinary, highly sought after product that has the potential to help me reach my dream lifestyle. I know my Team and I are ready to go all-in,"
said Shari Rogers.
Shari is looking to towards her future with QuiAri and can't help but get excited about the possibilities. She sees QuiAri as a legacy company.
"Quality products and quality people. QuiAri is undeniably the new #1 in the industry, and I don't see any other company ever coming close,"
said Shari Rogers.
To learn more about QuiAri, their products, and the opportunity to become a Promoter, visit https://quiari.com/en, or follow them on social media @QuiAriOfficial.
About QuiAri
QuiAri is the #1 health and weight loss movement in the world today. Featuring exclusive, breakthrough products (QuiAri Shake and QuiAri Energy) featuring the world's new #1 superfruit, the Maqui Berry, people everywhere are losing weight, boosting their energy levels, and improving their health. What started as an idea has now become a worldwide phenomenon, gaining a passionate following in over 100 countries. But that's not all! We boast an exciting opportunity to promote QuiAri products and earn commissions within 5 minutes after each sale through industry-first, state-of-the-art payment technology. Combining unrivaled products with the fastest payout, the fastest cycling binary, and one of the highest-paying compensation plans in the industry, there's no doubt QuiAri is helping people live healthier, happier lives. To learn more, please visit quiari.com.
These statements have not been evaluated by the Food and Drug Administration. These products are not intended to diagnose, treat, cure, or prevent any disease. Please note the QuiAri business opportunity offers unlimited income potential. However, QuiAri makes no guarantee of financial success. Success with QuiAri results only from successful sales efforts, which require hard work, diligence, skill, persistence, competence, and leadership. Your income will depend upon how well you exercise these qualities.
Recommended Distributors QuiAri