ByDzyne Celebrates Historic 2023 Convention in Colombia
September 7, 2023
By Nicole Dunkley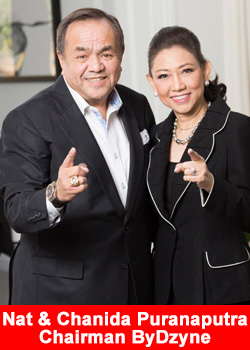 Thousands of networkers from around the world jam-packed the prestigious Movistar Arena in Bogotá, Colombia on August 19-20th for ByDzyne's Second Annual International Convention, highlighted by another record-breaking year in sales and recognition for the momentous company. 
Although the organization is still just four years young, the unity and vibrant energy that pulsated throughout Bogotá not even ByDzyne's executive team could have envisioned.    
"This 2023 convention was an absolutely historic event for ByDzyne! It was so amazing to see everyone come together and celebrate each other like never before.

There was so much hard work and effort into putting this convention on, and we are so grateful for the ByDzyne team and leaders from around the world who helped make it happen.

It was truly a dream come true,"
declared Chanida Puranaputra, ByDzyne's chairwoman. 
Chad and Nattida Chong, ByDzyne's co-founders, also believe the enthusiasm from those two days was nothing like they've ever experienced before, and helped accentuate the significance of the company's unparalleled mission.  
"To be here was simply breathtaking. BD nation laughed, cried, danced, and came together as one big family and it truly made us so proud.

Events like these are so inspiring—it is why this company is ardently committed to empowering people to not settle for anything less than what they deserve and to help encourage them to believe in themselves, embrace change, and be the architects of their future"
shared the enthusiastic Chongs. 
The premier event also showcased exclusive trainings and business strategies from ByDzyne's executive team and some of the organization's top global leaders. Highlights include presentations on how ByDzyne has changed lives around the world, how to build a leadership mindset, product updates and development, and a simple but powerful "Yes I Can" call to action and self-belief from the company's Chairman and Chairwoman, Nat and Chanida Puranaputra. 
Attendees also enjoyed several interactive panels, rank recognition ceremonies across the arena stage that honored a record number of company distributors, and a lively artistic LED percussion performance.
One of the event's most moving moments, however, was through ByDzyne Cares, the company's charitable initiative aimed to foster a better world, and a presentation of a check with funds raised by the company and convention attendees to Fundacion Niños de los Andes, a local Colombian non-profit organization engaged in the protection and rehabilitation of the ever-growing population of underprivileged street children.
Each year the Colombian foundation, which has been in existence for over 30 years, helps serve around 2,500 boys, girls, and adolescents who have been neglected, abused, and considered at-risk. ByDzyne Cares is continuing to accept donations for a variety of social assistance programs, including for Fundacion Niños de los Andes, which can be made here.  
Overall, ByDzyne's 2023 Annual Convention was an event to remember— a united gathering of Brand Ambassadors from all cultures, walks, and backgrounds that came together to learn, celebrate, inspire, and cohesively build a future earmarked with hope and reignited dreams. 
* ByDzyne makes ZERO income guarantees. It takes hard work and dedication to make a substantial income. All results may vary. Between 07/01/2021 to 06/30/2022: The number of active Brand Ambassadors (BAs) who have not received any commissions, bonuses or overrides is 19,901 or 77.12% of such BAs. The median amount of commissions, bonuses and overrides received by all active BAs is $0.00. 77.12% of all active BAs have received, in the aggregate, less than or equal to this amount.   22.88% of all active BAs have received, in the aggregate, more than this amount. The average amount of commissions, bonuses and overrides that have been received.