Chelsea Eichman's Journey: Rediscovering Self & Empowering Fellow Mothers With Beyond Slim®
September 15, 2023
By Team Business For Home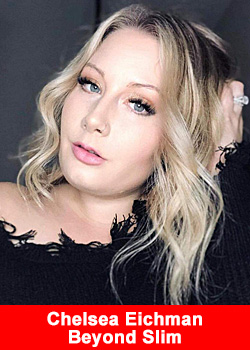 Chelsea Eichman, a 32-year-old mother of three young kids, has mastered the art of multitasking.
As a licensed cosmetologist, lash artist, businesswoman, and dedicated mother, Chelsea has her hands full, to say the least. And now with Beyond Slim, Chelsea has formed a team with over 1,000 S&S members in just 3 months, her biggest build yet during her 7 years with the direct-selling industry.
"ZipSlim® has helped me find myself again. I've not only lost 30 pounds*, but I finally have the energy to play with my kids."
Prior to discovering ZipSlim, Chelsea had been on the hunt for a product that could help rekindle her sense of self. After trying several products to mitigate the stress that comes with being a new mom, Chelsea finally came across Beyond Slim on TikTok and immediately fell in love with the product.
"I love recommending ZipSlim because I feel like I can speak to the postpartum mom, the mom out there that just can't find herself. Once we make Mom happy, everything falls into place. It's just a better world for everybody at home."
Chelsea truly appreciates the simplicity of ZipSlim and the business model. Through sharing the product with others, Chelsea can get her ZipSlim for free and also empower fellow moms to generate income while staying at home with their children. This deviation from traditional models has made the direct selling experience more accessible and achievable for everyone involved.
"I love how convenient ZipSlim is for the average parent out there. It's very easy to just take the product wherever you want to go and incorporate the lifestyle changes even for a busy mom like me."
Chelsea prides herself on being "a part of the average 90%" that is winning here." Before her success with Beyond Slim, Chelsea was just the average mom wanting to feel better and help others. Now her hopes have become a reality.
"We have a solution. I know first-hand that we can help the postpartum mother regain her joy and confidence."
Chelsea urges newcomers to embrace the opportunity with enthusiasm and go for it wholeheartedly. Beyond Slim has transformed Chelsea's life both in regard to her mental health and financial success. She emphasizes that there is minimal risk involved, as there is nothing to lose and everything to gain.
"I feel like this drink is impacting more than we think at the moment and that's why the company is growing so rapidly. People are looking forward to having ZipSlim every day, and if you can wake up excited every morning then you're doing something right."
As a legacy leader within Beyond Slim, Chelsea envisions tremendous growth for herself and the company. She eagerly anticipates more quality time with her children and the opportunity to positively impact the lives of postpartum mothers just like her.
*Fifty overweight people (BMI 28-36) using a key ingredient in ZipSlim™, along with a lower calorie diet (1350 calories for women/1850 calories for men), lost 30 pounds in just 13 weeks, compared to just 10 pounds for those following the lower calorie diet alone.
About Beyond Slim® 
At Beyond Slim®, nothing is more important than our mission to help millions of people become Fitter, Healthier, and Happier. The science behind ZipSlim® speaks for itself, and the care that has been put into our Metabolic Reboot will help you build lasting, healthy habits.
When it came time to decide how best to take this mission to the world, we decided to put people first, innovating an entirely new model we call Social Referral Marketing™. Find out more about Beyond Slim® and its amazing product, ZipSlim® at www.beyondslim.com
Recommended Distributors Beyond Slim