David Casanova Joins QuiAri's Executive Team As VP of Global Expansion
September 9, 2023
By Nicole Dunkley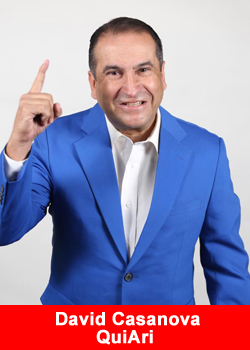 How much top-tier talent can you pack into one Executive Leadership Team? For QuiAri, there is no limit. Last week, MLM industry leader Demont Rainge joined QuiAri as Chief Operating Officer.
This week, QuiAri added another well-known industry veteran to its high-powered roster – David Casanova.
David, who is originally from Panama, was hired as VP of Global Expansion and brings an impressive 35+ years of industry experience to QuiAri. He was the very first employee for Amway Latin America, and spent over 15 years helping them grow the business into a multi-billion-dollar brand.
"I learned a lot during my 15 years at Amway. I've always had a 'whatever it takes' attitude, so I spent time learning every aspect of the business – Marketing, Distribution, Shipping, Human Resources, Sales, and Global Compliance.

I also had an opportunity to live and work in over 11 different countries over my entire career. My time in South Korea was probably the most memorable. I didn't speak a single word of Korean, yet still managed to take the company to #1 in the region.

I'm very excited and grateful to be able to help QuiAri with global expansion. We have the potential to be #1 in every market we serve. We have proprietary products with Maqui, the new #1 superfruit and MaquiX®, a life-changing Compensation Plan with industry-first 5-Minute Pay, and a leadership Team with over 500 years of combined industry experience.

I nearly retired from the MLM industry until QuiAri came along. I began my career at a #1 company, and I now plan to finish out my career at the new #1, QuiAri,"
stated QuiAri VP of Global Expansion, David Casanova.
After leaving Amway, David spent the last 20+ years in various Executive-level positions for multinational, multi-billion-dollar Network Marketing companies.
That includes several that specialize in health and wellness products. Over the years, David said he had gotten good at predicting the success of a company based on 3 simple KPIs (Key Performance Indicators). He calls it a "trifecta for success," and QuiAri is the most well-positioned company for it that David has ever seen.                                                               
"The most important indicator is leadership. Without great leaders, great success is impossible. I was excited when I learned Bob Reina was the Founder & CEO of QuiAri. He is someone I've always respected and wanted to work with for a long time.

I love his vision and passion for helping others. Bob's wife, Kristie Reina is just as brilliant.  She brings fresh energy to the business and makes everybody instantly feel like they are part of the QuiAri family.

The next indicator is QuiAri's proprietary products. They are truly one-of-a-kind with ingredients (Maqui & MaquiiX®) that cannot be found anywhere else. The last is a generous Compensation Plan with industry-first 5-Minute Pay.

This is a true game-changer in all of the 100+ countries QuiAri serves. People are in desperate need of an opportunity to earn extra income, especially with our global economy starting to shift,"
said David Casanova.
Over the last 5 years, QuiAri's 5-Minute Pay, commissions paid in 5 minutes or less after every sale, has made a profound impact around the world. The opportunity to be your own boss and earn money part-time or full-time working remotely is very attractive, especially in nations with a depressed economy.
Even in the United States, there is high demand, especially among the youth. Students fresh out of high school and college are turning to MLM.
"I think we're going to see a huge mindset change both in and outside of our industry as QuiAri grows. Everyone I know in Network Marketing is rushing to join QuiAri.

As more people outside of the Network Marketing bubble become familiar with 5-Minute Pay and QuiAri, I think they will see it as an opportunity you just can't ignore.

QuiAri is a very strong and stable company, and the Compensation Plan is unbeatable. Plus, we have great products that appeal to everyone."
said David Casanova.
QuiAri Founder & CEO, Bob Reina, is happy to have David on the Team and agrees with him on the future of QuiAri.
"It's a pleasure to have David on the Corporate Team. When you meet David, you can tell he really loves helping people. I find his passion for the Network Marketing industry and global expansion inspiring.

Also, his expertise is exactly what we need to introduce QuiAri to new markets and push deeper into existing markets. He's a fantastic addition to a motivated and focused Executive Team. Welcome, David,"
stated QuiAri Founder & CEO, Bob Reina.
The Executive Team has set up David for success.  Product demand is strong, even in markets QuiAri has not yet entered. Word has spread fast, and that's good news for the company.
"Our Promoters are motivated, and they are literally everywhere passing out samples daily, which is driving up demand. I've tried the products, and they are amazing.

I'm familiar with Maqui, as it is grown only in Patagonia, Chile – not far from my home country of Panama.

The health benefits are unlike anything I've ever experienced – and I've tried a lot of products in the past 35 years. I can feel a difference in my skin, hair, eyes, gut, my energy levels – and I look and feel better than ever.

I got into this business to help people, so I feel great knowing I'm making an impact,"
stated David Casanova.
In the next 5 years, David hopes that the success of QuiAri will change the mindset of the Promoter/Corporate relationship.
"Back in the day, we took great pride in the company we worked for. When one of us succeeded, it was a victory for all. QuiAri cares very much about its Promoters and Customers, and it shows in the way they do business. No one has to chase down their check. Products are delivered on time and as promised.

Bob does not even charge Promoters for the Portal, mobile app, self-replicated website, marketing, or any of the tools they need to help them run their business. QuiAri treats Promoters and Customers like they are part of the family, and I really hope Promoters appreciate that.

It is rare to be able to have complete peace of mind, knowing you have full support from Corporate and it's ok to ask questions. Today, it is common for Promoters to jump from company to company, always looking for something better.

I think QuiAri can end that trend. They are the best of the best, and treat Promoters and Customers with respect.  I've only been here a short time, but I already know it's my forever home,"
stated David Casanova.
David makes time each week to discuss industry trends and global expansion, as well as answer any questions about QuiAri.                                                                                                          
To learn more about QuiAri, their products, and the opportunity to become a Promoter, visit https://quiari.com/en, or follow them on social media @QuiAriOfficial.
About QuiAri
QuiAri is the #1 health and weight loss movement in the world today. Featuring exclusive, breakthrough products (QuiAri Shake and QuiAri Energy) featuring the world's new #1 superfruit, the Maqui berry, people everywhere are losing weight, boosting their energy levels, and improving their health. What started as an idea has now become a worldwide phenomenon, gaining a passionate following in over 200 countries. But that's not all! We boast an exciting opportunity to promote QuiAri products and earn commissions within 5 minutes after each sale through industry-first, state-of-the-art payment technology. Combining unrivaled products with the fastest payout, the fastest cycling binary, and one of the highest-paying compensation plans in the industry, there's no doubt QuiAri is helping people live healthier, happier lives. To learn more, please visit quiari.com.
These statements have not been evaluated by the Food and Drug Administration. These products are not intended to diagnose, treat, cure, or prevent any disease.
Income Disclosure Statement
Please note the QuiAri business opportunity offers unlimited income potential. However, QuiAri makes no guarantee of financial success. Success with QuiAri results only from successful sales efforts, which require hard work, diligence, skill, persistence, competence, and leadership. Your income will depend upon how well you exercise these qualities.
These statements have not been evaluated by the Food and Drug Administration. These products are not intended to diagnose, treat, cure, or prevent any disease.
Recommended Distributors QuiAri