QuiAri Announces Launch Dates For Expansion Into South Korea & Indonesia
September 30, 2023
By Team Business For Home International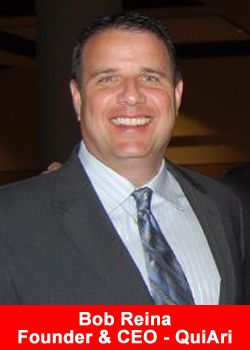 Experts in the Network Marketing Industry understand why QuiAri is in momentum and expanding to every corner of the globe (over 100 countries and counting). However, none of them know how they are moving so quickly.
Just as QuiAri is about to enter its 5th year of business, another industry record is about to be shattered as they have recently announced launch dates for expansion into South Korea and Indonesia. Indonesia is scheduled to launch on October 16th, 2023, with South Korea launching just a few weeks later – November 6th, 2023.
QuiAri's Founder & CEO, Bob Reina, and his wife, Kristie Reina said they are very excited about opening multiple markets so close together.
"Global expansion is something we embrace here at QuiAri. We have terrific systems in place and even more terrific Promoters and Executive Team Members driving our growth.

Indonesia and South Korea are two countries we've had our eye on for a long time. It's an honor to bring our breakthrough products and generous opportunity to 2 of the largest markets in all of Asia.

We have a huge opportunity to change many lives, and that makes all the work we do worth it,"
stated Founder & CEO, Bob Reina, and Kristie Reina.
Both Indonesia and South Korea have the potential to be very lucrative markets for all QuiAri Promoters. QuiAri currently does business in over 100 countries worldwide with more on the way. Promoters can make sales in any of them and get paid commissions earned in just 5 minutes.
Indonesia has a population of over 277 million people and has proven to be a very attractive market for the MLM industry. In 2021, MLM retail sales alone totaled over $1.5 billion U.S. dollars.  South Korea is even larger with over 52 million people and combined MLM retail sales totaling over $4.2 billion U.S. dollars.
At the beginning of July 2023, QuiAri received its MLM license in South Korea. Considering that QuiAri will be opening for business in South Korea in early November, just 4 months later, is a true testament to the incredible speed and agility only QuiAri can deliver. 
"We've been working on South Korea and Indonesia behind the scenes for some time now. Both have local offices that are getting ready to open, products on the ground ready for distribution, and excited local leaders in place.

We want to immediately establish ourselves in both countries as a trusted industry leader and a safe place for Promoters to build a legacy for their families. This is the perfect time to join QuiAri, as we also plan to launch more new resources very soon,"
said Bob and Kristie Reina.
QuiAri recently announced several new benefits intended to help Promoters coming soon.
QuiAri is in the process of adding 2 new ranks above their current top rank of Purple Diamond. Grand Purple Diamond and Crown Purple Diamond. Even though QuiAri's Compensation Plan is already generous, these new ranks will provide Promoters with an opportunity to earn bigger bonuses.
QuiAri is the first and only company to pay commissions earned within 5 minutes worldwide after each sale. This exciting, fast-paced new video highlights the generous benefits of Same Day Pay. Once released, Promoters all around the world will be able to share it with Prospects or their Teams.
QuiAri Received MLM License in Malaysia
Global expansion isn't slowing down for QuiAri. Malaysia will be the next country to open after Indonesia and South Korea. Promoters will have yet another opportunity to be one of the first to introduce QuiAri to a brand-new market.
New Translations in Bahasa and Korean
(article continues below)
Recommended Distributors QuiAri
QuiAri currently has all marketing and training materials, including their website, mobile app, and videos, translated into 8 different languages. That number will soon climb to 10 as Bahasa and Korean will be added soon.
"Excitement is high at QuiAri and Momentum is even higher for QuiAri around the world. People always ask me if I think we are going to be the next billion-dollar Network Marketing company. The truth is, we already operate like one.

It's just a matter of time before we get there. All I can say is that if you're considering joining QuiAri, do it quickly. You can join and be a part of history in the making, benefitting from our rapid growth.

Or you can choose to wait and watch us make history. The QuiAri Family is growing fast, and we're helping a lot of people. That was our dream when we started QuiAri and I couldn't be happier now that it's coming true,"
said Bob Reina.
Stay tuned to QuiAri's weekly Live Events (Thursdays, 10 AM EST, QuiAriHQ.com) and their social media pages for the latest updates on South Korea, Indonesia, and Malaysia as well as future global expansion news, updates, and trainings.
To learn more about QuiAri, their products, and the opportunity to become a Promoter or Customer, visit https://quiari.com/en, or follow them on social media @QuiAriOfficial.
About QuiAri
QuiAri is the #1 health and weight loss movement in the world today. Featuring exclusive, breakthrough products (QuiAri Shake and QuiAri Energy) featuring the world's new #1 superfruit, the Maqui berry, people everywhere are losing weight, boosting their energy levels, and improving their health. What started as an idea has now become a worldwide phenomenon, gaining a passionate following in over 200 countries. But that's not all! We boast an exciting opportunity to promote QuiAri products and earn commissions within 5 minutes after each sale through industry-first, state-of-the-art payment technology. Combining unrivaled products with the fastest payout, the fastest cycling binary, and one of the highest-paying compensation plans in the industry, there's no doubt QuiAri is helping people live healthier, happier lives. To learn more, please visit quiari.com.
These statements have not been evaluated by the Food and Drug Administration. These products are not intended to diagnose, treat, cure, or prevent any disease.
Income Disclosure Statement
Please note the QuiAri business opportunity offers unlimited income potential. However, QuiAri makes no guarantee of financial success. Success with QuiAri results only from successful sales efforts, which require hard work, diligence, skill, persistence.
Recommended Distributors QuiAri