BE's Spectacular Bali Leadership Retreat, Luxury, Adventure, And Success
October 26, 2023
By Team Business For Home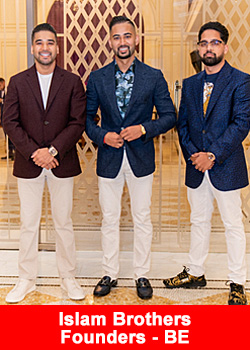 BE, a powerhouse in the industry, has yet again demonstrated its commitment to pampering its top leaders with an unforgettable experience.
This time, the enchanting island of Bali played host to over 100 BE distributors during the 6-day extravaganza, from October 13th to 18th, 2023. Every retreat organized by BE has a reputation for being extraordinary, and this one certainly raised the bar.
BE leaves no stone unturned when it comes to crafting a retreat that not only meets but exceeds the expectations of its attendees. The level of attention to detail that BE and its founders Ehsaan, Monir, and Moyn Islam invest in these events is nothing short of awe-inspiring. For every distributor fortunate enough to be part of BE, the Bali Leadership Retreat was a testament to why this company is truly special.
Luxury Accommodation Fit for Royalty
The choice of accommodation for this retreat epitomized the Bali-themed experience that BE meticulously curated. In line with BE's tradition, only 5-star hotels are considered, and for Bali, Seminyak emerged as the perfect setting.
Renowned for its opulence and sophistication, Seminyak provided a lavish backdrop for the retreat. Attendees reveled in the sheer comfort, sumptuous cuisine, and impeccable service, all set against the stunning backdrop of Bali's beauty.
BE Olympics: Where Fun Meets Competition
Adding a friendly competition to the mix, BE organized the BE Olympics, a series of exhilarating games and challenges held on the picturesque Bali beach. Attendees showcased their teamwork, agility, and determination as they participated in activities that ranged from beach volleyball to a three legged race. The spirit of camaraderie and sportsmanship was evident throughout, fostering a deeper sense of unity among the BE family.
Mastermind Training: Cultivating Success-Driven Minds
At the heart of the Bali Dream Retreat, BE embraces the chance for distributors to unite and cultivate their appetite for ongoing growth and achievement.
Led by our esteemed Founders, Moyn Monir and Ehsan Islam, the Mastermind Training sessions took this retreat experience to new heights. These intimate gatherings empowered distributors to hone their skills, define fresh objectives, and connect with leaders who share a fervor for success.
Adventures Beyond Imagination
No visit to Bali would be complete without an exploration of its breathtaking natural wonders. BE treated its distributors to exhilarating adventures, beginning with heart-pounding ATV rides alongside majestic waterfalls and through ancient caves.
Imagine driving through darkened caves illuminated only by your ATV's headlights, then emerging to witness cascading waterfalls and terraced rice fields. It's an experience straight out of a movie, leaving attendees in awe of Bali's splendor.
Sailing to Paradise: Nusa Penida Island
BE took luxury to the high seas by chartering seven yachts to transport distributors to the famed Nusa Penida Island. This pristine paradise, celebrated for its vibrant marine life and awe-inspiring landscapes, left attendees breathless. From cruising in style to unwinding at one of the island's premier beach clubs, the day was a harmonious blend of relaxation, adventure, and lasting memories.
All-White Closing Extravaganza
No BE event is complete without its legendary all-white party, a signature celebration. Held at one of Bali's most renowned beach clubs, it was the perfect way to conclude an extraordinary retreat. With the shimmering sea as a backdrop, swaying palm trees, delectable cuisine, and captivating music, it was a night of sheer celebration. BE culminated the event with a dazzling fireworks display, a testament to its commitment to creating unforgettable moments.
Monir, Moyn, and Ehsaan Islam, the founders of BE, shared their sentiments, saying,
"Our team is dedicated to providing our distributors with the best experiences they truly deserve, and we won't stop here. The next retreat will surpass even this one. Our people are at the heart of everything we do, and we're committed to continually exceeding their expectations. This is for them."
In closing, the BE Bali Leadership Retreat was an experience like no other, exemplifying the BE way of making dreams come true. As the founders promised, the best is yet to come, and for those fortunate enough to be part of the BE family, the future is incredibly bright.
About BE
BE is a next-generation ecosystem made up of a unique concept of 'Live & Learn' which includes e-learning and travel platforms with a comprehensive set of tools for independent business owners.
The BE ecosystem uses artificial intelligence technology, to offer a decentralized, transparent, and empowering space for people from all walks of life, regardless of their educational or financial background, to build their very own multimillion-dollar business from their smartphone. For more information, please visit www.be.club
Recommended Distributors BE