BE Ranked As Triple AAA+ Opportunity For 2023 And 2024
October 15, 2023
By Team Business For Home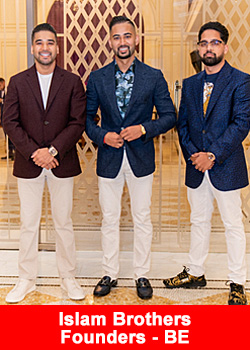 BE is a network marketing services company that has achieved an exceptional AAA+ rating from Business for Home, earning them the top rank amongst industry leaders.
Their remarkable performance in 2022, with a revenue of $99 million, indicates their dedication and success in the business world. With a potential commission payout of 65%, BE continues to inspire through their achievements.
BE is ranked as a AAA+: The Top rank. This makes BE a recommendation from Business For Home for 2023 and 2024.
The ranking is based on a number of facts and figures such as:
We have classified the companies in our database into 4 ranks or grades, about:
  5% has a AAA+ ranking, the highest recommendation.
30% has a AA+ ranking.
35% has a A+ ranking.
30% has a B ranking.
Above data is available in the Business For Home app, both for Android as iOS. We recommend to download the (Free) app below.
BE in the news
In recent achievements, Angel & Jenn Carmona have reached the Presidential Diamond rank at the network marketing company, BE. Similarly, Andrea Traina and Giorgio Trabaldo have made notable strides in the company by achieving the Royal Diamond rank. Luis Marishta has also emerged successfully by securing the Ambassador rank.
Besides individual achievements, the company also grabbed attention for its dream retreat in Turkey.
BE in Facts and Figures
In 2022, BE performed solidly, generating a revenue of $99 million, which represents a 16% increase from the previous year. The significant growth further underscored the company's ongoing success, which could've resulted in $64 million in commission being paid out during the year.
The compensation plan, in fact, awarded 65% of this potential compensation. Notably, BE is led by CEO Moyn Islam and operates from the UAE. Business for Home, has recognized BE's successful operations, awarding it an AAA+ rating, the highest rank within the BFH database of 900+ worldwide network marketing companies. Furthermore, BE currently holds the 5th position in the BFH Momentum Rank.
BE's 2022 revenue stood at $99 million
The revenue difference compared to 2021 was 16%
The estimated potential commission for 2022 was $64 million, with 65% actually paid out as per BE's compensation plan
BE holds the top AAA+ rating in Business for Home and is ranked 5th in BFH Momentum Rank
There are 11 recommended distributors for BE
BE generated 325,515 pageviews on the Business for Home website
The CEO of BE is Moyn Islam and the company is located in the United Arab Emirates
Data provide by the proprietary Business for Home Intelligence Engine
(Article continues below)
Recommended Distributors BE
Building a Network Marketing Business with BE in 2023
1. Understand the Concept of Network Marketing
Network marketing, also known as multi-level marketing, is a business model where independent contractors join a company and make money by selling the company's goods or services to customers. Besides direct selling, they also make money by recruiting more salespeople called 'downline.'
2. Choose the Right Network Marketing Company
Considering that not all network marketing companies are created equal, it's critical to do thorough research to identify a reputable and profitable company.
3. Read Detailed Reviews
Before making any decision, ensure you read reviews about BE. These reviews provide insight into the company's credibility, profitability, and the experiences of other independent contractors. BE's reviews on Business For Home give an authentic perspective, enabling you to make an informed decision.
4. Understand the Company Ranking
Company ranking is pivotal in a network marketing venture. A higher-ranking company is likely to bring higher earnings and more stability. You can find BE's company rank on Business For Home, which provides a comprehensive explanation for each rank.
5. Join the Network Marketing Company
Once you're confident that BE is the right company for you, join by purchasing their start-up kit. This step marks the beginning of your journey in network marketing.
6. Learn the Products or Services
Get to know your products or services well. Understand their features, benefits, and prices. As such, you can confidently promote these products or services to your potential customers.
7. Start Selling
After understanding the products or services, start selling them to your family, friends, or wider network. Be patient and persistent to achieve your financial goals in network marketing.
8. Recruit Others
Aside from selling, you can build your network marketing business by recruiting others into your 'downline.' Teach and mentor your recruits, helping them succeed in their businesses as well. As they succeed, you succeed too.
9. Consistently Review and Adjust Your Approach
Finally, always be open to change and continually adapt your strategies. As you learn more about your business, customers, and the market, adjust your approach for better results.
The world of network marketing can be a lucrative one. By joining a reliable company like BE and employing effective strategies, there are many opportunities for growth and success.
You might want to team up with a BE recommended distributor. You find them at the bottom of this article.
Here's a glimpse of what people are writing about BE
Based on these reviews, it's clear that BE has struck a chord with its community.
Petra Duricova mentioned that BE is
"the best opportunity to join in the new economy driven by digital technologies and artificial intelligence," adding that the tools are "amazing, smart, and profitable." She found the providers of the e-learning platform and live sessions to be "really professionals" who "always give more than we could expect. If you are considering to join the company, you have to do it right now, the growth is going to explode in next months and years."
Tobias Vermund described BE as:
"something different," thanking the team for being instrumental in the positive change in his life. He encouraged those researching about BE to join, stating, "Become a part of it! It is sooo worth it."
Luz Daneyi recognised BE as:
"la mejor oportunidad que me han podido mostrar en mi toda mi vida" and praised the work-life balance it provides. She thanked the founders with a heartwarming thank you"
Nicholas Ikechukwu Okonkwo found value in the many ways BE offers to earn money and help its members. He commended both the Live and Learn sides of the platform, stating that:
In BE you can move with the speed of lightning that's from zero to a lot and you can also move gradually."
On a similar note, Stephany Montoya Halak noted:
I love everything about this company the holidays the earn while you learn apps."
She noted that being with BE has changed her not only financially but also as a person. The sense of community within the company proved to be a significant factor in her positive experience.
To conclude, BE as a business opportunity is widely recognized by its community for its innovative approach, helpful platforms, and balanced opportunities for both learning and earning. The company evidently left a positive impression on its reviewers and it is this sentiment that holds promising potential for the company's future.
BE Conclusion
In conclusion, BE has achieved remarkable success by earning an exceptional AAA+ rating and top rank from Business for Home. Their revenue of $99 million in 2022 showcases their dedication and achievements in the business world.
With a potential commission payout of 65%, it is evident that BE offers lucrative distributor opportunities. The extensive analysis and ranking criteria used by Business for Home, further validate BE's standing as a successful company. Based on the exhaustive information provided by Business for Home, it can be concluded that one can potentially make decent money by partnering with BE.
Recommended Distributors BE