ByDzyne Wins Quadruple Industry Awards
October 31, 2023
By Team Business For Home International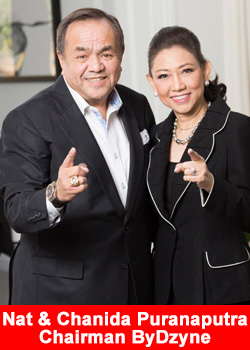 Finishing the year off with tremendous momentum, ByDzyne has hauled in an unprecedented four distinguished awards to add to its already jam-packed trophy cabinet, including the Titan Women in Business Platinum Honor for "Company of the Year," NYX Marcom Grand Award for "Integrated Marketing and Product Branding," Marcomm Gold prize underscoring the 2023 international convention under the "Special Events" category, and Stevie Bronze Award highlighting ByDzyne cofounder Nattida Chong as a "Communications Professional of the Year." 
All of the awards were won from prestigious international competitions, with over 10,000 combined entries from over 100 combined countries, which recognize and honor individuals, agencies, and organizations that represent the highest level of excellence in achievement, marketing, creativity, communication, entrepreneurship, branding, advertising, or innovation.   
Chanida Puranaputra, ByDzyne's renowned chairwoman, is delighted with ByDzyne's recent accomplishment and is quick to acknowledge the people and hands that have helped grow and develop ByDzyne into one of the leading network marketing companies in the world.   
"Wow! We are so thrilled to accept all of these awards. This is a true testimony that this company has made a difference and we are so happy to see people's lives change.

We dedicate this award to the ByDzyne family—our corporate team and the thousands of Brand Ambassadors around the world—for they have all helped make this company the organization it is today.

Without your heart, hard work, and sacrifice, none of this would be possible. Thank you, from the bottom of my heart,"
expressed an appreciative Chanida. 
While the NYX Marcom Grand Award for "Integrated Marketing and Product Branding" exemplifies the strength of the company's voice and communication around the globe and the Marcomm Gold Award underlines the significance and impact of ByDzyne's international conventions, it's the other two accolades that emphasize the hope for today and moving forward for ByDzyne. 
First, the Titan Women in Business Platinum Honor for "Company of the Year" accentuates the tremendous value of Chanida Puranaputra, Nattida Chong, and Sophia Wong, three of ByDzyne's cofounders and some of the most brilliant minds in the industry, and their invaluable wisdom and leadership in making ByDzyne the multi-level marketing powerhouse it is today.
And second, the Stevie Bronze trophy awarded to Nattida as a "Communications Professional of the Year," demonstrates that ByDzyne has the right people in place to take ByDzyne to the next level.  
"I am so humbled and grateful to receive a personal award as well as accolades for ByDzyne. But this is honestly what ByDzyne is all about.

From day one, we dreamt of a company that would value the individual and empower them to learn, grow, overcome, and succeed.

These achievements signify that our mission is beating strong and that we are continuing to innovate, expand, and foster dreams all around the world. I am so proud and cannot wait for what 2024 holds,"
declared an enthusiastic Nattida Chong. 
With the hope and promise of the new year around the corner, built on the riches of prestigious accolades, honors, and recognition, the future seems brighter than ever at the innovative company. And with some of the brightest and most influential women leading the way, the sky is truly the limit at ByDzyne.  
ByDzyne makes ZERO income guarantees. It takes hard work and dedication to make a substantial income. All results may vary. Between 07/01/2022 to 06/30/2023: The number of active Brand Ambassadors (BAs) who have not received any commissions, bonuses or overrides is 26,560 or 80.23% of such BAs. The median amount of commissions, bonuses and overrides received by all active BAs is $0.00. 80.23% of all active BAs have received, in the aggregate, less than or equal to this amount. 19.77% of all active BAs have received, in the aggregate, more than this amount. The average amount of commissions, bonuses and overrides that have been received by all active BAs is $480.75. For the full IDS, please visit www.bydzyne.com/IDS