ByDzyne's Carolina Flores from Ecuador Achieves 1-Star President
October 18, 2023
By Team Business For Home International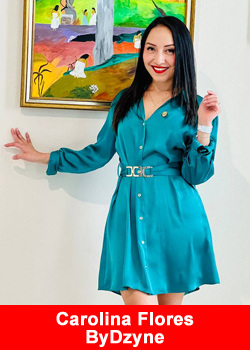 Latin America continues to produce some of the industry's brightest new stars, and ByDzyne has yet another leader to highlight with the arrival of its newest 1-Star President from Ecuador, Carolina Flores. 
* A President generates over $200,000 in sales revenue during a half-a-month span. 
Carolina, a 30-year-old up-and-coming entrepreneur from Quito, Ecuador, spent almost a decade in her national military and even reached the prestigious Lieutenant rank.
Although she is grateful for the precious time she had serving her country, Carolina was introduced to the promising world of network marketing five years ago and it's changed her life completely. Now, with a home at ByDzyne, the Ecuadorian leader is certain she has found the right company to help her accomplish her personal and professional goals. 
"What sets ByDzyne apart from other companies is its focus on innovation, a solid business opportunity, and a wide variety of quality products. In addition, it offers us multiple ways to earn money and build a successful business and is an ever-evolving vehicle that drives us to accomplish our goals.

There is also incredible leadership that ensures that our personal growth is vital to the business, with the foundation in constant support and training. To all of the executive team, thank you for all your dedication in managing the entire operation of ByDzyne! Without you the progress of many people would simply not exist,"
expressed an optimistic Carolina. 
ByDzyne's executive team is elated for Carolina and believes that with the right mindset and work ethic, she will just continue to rise. 
"Congratulations to Carolina Flores on becoming ByDzyne's newest 1-Star President! Today, we recognize your hard work, your attitude, and your perseverance as it's all culminated in helping you achieve your dreams.

Thank you for serving the way you have and know that your life is making a difference. We also know you have much more to dream for so we encourage you to keep believing in yourself and to aim even higher,"
shared Chad and Nattida Chong, ByDzyne's cofounders. 
Higher for Carolina means accomplishing her next goal of becoming a 2-Star President by December, with two 1-Star presidents and 50 Diamonds within her organization. Although she is determined to reach that feat imminently, Carolina knows that her support system will be instrumental again as 2023 draws to a close. 
"My first thanks is to God because I had an unwavering faith throughout the process. Secondly, to my mom Martha Laines who motivates me with her strength, intelligence, compassion, determination, and 'never give up' attitude. My dad Richard Flores and my little brother are also so foundational to me.

I greatly appreciate my mentor, Bryan Rodriguez, for the unconditional support since I started in this beautiful industry. And finally, I cannot forget my team who always went the extra mile. I am so grateful for each of you and I know that God has put the right team in my life,"
conveyed a grateful Carolina.
ByDzyne's newest 1-Star President, who also impressively is a renowned national and international champion in kickboxing and K-1, a modern martial art sport, fully believes in herself and hopes her life and story will leave a lasting impact. She can't wait to see how it all unfolds. 
"It motivates me to know that I can represent female leadership where my story is told all over the world. I am grateful for the platform to be a reference for both men and women and to let everyone know that there are no limits to achieving your goals,"
said Carolina.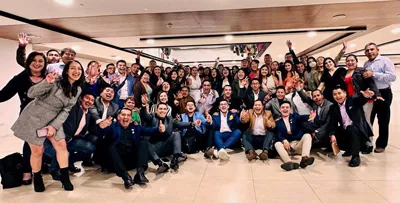 ByDzyne makes ZERO income guarantees. It takes hard work and dedication to make a substantial income. All results may vary. Between 07/01/2022 to 06/30/2023: The number of active Brand Ambassadors (BAs) who have not received any commissions, bonuses or overrides is 26,560 or 80.23% of such BAs. The median amount of commissions, bonuses and overrides received by all active BAs is $0.00. 80.23% of all active BAs have received, in the aggregate, less than or equal to this amount. 19.77% of all active BAs have received, in the aggregate, more than this amount. The average amount of commissions, bonuses and overrides that have been received by all active BAs is $480.75. For the full IDS, please visit www.bydzyne.com/IDS