Erik Pflaum from Germany Achieves Double Diamond at Earn.World
October 26, 2023
By Team Business For Home International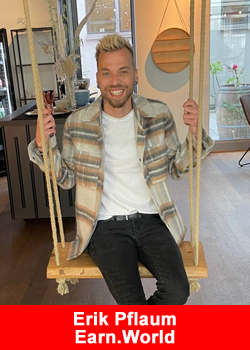 Eric Pflaum has emerged as a truly inspiring leader in the dynamic field of network marketing.
After 5 years of relentless dedication to the industry, Eric has achieved the prestigious Double Diamond rank at Earn.World—a remarkable feat that speaks volumes about his hard work, determination and unwavering belief in his vision.
Eric's network marketing journey kicked off five years ago. It all began when he decided to become his own boss at the age of 25. He didn't want to work for someone else's dreams, but for his own.
So, he decided to open a hair salon. Unfortunately, even as a self-employed person, his earnings were linked to time, and he could only earn a certain amount. This wasn't good enough for him.
And so, he decided to take his chances in product sales at the time. As such, he kicked off his network marketing journey. In the network, interacting with other people every day was the most important point for Eric. The knowledge of human nature and empathy is needed in every business, and in the network, it is even a great advantage.
"I started in product sales and combined this with my hairdressing salon. Everything was going super successfully for 3 years and then I became aware of the crypto market. I met Earn.World in July 2022.

At first, I was very hesitant and skeptical. It all sounded too good to be true. In mid-January 2023, team partners came to me and told me about the possibility of earning 8.66% interest per month and that's when I took the courage and invested $100 in a STKK node.

I have now made more than $100,000 from this investment by building my business."
said Eric.
Stepping into the realm of Earn.World, Eric soared to unparalleled heights. For Eric, Earn.World was more than just a company; it represented a world of endless possibilities.
"At Earn.World I can decide for myself what I do. Either I use the income streams as an investor and enjoy the interest that is paid out on my capital every day without me having to do anything for it.

Or I build the business because I want more. In my network marketing career, I have never seen a company that allows you to work so flexibly. And honestly, who gives you up to 12% every month on your own capital?"
stated Eric.
When asked what the secret is to his continued growth and success, he replied,
"Each of us has the power to be a leader in our own unique way. I am there for my team 24/7 and live this business and the company's philosophy.

I approach work every day with heart and empathy.

Why am I successful? I want it that way, and I give everything for it every day. Because I give my team a concept that they just have to imitate."
The double diamond ambassador believes that leadership is not about having all the answers, but rather having the courage to move forward, inspire others and take on challenges.
"We managed to support each other, encourage growth, and build the community very well with the VIP CryptoTeam.

I do these things every day. I support my team wherever I can. I show what is possible and motivate everyone to do more."
shared Eric.
Network marketing opens up new opportunities for people to grow every day. There is no other business that allows you to multiply your income in such a short time.
You get to learn everything you're missing if you're open to it and willing to grow. Clearly, network marketing is the future, and there is no better place to begin your journey than Earn.World.
For people looking to join Earn.World, Eric offers some invaluable advice:
"I just watched for 10 months and just gathered the courage, and now I see that everything is reality.

You can only win here. My advice to those still contemplating whether to jump on this crypto bandwagon is to start with an investment amount that feels good to you and see for yourself.

Here, you have the chance to earn passive income without having to do anything for it. Sit back and watch."
About Earn.World
Earn.World is the most powerful AI trading bot in Web3. It's a crypto trading infrastructure and algorithmic strategies made in collaboration with top industry experts.The company is led by Suki Chen, one of the most reputable figures in the blockchain space, with over 30 years of experience.
Since its launch, Earn.World has generated an automated profit of about 17.08% for clients in the trading industry. Through diligent research and cutting-edge strategies, Earn.World is dedicated to maximizing returns.
Recommended Distributors Earn World