QuiAri Prepares To Make History With Indonesia Launch On Monday, October 16th, 2023
October 14, 2023
By Team Business For Home International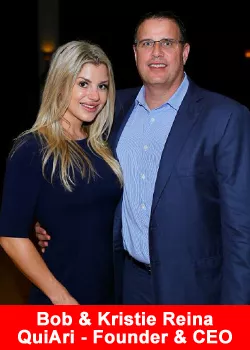 While other companies are featuring Halloween specials and adding pumpkin spice to their product lines, QuiAri has skipped the October trends and remained hyper-focused on global expansion.
Just 3 weeks ago, the company announced receiving its MLM license in Indonesia. Now, this Monday, October 16th, QuiAri Indonesia will be open for business. Even for a multi-billion-dollar global Network Marketing company, 3 weeks is an aggressive timeline, but QuiAri never had any doubts about it.
"There was no time to waste. Indonesia has over 278 million people who desperately need our life-changing products and generous opportunity with 5-Minute Pay.

Plus, all our Promoters from around the world are eager to grow their businesses and Customers can't wait to get their hands on our products. If you've recently joined QuiAri, congratulations – your timing could not be any better.

All QuiAri Promoters are well-positioned for success. We have world-class leaders already in place in Indonesia and the people can't wait to get started.

Our pre-marketing went extremely well. We are extremely confident that Indonesia will grow quickly and become one of our largest markets," stated QuiAri Founder & CEO,
Bob Reina, and Kristie Reina.
Although QuiAri moved at record-breaking speeds to prepare Indonesia for launch, there were absolutely no concessions made. One thing all QuiiAri Promoters and Customers know is that Founder & CEO, Bob Reina does not cut corners.
"We don't open unless operations are at 100%. Promoters will get paid commissions every 5 minutes.

We have an entire warehouse in Indonesia full of QuiAri products. All materials, including the website, Portal, and mobile app have been translated into Bahasa.

Presentations and videos have been translated as well. Everything a Promoter or Customer might want or need will be ready for them at launch.

It is a privilege to add Indonesia to the many countries where we do business, and we take our commitment very seriously.

Our dream is to help as many people as possible and become a pillar of the MLM community in Indonesia,"
said Bob and Kristie Reina.
Top industry leaders, Ryani and Mario Halim and Marcell and Riva Halim are all based out of Indonesia and are ready to help take QuiAri to the top. Their leadership experience, knowledge of the local market, and access to a large network of Promoters have helped QuiAri get established and build a massive amount of momentum during pre-launch.
According to Bob and Kristie, Mario and Ryani have gone "above and beyond" to help QuiAri prepare for launch. They expect QuiAri to become the next billion-dollar brand in Indonesia, especially as they expand their global footprint throughout the rest of Asia. 
"No other company in Indonesia has products with Maqui and MaquiX® and pays commissions in 5 minutes. We've tried the products, and they are fantastic. You could feel the benefits right away.

Everyone here is also excited about the Executive leadership team in place with over 500 years of combined MLM industry experience.

We've had the honor of working with Bob and Kristie Reina in the past and it only makes me more excited about the future. Monday will be a historic day for Indonesia. Many lives will be changed. We can't wait,"
said Mario and Ryani Halim.
Promoters all around the world are also very excited about Monday's launch. In addition to introducing QuiAri to millions of new Prospects, there will be new resources and benefits available. 
2 New Ranks – Now Available
QuiAri has added 2 new ranks above their current top rank of Purple Diamond. Grand Purple Diamond and Crown Purple Diamond. Even though QuiAri's Compensation Plan is already very generous, these new ranks provide Promoters with an opportunity to earn bigger bonuses as their business grows.
New Global 5-Minute Pay Sizzle Video – Coming Soon
QuiAri's 5-Minute Pay, commissions paid globally in 5 minutes or less, is such a global sensation, that it has become part of the company's culture.
QuiAri has created an exciting, professionally produced "5-Minute Pay" sizzle video translated into 10 major languages, including Bahasa. According to Bob and Kristie, the video is nearly complete and will be available soon.
More New Markets Opening Soon Throughout Asia
Promoters joining in Indonesia (as well as all QuiAri Promoters worldwide) will have the opportunity to be the first to introduce QuiAri in several new markets. Malaysia, South Korea, and Hong Kong. South Korea will be first.
A launch date is scheduled for November 6th, 2023. Malaysia and Hong Kong will come after. Bob and Kristie revealed on Thursday that they have received their MLM license in Malaysia and have made significant progress in Hong Kong.
"Global expansion is happening everywhere, not just in Asia. We are the fastest-paying and fastest-growing company in the industry. This is not a time where we can slow down. In fact, it's just the opposite.

We're putting more resources into opening in new countries and growing our existing markets. If you're thinking about joining QuiAri, I can't stress enough how important it is to join today.

People that don't act now risk missing out on the biggest opportunity of their lives,"
said Bob and Kristie Reina.
To learn more about QuiAri, their products, and the opportunity to become a Promoter or Customer, visit https://quiari.com/en, or follow them on social media @QuiAriOfficial.
About QuiAri
Welcome to the new #1, QuiAri. Our mission is built around the basic principle of helping people live their best lives. Through our nutritious, breakthrough products featuring the new #1 antioxidant superfruit, Maqui Berry, and one-of-a-kind business opportunity with industry-first 5-Minute Pay (commissions paid within 5 minutes globally), we have created a global phenomenon that spans over 100 countries and counting. Led by industry icon and Founder & CEO, Bob Reina, and an Executive Team with a combined 500+ years of MLM experience, QuiAri has the fastest-paying and one of the highest-paying Compensation Plans in the industry. Their three delicious, life-changing products with proprietary ingredients, QuiAri Shake, QuiAri Energy, and QuiAri Prime, help people look and feel younger, healthier, and full of energy. Come see why people are rushing to join the most innovative and one of the fastest-growing companies in all of Network Marketing. Visit QuiAri.com to learn more.
These statements have not been evaluated by the Food and Drug Administration. These products are not intended to diagnose, treat, cure, or prevent any disease.
Income Disclosure Statement
Please note the QuiAri business opportunity offers unlimited income potential. However, QuiAri makes no guarantee of financial success. Success with QuiAri results only from successful sales efforts, which require hard work, diligence, skill, persistence, competence, and leadership. Your income will depend on how well you exercise these qualities.
Recommended Distributors QuiAri