QuiAri Receives MLM License in Malaysia and Thailand
October 7, 2023
By Team Business For Home International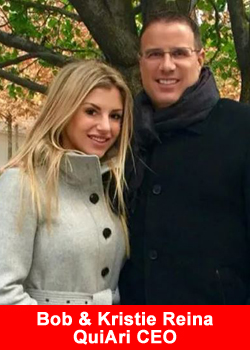 While many companies typically slow down towards the end of the year, QuiAri's momentum has skyrocketed, and the company is moving full steam ahead. Just last week, QuiAri Founder & CEO, Bob Reina, and his wife, Kristie Reina announced launch dates for South Korea (November 6th, 2023) and Indonesia (October 16, 2023).
This week on a global live broadcast, Bob and Kristie surprised QuiAri Promoters and Customers worldwide with news about Malaysia and Thailand. QuiAri has just received its MLM license for both countries.
"Global expansion happens in the blink of an eye here at QuiAri. We currently do business in over 100 countries worldwide, but we are just getting started.

South Korea, Indonesia, Malaysia, and Thailand are all large markets with massive potential for growth. In Malaysia and Thailand alone, there are over 100 million people who need better nutrition and an opportunity to earn extra income.

We're incredibly busy, but this is the most exciting time to be part of the QuiAri Family,"
stated Founder & CEO, Bob Reina, and Kristie Reina.
QuiAri's new General Manager for Thailand, Veena Changiprom, was introduced at a Live Event earlier this week. Veena joins QuiAri with over 25 years of Network Marketing experience.
She has been working closely with Bob, Kristie, and QuiAri's Executive Team to help open an office and get QuiAri established for business in Thailand. Veena believes Thailand is just the beginning of something really big. She sees QuiAri becoming a global leader, not just in Thailand, but in all of Asia.
"It is truly an honor to represent QuiAri in Thailand. I have been with the company for some time now and I have to tell you, QuiAri's Executive Team is the best of the best.

Bob and Kristie are terrific leaders, and the products are world-class. I live in Thailand and the energy and enthusiasm for QuiAri just in pre-launch is unlike anything I've ever seen,"
stated QuiAri General Manager of Thailand, Veena Changpirom.
QuiAri is making sure Promoters are in the best possible position for success prior to launch. After introducing Veena, Bob and Kristie Reina shared a sneak preview of QuiAri's Website, Portal, and Mobile App translated into Bahasa and Korean. The new languages will be available when each country launches.
QuiAri has also proactively added 2 new ranks above their highest rank of Purple Diamond – Grand Purple Diamond and Crown Purple Diamond. Both come with the opportunity to earn larger Rank Advancement and Lifestyle Bonuses.
"I started my career over 30 years ago as a Promoter in the field and I understand what it takes to be a successful Promoter as well as a successful CEO. QuiAri provides Promoters with the highest quality products and a company with the highest quality standards.

We position Promoters for success so they can spend all of their time building their business. Our Executive Team anticipates the needs of the Field and delivers them immediately.

For example, all commissions are paid to Promoters in 5 minutes worldwide via an e-wallet or QuiAri-branded debit card, so they have access to their money within minutes.

Also, Promoters are given everything they need to promote internationally.  All materials are professionally translated into 8 different languages, soon to be 10, and made available 24/7, 365 days a year in their Portal.

These resources are provided free to all Promoters and available soon after joining. We know it's not how other companies do business, but it is the right way to do business,"
said QuiAri Founder & CEO, Bob Reina.
QuiAri's global expansion news comes at the perfect time – just as their best-selling new product, QuiAri Prime, an anti-aging, antioxidant gel, shatters industry records. It is the first and only product that contains Maqui, our proprietary, organic MaquiX® extract, and our exclusive YouthX Blend (S.O.D., Resveratrol, and Pterostilbene).
"It's hard to believe that Prime launched only 3 short months ago. It took no time at all for Promoters and Customers to begin adding it to their daily routine, along with QuiAri Shake and Energy.

Since demand has been high in our current markets, we are anticipating Prime to do very well in our newer markets. It doesn't matter where you go, everyone wants to look and feel younger and have the opportunity to earn extra income,"
said Bob and Kristie Reina.
QuiAri is also on the verge of releasing an exciting new sizzle video dedicated to promoting industry-first 5-Minute Pay. A short clip was shared on QuiAri's global broadcast this week, and it was a smash hit with Promoters around the world. The video is in the final stages of production with subtitles in 9 languages being added before launch.
"Each week keeps on getting bigger and bigger at QuiAri, and that is certainly not an accident.

We are even more motivated than ever to keep growing the business, especially when we see thousands of happy, healthy, and excited people on our weekly broadcasts, we know we're changing lives.

However, this amazing journey we're on is just getting started. The industry's top leaders have already joined QuiAri, and many more are on the way,"
stated Bob and Kristie Reina.
Stay tuned to QuiAri's weekly broadcasts for more details about global expansion, new resources and tools, updates from QuiAri's Executive Team, and more. Their Live Events occur every Thursday at 10 AM EST – QuiAriHQ.com.
To learn more about QuiAri, their products, and the opportunity to become a Promoter or Customer, visit https://quiari.com/en, or follow them on social media @QuiAriOfficial.
About QuiAri
Welcome to the new #1, QuiAri. Our mission is built around the basic principle of helping people live their best lives. Through our nutritious, breakthrough products featuring the new #1 antioxidant superfruit, Maqui Berry, and one-of-a-kind business opportunity with industry-first 5-Minute Pay (commissions paid within 5 minutes globally), we have created a global phenomenon that spans over 100 countries and counting. Led by industry icon and Founder & CEO, Bob Reina, and an Executive Team with a combined 500+ years of MLM experience, QuiAri has the fastest-paying and one of the highest-paying Compensation Plans in the industry. Their three delicious, life-changing products with proprietary ingredients, QuiAri Shake, QuiAri Energy, and QuiAri Prime, help people look and feel younger, healthier, and full of energy. Come see why people are rushing to join the most innovative and one of the fastest-growing companies in all of Network Marketing. Visit QuiAri.com to learn more.
These statements have not been evaluated by the Food and Drug Administration. These products are not intended to diagnose, treat, cure, or prevent any disease.
Income Disclosure Statement
Please note the QuiAri business opportunity offers unlimited income potential. However, QuiAri makes no guarantee of financial success. Success with QuiAri results only from successful sales efforts, which require hard work, diligence, skill, persistence, competence, and leadership. Your income will depend on how well you exercise these qualities.
Recommended Distributors QuiAri