Steve And Gina Merritt Host Record Breaking THIS IS IT Team Convention
October 16, 2023
By Team Business For Home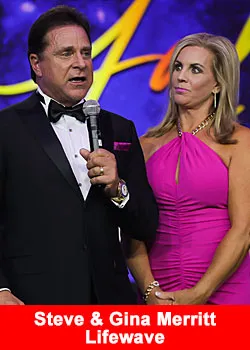 Steve And Gina Merritt  host record breaking, THIS IS IT Team Convention. Attendees head home on fire with confidence.
People traveled from across the United States and around the world to Tampa Florida, to be part of and experience a recor breaking THIS IS IT Team Convention. Network Marketing Legends, Steve and Gina Merritt, hosted this life changing event with the incredible leadership in their organization.
This packed-out crowd wanted to learn how to become part of the explosive Lifewave growth happening in America and now spreading to Europe and Asia markets because of the testimonies and opportunity of X39.
Matt and Kim Curtis, this power couple are two of the biggest dreamers in the industry and hit the highest rank at a record pace. They put the stadium on fire on Friday night as they encouraged the crowd to dust off their dreams and believe they can achieve anything because of this 19 year old best kept secret called Lifewave.
Scott and Renita Brannan hit the highest rank in less than 2 months which is more proof how fast this rocket ship the Merritt's have created has become. The Brannan's poured out their hearts explaining the importance of what they did to achieve success and the importance of using time management to your advantage.
Watch the exclusive THIS IS IT Team convention recap video:
David Schmidt Interview
One of the highlights of the weekend. Steve Merritt interviewed David Schmidt, CEO, and Inventor of the X39. David poured his heart out, explaining how it took over 10 years of research and 4.5 million dollars to bring the X39 to market. He explained the case studies that have been done to prove through bloodwork that 97% of people using the X39, experience remarkable results.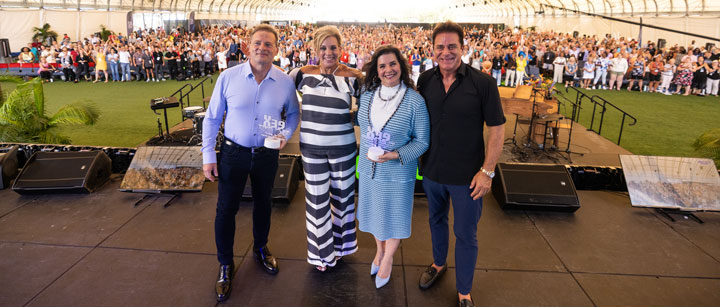 Doctors Panel
A doctors panel made up of 7 doctors who are so impressed with the X39, they paid their own way to attend THIS IS IT and volunteered to be panelist. The credibility of these doctors ranging from a vascular surgeon, MD's. anesthesiologist, chiropractors, and an anti-aging specialist MD, proved why all the attention this technology is receiving. These doctors explain how they use the X39 in their practice and the life changing testimonies their patients are experiencing.
Dr David Peck MD explained:
"The X39 is the biggest medical breakthrough I have experienced, being as a doctor for over 40 years."
Dr Pam Grover MD educated the attendees:
"As a doctor, I took a Hippocratic oath. Because of this, it's my responsibility to share X39."
Dr Leland Stillman explained:
"You receive a more potent source of Collegian from X39 than other normal supplements."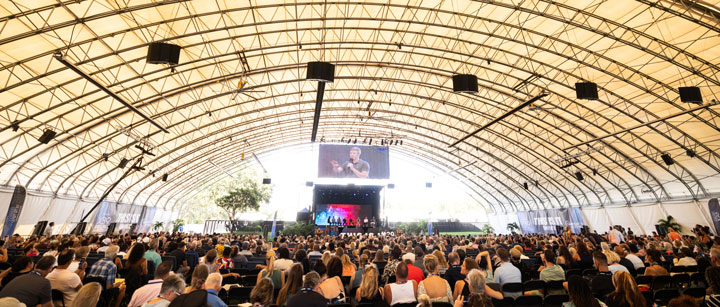 Steve Merritt hosted THIS IS IT. He and his wife Gina over their career have helped 174 friends in their organization make a million dollars and more. Steve explained how the Lifewave compensation plan is one of the most lucrative plans in the industry.
Steve shared the proven strategies he and his wife implemented to hit the Highest Rank in just 23 days. Steve drew on a huge white board how he is helping people hit Senior Presidential Director (the Highest Rank) at a pace the company has not experienced in 19 years.
23-Year-Old Beau Brannan Wowed the crowd as the youngest Brand Partner to achieve the Highest Rank. "I'm currently making more money in one month than the job offers I am receiving would pay in an entire year just out of college." Beau explained.
Mike and Sahi Hernandez, have advanced rapidly to Senior Presidential Director. They told their emotional story on Friday night at THIS IS IT of how their lives were completely changed after meeting and partnering up with Steve and Gina Merritt.
Special Honor to Veterans, Current Military, Police, Firefighters, and First Responders was given at THIS IS IT. There was not a dry eye in the crowd as the Merritt's gave honor to the men and women who served and sacrificed everything so we all can experience the freedom they do today.
Harvey and Verdita Monk, achieved the Highest Rank as well and are crushing it. They explained how to properly launch your Business and how the X39 it the best technology ever launched in our industry.
Dr Tony Smith another Senior Presidential Director explained why so many doctors are taking this lucrative business serious and how he hit the highest rank in Lifewave.
Dr Rodney Howard Browne also at the highest rank, explained as a pastor why he and his wife Adonica are confident this vehicle (Lifewave) will help them achieve their goal of creating 300 millionaires in their church.
All of the SPD's (highest rank) in the Merritt's organization hit the main stage and addressed the crowd including:
Ken and Diana Burke
Keston and Brooke Robinson
Michael and Shannon McCleary
Ken and Lynn Robinson
Andreh and Jackie Divoudi
Cindy and Jens Brynteson
Don and Sandi Mahrer
Lynda Sanchez
Jen O'Sullivan
Javi and Olga Solis
Terry Beatley
Carl and Cathie Firestone
Gina Merritt, one of the most powerful women in the industry, took the number one country in Lifewave, from Japan and brought it to the United States just 60 days after she enrolled. She is on fire and came up with the Convention name, THIS IS IT.  It proved to be right on spot as every presenter mentioned from stage that THIS IS IT referring to the X39 and the opportunity behind it.
"The X39 is the best product ever in the history of our industry. Because the testimonies are so emotional, X39 is lighting up the compensation plan.  We have never experienced growth as fast as we are with X39!" 
Gina explained.
Since the THIS IS IT Convention hosted by the Merritt's and their leadership, Lifewave has experienced the Best month ever in August which is the biggest surge of momentum the company has ever seen. Because of this, timing has never been better to get started in Lifewave.
About Lifewave
Since Lifewave received its Patent for the X39 technology July 2020, the company has experienced explosive growth. Lifewave has grown from 20 million to 320 million dollars in the last 3 years with the United States being their number one market.
August was Lifewave's biggest month to date growing over 30% from the month of July. That is very impressive growth during the summer months as we all know. All this excitement has captured the attention of many Network Marketing leaders around the world.
The technology behind the X39 is very sophisticated, yet simple enough the average person can understand how it works. David Schmidt the owner of Lifewave and inventor of X39 has been doing stem cell research since 2008 and whether the use of pulsed electromagnetic fields could have beneficial effects. David has over 130 Patents and has performed 80 case studies on Lifewave's X39 patch technology. To research X39 case studies, doctor reviews, patents, and testimonies go to ThisIsItInfo.com
Recommended Distributors LifeWave