Top Leader Ashok Kumar Achieves Royal Crown Diamond at Earn World
October 20, 2023
By Team Business For Home International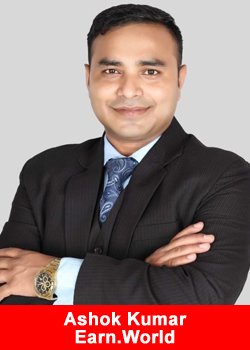 With over 14 years of invaluable experience in network marketing, the top Asian leader – Ashok Kumar, has reached the elite Royal Crown Diamond rank at Earn World, a company growing at lightning speed in the industry.
Ashok Kumar – a top leader from the most populous country in the world, India, is a seasoned veteran in the direct sales industry with a history of outstanding achievements.
He joined the industry in 2009 with the desire to attain financial success and the freedom to work anywhere in the world. 
Ashok began his direct sales journey with a Russian product-based company and achieved the most rank in that company, he also received many prestigious awards and foreign trips to celebrate his achievements.
After that, he worked with a billion dollar brand American company and quickly became the top earner in India in that company. 
However, as the world began to change with the rapid shift in consumer needs and interests, Ashok realized that with the ever-increasing power of blockchain, the crypto business has much more potential than physical products.
To ride on the new trend, Ashok decided to join Earn World, a leading crypto platform that is focused on creating the future of finance by maximizing the potential of crypto.
"I chose Earn World because of its cutting-edge technology, great product, great vision, innovation and their working culture."
said Ashok.
Earn World is the perfect solution for everyone. In addition to the unique compensation plan for its marketers, the company provides amazing staking and trading offers that creates an incredible opportunity for anyone to get passive income and a monthly cash flow. They also have excellent management abilities, working ethics, and a close-knit community of growth for everyone to grow together.
Since joining Earn World, Ashok has recorded a lot of success. With his unwavering determination and hard work, he has achieved the rank of Royal Crown Diamond, which is the peak of entrepreneurial success and a dream come true for many. The professional marketing leader also believes that his success was only possible because of his team.
"By focusing on building a strong team and investing your time in listening to their needs, offering support and guidance, and helping them achieve their personal goals, you automatically achieve success."
shared Ashok.
He firmly believes that success can be achieved not only by determination and hard work but also by having a resolute and determined team that is relentlessly committed to the success of its business. This has been his guiding principle throughout his network marketing journey. 
Ashok is truly an inspiration to other promising leaders, and his success story shows that dreams can be achieved and lives can be transformed with network marketing.
Not only did he desire to build a business that would grant him freedom and financial liberation, but also to help others achieve their own aspirations. When asked if he has any message for people looking to join Earn World, he said: 
"I want to give my message to all, that Earn World is a great company where you can achieve all your dreams and I will be happy to help you to achieve them. I can work with you 24/7. Work is my passion."
About Earn.World
Earn.World is the most powerful AI trading bot in Web3. It's a crypto trading infrastructure and algorithmic strategies made in collaboration with top industry experts. The company is led by Suki Chen, one of the most reputable figures in the blockchain space, with over 30 years of experience.
Since its launch, Earn.World has generated an automated profit of about 17.08% for clients in the trading industry. Through diligent research and cutting-edge strategies, Earn.World is dedicated to maximizing returns.
Recommended Distributors Earn World