Andre Winata Leosaputra Achieves Green Diamond at QuiAri
November 18, 2023
By Team Business For Home International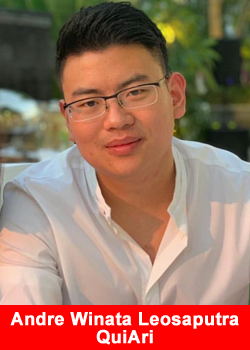 When QuiAri Green Diamond Promoter, Andre Winata Leosaputra was growing up in Surabaya, Indonesia, his parents encouraged him to study hard and get a college education so that one day he could get a high-paying office job.
Now as a successful QuiAri Promoter with the freedom to work from anywhere, the world is his office, and Andre wouldn't have it any other way.
"I did well in school and graduated from college with a degree in Economics. I learned that in business, duplication leads to success.

While I was in college, I joined a Network Marketing company hoping to earn extra money to pay bills. After graduation, I decided not to pursue a career in Economics.

I really loved Network Marketing and started working my business full-time. My parents were worried about my future. Success to them meant a secure, 9-to-5 office job. After I was gifted a brand-new Mercedes through a Network Marketing incentive program, they realized I was going to be just fine.

I've been in Network Marketing for over 17 years and joining QuiAri now, when they are at the early stages of expansion, is the best decision I've ever made. This is the equivalent of joining Apple in 1985 – business is only going one direction and that's up,"
said QuiAri Green Diamond Promoter, Andre Winata Leosaputra.
Pursuing time and financial freedom is important to Andre, but he said it wasn't the only thing that motivates him to work hard.
"I care about helping people and making an impact on their lives. You can have all the money and free time in the world, but if you aren't doing anything productive with it, like making the world a better place, then what's the point?

My Sponsors, Mario and Marcell Halim are amazing leaders and mentors. They joined QuiAri for the same reasons I did.  Because we have an opportunity to help people improve their health and become more financially secure.

I know QuiAri's outstanding, breakthrough Products work because I take them daily and feel like I turned the clock back to my 20's.

Even my children have noticed the difference in my energy levels and mood. They love QuiAri as much as I do because it's making me all-around a better, healthier person," 
said Andre Winata Leosaputra.
Andre said that word is starting to spread about QuiAri's industry-first 5-Minute Pay, especially in Indonesia. As a result, his team is growing faster than he ever expected.
"We're at the very early stages of people discovering industry-first 5-Minute Pay – not just in Indonesia, but throughout the world. It's making a big impact and changing lives.

The cost of living is going up. Food, rent, gas, cars, cell phones for the family….it is expensive for people just to have their basic needs met.

The opportunity to supplement your income with 5-Minute Pay is the solution to keep up. You can have your own global business, work from anywhere, and all you need is a phone and an internet connection,"
said Andre Winata Leosaputra.
With 7 unique ways to earn in QuiAri's Compensation Plan, Promoters have control over how much and how often they get paid in 5 minutes. Everything is clearly laid out in the Compensation Plan.  Andre noted that QuiAri's Executive Team, led by QuiAri Founder & CEO, Bob Reina, and Kristie Reina, have generously put Promoters in the best possible position for success.
"Bob Reina and the Executive Team have a combined 500+ years of industry experience. This a company and Compensation Plan designed by true industry experts. Quite often, they know the needs of Promoters in the Field well before Promoters even know themselves!

On Thursday, Bob and Kristie hosted a Live Event and shared a new digital pamphlet about High-Pressure Processing, a state-of-the-art process using cold water and extreme pressure to preserve the healthy nutrients of Prime Gel.

I had no idea I needed this, but I plan on using it often. This is just one of many examples of how QuiAri goes above and beyond to help its Promoters,"
said Andre Winata Leosaputra.
Andre also praised Bob, Kristie, and the Executive Team for considering international Promoters and Customers while developing their global expansion strategy.
"For many American-based companies, foreign language translations are an afterthought and they typically come to us weeks or months after launch.

When QuiAri Indonesia launched, everything was already professionally translated into Bahasa – the website, our self-replicating website, Portal, Mobile App, the Compensation Plan, and even marketing videos were delivered with subtitles. It really puts QuiAri in a class all its own,"
stated Andre Winata Leosaputra.
QuiAri Founder & CEO, Bob Reina has said many times before that QuiAri operates differently than other companies. They don't compete with other MLM companies. As the "new #1," they compete with themselves. Bob said they are constantly working to top their latest breakthrough accomplishment with something even more incredible.
"Promoters and Customers' needs always come first at QuiAri. Our top Leaders, like Andre Winata Leosaputra, follow our actions and put their Teams' needs first. That generosity is rewarded.

Promoters who help their Team end up building their businesses faster and earn more 5-Minute Pay. It may not be the traditional way of running a global company, but it definitely works. We're one of the fastest-growing companies in MLM,"
said QuiAri Founder & CEO, Bob Reina.
With QuiAri routinely making industry headlines, Andre is excited about the future of his business and QuiAri.
"My dream is to be financially free by the time I turn 40. My latest jump to Green Diamond helps me see the finish line – Crown Purple Diamond, QuiAri's highest rank, isn't far away. There are many more new markets with huge potential for growth.

QuiAri's Indonesia launch broke records, South Korea also had a very successful launch, and I'm sure the next market will be just as successful. 

I'm very excited to be part of QuiAri and contributing to history in the making.  This is becoming the biggest opportunity of my entire career,"
stated Andre Winata Leosaputra.
To learn more about QuiAri, their products, and the opportunity to become a Promoter or Customer, visit https://quiari.com/en, or follow them on social media @QuiAriOfficial.
About QuiAri
Welcome to the new #1, QuiAri. Our mission is built around the basic principle of helping people live their best lives. Through our nutritious, breakthrough products featuring the new #1 antioxidant superfruit, Maqui Berry, and one-of-a-kind business opportunity with industry-first 5-Minute Pay (commissions paid within 5 minutes globally), we have created a global phenomenon that spans over 100 countries and counting.
Led by industry icon and Founder & CEO, Bob Reina, and an Executive Team with a combined 500+ years of MLM experience, QuiAri has the fastest-paying and one of the highest-paying Compensation Plans in the industry.
Their three delicious, life-changing products with proprietary ingredients, QuiAri Shake, QuiAri Energy, and QuiAri Prime, help people look and feel younger, healthier, and full of energy. Come see why people are rushing to join the most innovative and one of the fastest-growing companies in all of Network Marketing. Visit QuiAri.com to learn more.
These statements have not been evaluated by the Food and Drug Administration. These products are not intended to diagnose, treat, cure, or prevent any disease.
Income Disclosure Statement
Please note the QuiAri business opportunity offers unlimited income potential. However, QuiAri makes no guarantee of financial success. Success with QuiAri results only from successful sales efforts, which require hard work, diligence, skill, persistence, competence, and leadership. Your income will depend on how well you exercise these qualities.
Recommended Distributors QuiAri