LifeVantage Q3 Revenue $51.4 Million
November 10, 2023
By Team Business For Home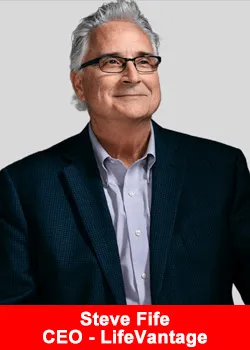 LifeVantage Corporation (Nasdaq: LFVN), a leading health and wellness company with products designed to activate optimal health processes, today reported financial results for its first fiscal quarter ended September 30, 2023.
First Quarter Fiscal 2024 Summary*:
Revenue of $51.4 million, a decrease of 0.8% from the prior year period. Excluding the negative impact of foreign currency fluctuations, first quarter revenue was down approximately 0.2%;
Revenue in the Americas increased 5.9%, including a 6.5% increase in the United States. Revenue in Asia/Pacific & Europe decreased 16.6% and was down approximately 14.6% excluding the negative impact of foreign currency fluctuations;
Total active accounts declined 10.5% from the prior year period to 137,000, reflecting a 7.5% decline in the Americas and a 17.0% decline in Asia/Pacific & Europe;
Net income per diluted share were $0.05, versus $0.05 per diluted share a year ago;
Adjusted earnings per diluted share was $0.13, compared to $0.06 a year ago; and
Adjusted EBITDA increased 41.4% to $4.0 million.
* All comparisons are on a year over year basis and compare the first quarter of fiscal 2024 to the first quarter of fiscal 2023, unless otherwise noted.
"We are very pleased with our first quarter results, which further demonstrate the effectiveness of LV360 in driving growth and profitability,"
said Steve Fife, President and Chief Executive Officer of Life Vantage.
"Revenue in the U.S. was up 6.5%, reflecting continued strength in key products, including a 40% year-over-year increase in sales of TrueScience® Liquid Collagen. Adjusted EBITDA increased by 41% to $4 million and our Adjusted EBITDA margin improved by 230 basis points versus a year earlier.

Our passionate base of independent Consultants continues to lean into the LV360 toolset, including the Evolve compensation plan and the Rewards Circle loyalty program, to grow their businesses by leveraging the power of LifeVantage's unique position around Activating Wellness.

Innovation should continue to provide a significant tailwind to our business as we recently introduced TrueScience® TrueRenew Daily Firming Complex and are launching TrueScience® Liquid Collagen in Mexico, the Philippines, and Canada in the second fiscal quarter.

We remain confident in the direction and trajectory of our business and steadfast in our commitment to driving shareholder value."   
About LifeVantage Corporation
LifeVantage Corporation (Nasdaq: LFVN), the activation company, is a pioneer in nutrigenomics, the study of how nutrition and naturally occurring compounds affect human genes to support good health. The Company engages in the identification, research, development, formulation and sale of advanced nutrigenomic activators, dietary supplements, nootropics, pre- and pro-biotics, weight management, skin and hair care, bath & body, and targeted relief products.
The Company's line of scientifically-validated dietary supplements includes its flagship Protandim® family of products, LifeVantage® Omega+, ProBio, IC Bright®, Daily Wellness, Rise AM, Reset PM, and D3+ dietary supplements, the TrueScience® line of skin, hair, bath & body, and targeted relief products.
The Company also markets and sells Petandim®, its companion pet supplement formulated to combat oxidative stress in dogs, Axio® its nootropic energy drink mixes, and PhysIQ, its smart weight management system. LifeVantage was founded in 2003 and is headquartered in Lehi, Utah. For more information, visit www.lifevantage.com.
Recommended Distributors LifeVantage