QuiAri South Korea Grand Opening Shatters Records
November 11, 2023
By Team Business For Home International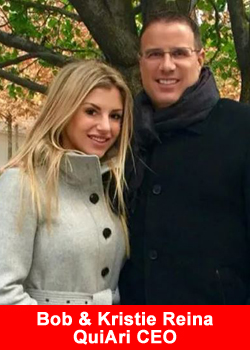 Just 3 weeks after a successful launch in Indonesia, QuiAri makes history again. On Tuesday, November 7, 2023, QuiAri officially opened for business in another new market – South Korea.
There are very few companies in any industry that would attempt to open 2 large markets in such a short period of time, however, QuiAri continues to prove they do things much differently than other companies.
Thanks to a talented Executive Team with over 500 years of combined MLM experience and a dedicated network of Promoters and Customers in over 100+ countries, QuiAri makes opening for business in new countries appear effortless.
QuiAri Founder & CEO, Bob Reina, and Kristie Reina celebrated the launch of South Korea on Thursday, November 9th on a live broadcast with QuiAri Promoters and Customers joining in from around the globe.
"We are excited to welcome the great people of South Korea to the QuiAri Family. Over 52 million people woke up on Tuesday morning with something they didn't have just the day before – an opportunity to look and feel better thanks to our breakthrough products, and a way to earn extra income through our generous opportunity featuring industry-first Same Day Pay.

Global expansion happens quickly at QuiAri because we know our Products and Opportunity help change lives. We have seen it happen all over the world in the countries we already serve, and it's happening at this very moment. We haven't even been open for a full week in South Korea and many of our new, hard-working Promoters are already reaching our top ranks.

Thousands of orders are being delivered to happy Promoters and Customers who can, for the very first time, experience the nutritional power of our products. Although we have opened many new markets over the past 4 years, we never get tired of it. Helping others succeed is the greatest feeling in the world. We can't wait until we open the next market,"
stated QuiAri Founder & CEO, Bob Reina, and Kristie Reina.
QuiAri was the first company in history to bring the new #1 antioxidant superfruit, Maqui Berry, and MaquiX® to the global marketplace. History was made on Tuesday, as QuiAri is now the first to introduce products containing both Maqui and MaquiX® to South Korea. Over the last 4 years, MaquiX® has become famously known as QuiAri's proprietary, organic Maqui Berry extract which boosts the nutritional antioxidant power up to 10 times. No other products in the world have MaquiX®, which gives Promoters a unique selling proposition.
"Our expansion into South Korea was a win for both Promoters and Customers. Not only are we the first company with products featuring Maqui and MaquiX®, but we're also now the fastest-paying company in South Korea with industry-first Same Day Pay.

Especially with the holidays coming up, this was the perfect time to launch in a new market.

Now all people living in South Korea have an opportunity to earn commissions and have the money deposited directly in their account quickly to help cover the cost of food, gifts, holiday decorations, gas and travel expenses, and more. December is one of the most expensive months of the year, so even for people living outside of South Korea, Promoters QuiAri is very much appreciated,"
said QuiAri Founder & CEO, Bob Reina.
QuiAri's Executive Team made sure everything was 100% ready for Promoters and Customers on launch day in South Korea.  All materials, including QuiAri.com, QuiAri Promoters' self-replicating websites, the Portal, Presentations, Mobile App, Videos, the ordering system, and more were all translated into Korean so Promoters and their Teams could hit the ground running, and Customers could order products right away.
"Products immediately began shipping from South Korea to Promoters and Customers after opening for business.

A translated Compensation Plan, Opportunity Presentation, Purple Diamond Training Guide, and more were all ready and available to download within seconds after launch.

All of our new Promoters didn't have to wait to grow their business. They could begin immediately – and they most certainly did. We had many Promoters reach our upper ranks in a day or two. It was incredible,"
said Kristie Reina.
With a population of over 52 million residents and an unprecedented demand for QuiAri products, South Korea is on the fast track to becoming one of QuiAri's largest markets.
The ultimate goal for Promoters is reaching Grand Purple Diamond, and Crown Purple Diamond, which are the two highest attainable ranks and come with the opportunity to earn the highest Lifestyle and Rank Advancement Bonuses. Bob and Kristie said that reaching your dream lifestyle "…isn't a myth at QuiAri, but rather a mission" as the company has recognized many Promoters for climbing to the top ranks.
"Launch day was an unforgettable experience for the company and overwhelmingly successful. We'd like to personally thank Sungah Lim, who we all know as SA, for her help in bringing QuiAri to South Korea.

SA's knowledge of the South Korean market and professionalism contributed to our successful and seamless launch. We'd also like to recognize all of the South Korean Leaders for their efforts in pre-marketing,

We witnessed a record-breaking number of Promoters and Customers that joined on launch day – with more continuing to join daily,"
said QuiAri Founder & CEO, Bob Reina.
While South Korea is clearly another win for QuiAri, Bob, Kristie, and the entire QuiAri Corporate Team are already back to work and focused on opening more new markets, not just in Asia, but worldwide.
"QuiAri is one of the fastest-growing companies in the entire Network Marketing industry right now. We'd love to celebrate, but there is no time, especially as our  momentum explodes.

Kristie's birthday was this week and we spent it on Zoom talking to top leaders from around the world that are interested in joining QuiAri.

Everyone at QuiAri, even us at the very top, are working hard and doing everything possible to help Promoters and Customers. As I've said many times on our weekly live broadcasts, our biggest competitor is ourselves. Every day is spent moving the company forward so more people around the world have the opportunity to achieve their dreams,"
said Bob Reina.
To learn more about QuiAri, their products, and the opportunity to become a Promoter or Customer, visit https://quiari.com/en, or follow them on social media @QuiAriOfficial.
About QuiAri
Welcome to the new #1, QuiAri. Our mission is built around the basic principle of helping people live their best lives. Through our nutritious, breakthrough products featuring the new #1 antioxidant superfruit, Maqui Berry, and one-of-a-kind business opportunity with industry-first 5-Minute Pay (commissions paid within 5 minutes globally), we have created a global phenomenon that spans over 100 countries and counting.
Led by industry icon and Founder & CEO, Bob Reina, and an Executive Team with a combined 500+ years of MLM experience, QuiAri has the fastest-paying and one of the highest-paying Compensation Plans in the industry. Their three delicious, life-changing products with proprietary ingredients, QuiAri Shake, QuiAri Energy, and QuiAri Prime, help people look and feel younger, healthier, and full of energy. Come see why people are rushing to join the most innovative and one of the fastest-growing companies in all of Network Marketing. Visit QuiAri.com to learn more.
These statements have not been evaluated by the Food and Drug Administration. These products are not intended to diagnose, treat, cure, or prevent any disease.
Income Disclosure Statement: Please note the QuiAri business opportunity offers unlimited income potential. However, QuiAri makes no guarantee of financial success. Success with QuiAri results only from successful sales efforts, which require hard work, diligence, skill, persistence, competence, and leadership. Your income will depend on how well you exercise these qualities.
Recommended Distributors QuiAri