Rain International and Seeds for Change Foundation Raise $20,865 at Ascend Event in Oslo, Norway
November 7, 2023
By Team Business For Home International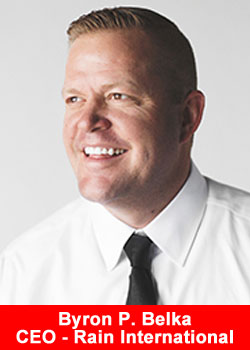 Rain International, a global leader in seed-based nutrition, and the Seeds for Change Foundation, Rain's associated non- profit arm, are proud to announce the successful fundraising effort of $20,865 at their recent Ascend event in Oslo, Norway.
These funds will be donated to Fattighuset, a Norwegian aid organization that provides essential support to single parents, individuals facing unemployment, and the homeless in and around Oslo.
Ascend, held in Oslo, brought together Rain International's distributors, customers, and partners from across the globe for a three-day event focused on wellness, sustainability, and community empowerment. As part of their commitment to corporate social responsibility, Rain International and the Seeds for Change Foundation organized a fundraising initiative during the summit to support Fattighuset's mission of helping those in need.
Through the generous contributions of attendees, the Rain community was able to more than double their initial fundraising goal. This donation will make a significant impact on the lives of those who rely on Fattighuset's services. Specifically, the funds will be used to provide food assistance to 417 families in the Oslo area, offering much-needed support during challenging times.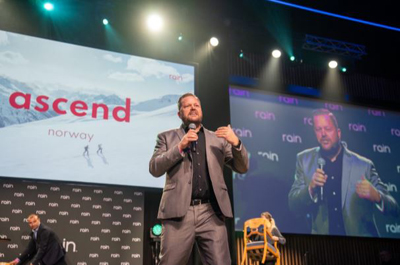 Rain International: CEO Byron Belka speaking at Ascend Norway.
"Rain's global work through the Seeds for Change Foundation and the success of the Ascend fundraising initiative exemplify our commitment to making a difference in the communities we serve,"
said Byron Belka, CEO of Rain International.
"With our thriving presence in Norway, we are grateful for the Rain community showing up and coming together to make a real difference in the lives of vulnerable individuals and families in Oslo, offering them the hope and support they need."
Fattighuset, founded in 2007, has been a pillar of support for disadvantaged individuals and families in Oslo. Their services include food distribution, shelter, counseling, and job training programs, all aimed at improving the lives of those facing hardship. The generous donation from Rain International and Seeds for Change Foundation will help Fattighuset continue their vital work and provide a lifeline to hundreds of families in the region.
The successful fundraising effort at Ascend underscores the power of collaboration and community spirit in effecting positive change. Rain International and the Seeds for Change Foundation remain committed to their mission of creating a better world for all, and this donation to Fattighuset is just one example of their ongoing efforts to support those in need globally.
For more information about Rain International and the Seeds for Change Foundation, please visit www.rainintl.com and www.seedsforchangefoundation.org.
Fattighuset: People line up for food and clothing distribution in Oslo.
About Rain International
Rain International is the global leader in seed-based nutrition, offering unique products engineered from cold-pressed seed oils. Each seed contains more nutrients per part than anything on the planet, providing your body with the power to live youthfully and healthily. Our mission is to advance global health through seed-nutrition, one person at a time. Discover the transformative benefits of Rain International's seed-based products and find a Rain Partner at www.rainintl.com.
Recommended Distributors Rain International