Top Leaders Boris Lupsina & Marina Mursic Join JIFU
November 8, 2023
By Team Business For Home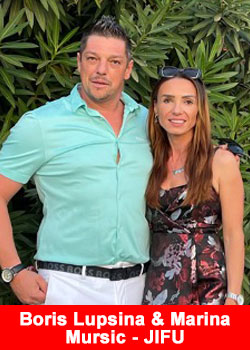 Double Black Diamonds Boris Lupsina and Marina Mursic make the switch to JIFU.
The network marketing industry is evolving, and JIFU is the only company offering both physical and digital products.
Boris Lupsina and Marina Mursic are a couple who not only share their love for business but also their roles as parents to two young girls. They began their professional journeys in traditional corporate positions, all the while keeping an eye out for an opportunity to work together.
They found their perfect match when they discovered Network Marketing in 2015. Determined to secure a prosperous future for their family, they put in hard work and dedication, achieving significant milestones within five years, such as attaining Diamond and Double Black Diamond status. During this time, they built a global team spanning more than thirty countries across four continents.
Reflecting on their journey, Boris and Marina expressed,
"We worked together as a couple for over eight years in our initial venture, and we know that success comes with dedication and hard work. The more you put in, the more you get out. Our experiences with this company have been invaluable, and we'll forever be grateful for them."
As they moved forward, they realized that the global economy and business landscape were rapidly changing, and it was vital to keep up with emerging trends. They strongly believe that genuine growth happens when you align with the right people and resources that support your goals.
They explained,
"Choosing to join JIFU was the best decision we could make for our family's future. We aim to create a lasting legacy with this new company, and what sets it apart is its focus on people – they always come first, above anything else."
They added,
"We've observed that the network marketing industry is evolving, with digital platforms taking center stage. Adapting to these changes is essential for long-term success, which is why we chose JIFU. This company offers both physical and digital products, opening up a world of growth potential."
Boris and Marina share big dreams and a commitment to positively impact the lives of millions of people. They firmly believe that JIFU is on track to become a leading company in their industry in the coming years. Boris and Marina are sponsored by Fabian Fitzner, one of JIFU's top leaders. Fitzner said,
"Boris and Marina are proven, successful network marketers, and we plan to do big things here at JIFU."
About JIFU
JIFU was created to support a concept called Life LiftedTM. Our lives are lifted when we experience other cultures through travel, when we improve ourselves through education, and when we choose to live a healthier lifestyle.
We believe all people should live richer, more productive lives, and JIFU makes this a reality by providing exclusive access to travel savings, education, health and beauty products, and a compensation plan that is unmatched in the industry. Learn more at www.jifu.com.
Recommended Distributors Jifu