Organo Gold – Aron Steinkeller Hits $145,000 Per Month
April 27, 2012
By Team Business For Home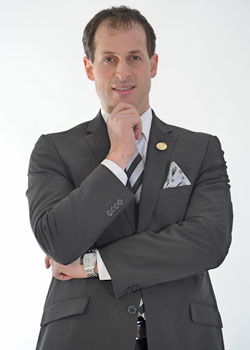 Aron Steinkeller (Photo), one of Organo Gold's European Top Earners from South Tyrol, Italy near the Austrian border, hits $145,000 per month as of April 2012.
Aron Steinkeller, born in 1977, living with his partner and three children, became a teacher after graduating from secondary school.
As one of the 3 Steinkeller brothers, Aron has taken on the role of the architect:
"I need a detailed plan and strong working routines. From the beginning I was convinced of Organo Gold's success."
This conviction was quickly translated into innumerable presentations, both online and in person.
Brother Christian Steinkeller earnings are confirmed around $200,000 while Stephan Steinkeller is on $40,000 per month. Combined earnings for the 3 brothers $385,000 per month.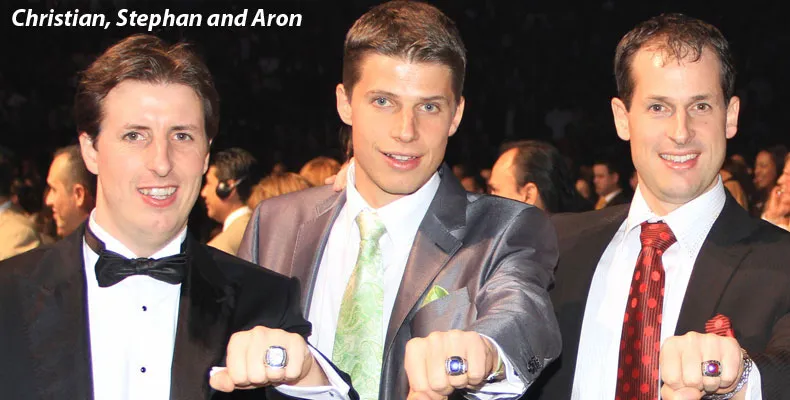 Organo Gold Top Earners Ranks:
[private_platinum]
| Rank | WW Rank | Name | Company | Est. Month | Est. Year | Website |
| --- | --- | --- | --- | --- | --- | --- |
| | 2 | Holton Buggs | Organo Gold | $700,000 | $8,400,000 | www.organogold.com |
| | 5 | Shane Morand | Organo Gold | $500,000 | $6,000,000 | www.organogold.com |
| | 7 | John Sachtouras | Organo Gold | $465,000 | $5,580,000 | www.organogold.com |
| | 8 | Jose Ardon | Organo Gold | $460,000 | $5,520,000 | www.organogold.com |
| | 43 | Christian Steinkeller | Organo Gold | $200,000 | $2,400,000 | www.organogold.com |
| | 58 | Edwin Haynes | Organo Gold | $175,000 | $2,100,000 | www.organogold.com |
| | 76 | David Imonite | Organo Gold | $150,000 | $1,800,000 | www.organogold.com |
| | 86 | Aron Steinkeller | Organo Gold | $145,000 | $1,740,000 | www.organogold.com |
| | 157 | Zarko Drozdek | Organo Gold | $95,000 | $1,140,000 | www.organogold.com |
| | 265 | Ivan Carbajal | Organo Gold | $85,000 | $1,020,000 | www.organogold.com |
| | 285 | Abbey and Rene Ikeola | Organo Gold | $75,000 | $900,000 | www.organogold.com |
| | 296 | Cosmas Magembe | Organo Gold | $75,000 | $900,000 | www.organogold.com |
| | 301 | Ed Hartley | Organo Gold | $75,000 | $900,000 | www.organogold.com |
| | 329 | Luis & Angela Ventura | Organo Gold | $75,000 | $900,000 | www.organogold.com |
| | 332 | Marvin & Hioseth Martinez | Organo Gold | $75,000 | $900,000 | www.organogold.com |
| | 347 | Sulaiman & Celia Rahman | Organo Gold | $75,000 | $900,000 | www.organogold.com |
| | 408 | Georg Doller | Organo Gold | $61,000 | $732,000 | www.organogold.com |
| | 420 | Domingo Herrera | Organo Gold | $60,000 | $720,000 | www.organogold.com |
| | 424 | Jose Luis Rivas | Organo Gold | $60,000 | $720,000 | www.organogold.com |
| | 445 | Elgie Young | Organo Gold | $55,000 | $660,000 | www.ogeveryone.com |
| | 531 | Emmanuel Bernstein | Organo Gold | $50,000 | $600,000 | www.organogold.com |
| | 541 | Igor Alberts and Marisa Honing | Organo Gold | $50,000 | $600,000 | www.organogold.com |
| | 545 | Jarrod Wilkins & Craig Hill | Organo Gold | $50,000 | $600,000 | www.organogold.com |
| | 577 | Sam & Kim Bean | Organo Gold | $50,000 | $600,000 | www.organogold.com |
| | 610 | Dionisio Rosales | Organo Gold | $45,000 | $540,000 | www.organogold.com |
| | 673 | Francisco Vazguez | Organo Gold | $40,000 | $480,000 | www.organogold.com |
| | 703 | Stephan Steinkeller | Organo Gold | $40,000 | $480,000 | www.organogold.com |
| | 730 | Jett | Organo Gold | $39,000 | $468,000 | www.organogold.com |
| | 756 | Maurillo & Teresa Guttierrez | Organo Gold | $37,500 | $450,000 | www.organogold.com |
| | 773 | Jean-Noel Sirois | Organo Gold | $35,000 | $420,000 | www.organogold.com |
| | 819 | Brett & Michelle Shoemaker | Organo Gold | $30,000 | $360,000 | www.coffeefix.organogold.com |
| | 861 | Rramon Arredondo & Irma Garcia | Organo Gold | $30,000 | $360,000 | www.organogold.com |
| | 1491 | Miguel Angel Maldonado | Organo Gold | $25,000 | $300,000 | www.organogold.com |
| | 2061 | Agata Klimczak | Organo Gold | $20,000 | $240,000 | www.organogold.com |
| | 2062 | Alberto & Paola Arellano | Organo Gold | $20,000 | $240,000 | www.organogold.com |
| | 2063 | Alexandros Metaxatos | Organo Gold | $20,000 | $240,000 | www.organogold.com |
| | 2066 | Andrea Blackley | Organo Gold | $20,000 | $240,000 | www.organogold.com |
| | 2069 | Bass Grant | Organo Gold | $20,000 | $240,000 | www.organogold.com |
| | 2072 | Bill Thompson | Organo Gold | $20,000 | $240,000 | www.organogold.com |
| | 2074 | Bolivar Fernandez | Organo Gold | $20,000 | $240,000 | www.organogold.com |
| | 2076 | Bulmaro & Dora Gonzalez | Organo Gold | $20,000 | $240,000 | www.organogold.com |
| | 2078 | Casey, Deanna & Stephen Nilsen | Organo Gold | $20,000 | $240,000 | www.organogold.com |
| | 2092 | Demond Coleman | Organo Gold | $20,000 | $240,000 | www.organogold.com |
| | 2094 | Diego & Lizbet Cajigal | Organo Gold | $20,000 | $240,000 | www.organogold.com |
| | 2095 | Dimitrios Gakis | Organo Gold | $20,000 | $240,000 | www.organogold.com |
| | 2097 | Edgar & Noella Flores | Organo Gold | $20,000 | $240,000 | www.organogold.com |
| | 2101 | Esther Hernandez & Mario Castelan | Organo Gold | $20,000 | $240,000 | www.organogold.com |
| | 2106 | Gonzalo Heras | Organo Gold | $20,000 | $240,000 | www.organogold.com |
| | 2109 | Jacob & Yuli Camacho | Organo Gold | $20,000 | $240,000 | www.organogold.com |
| | 2125 | Joe Wilson | Organo Gold | $20,000 | $240,000 | www.organogold.com |
Showing 1 to 50 of 77 entries
[/private_platinum]