Talk Fusion Founder & CEO Helps Fire Victim And Pets Find New Home
August 21, 2013
By Team Business For Home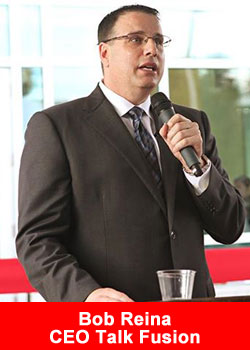 Bob Reina, Founder & CEO of Talk Fusion— a rapidly growing global Video Communication Company—recently stepped in to help a fire victim who had been left homeless—along with her seven dogs, three cats and other pets—by a fire that destroyed her home.
Talk Fusion is home of Top Earners as: Minh and Julie Ho, Rob Roder, Steve Mitchell, Vjacheslav Ushenin, Svetlana Shodunke, and many others.
Reina reported that upon hearing the story, he immediately knew he needed to help. "It was just the right thing to do," said Reina. The Talk Fusion Founder has seven dogs of his own and is a well-known benefactor of many animal causes in his community.
The home of Mindy Bohannon—a Mulberry, Florida resident—had been destroyed in an electrical fire, which claimed the lives of three of her cats and left more than a dozen of her other pets in need of urgent care. With no insurance, Mindy had been left with almost nothing—most of her possessions had been destroyed and she had no money and no place to live. She could not afford a new home or to pay for the medical care of her pets.
SPCA Florida volunteered to provide the needed medical care for her pets and Reina agreed to take care of the rest. In keeping with Talk Fusion's commitment to helping those who cannot help themselves, Reina donated a substantial amount of money to reunite Mindy with her surviving pets and enable them to move into a new home.
The story was covered by Fox 13 News in Tampa and detailed in the Lakeland, Florida newspaper The Ledger. To view the video, go to: https://www.myfoxtampabay.com/video?clipId=9204338&autostart=true. To read the full story, go to: https://www.theledger.com/article/20130817/NEWS/130819332/0/search
ABOUT TALK FUSION
Talk Fusion is a rapidly growing global company dedicated to changing lives through providing cutting-edge personal and business Video Communication Products and a lucrative business opportunity. Talk Fusion's innovative products are marketed person-to-person by Independent Associates in more than 140 countries.
The company was founded in 2007 by CEO Bob Reina and is based on a unique perspective of the Relationship Marketing business model. While other companies pay commissions weekly or monthly, Talk Fusion introduced the world's first and only Instant Pay Compensation Plan. Bringing the world together through the power of video by delivering a superior solution is a top priority because Reina—a former Hillsborough County Sheriff's Deputy—and the Talk Fusion team have a passion and enthusiasm for charity, and helping people live life on their own terms.
The company adheres to the highest ethical business practices and is an accredited member of the BBB and prestigious Direct Selling Association (DSA). Mr. Reina firmly believes that "with great success comes greater responsibility." To that end, his commitment to giving back has benefited numerous charitable organizations. Like Talk Fusion at www.facebook.com/TalkFusion. Learn more about Talk Fusion at www.TalkFusion.com, www.talkfusiongivesback.com and www.talkfusioninthenews.com.