Banners Broker Jump Ship in Ireland – 10,000+ Members In Panic
September 11, 2013
By Team Business For Home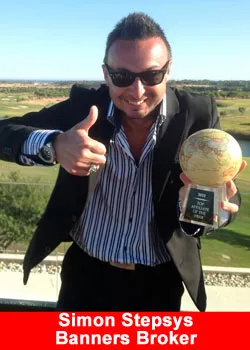 According to the newspaper the Irish Examiner, Banners Broker has terminated its contract with its Irish agent and put tight restrictions on who can withdraw money from its accounts and how often they can do it. Between 10,000 and 15,000 Irish people had lodged cash with the company believing they were renting online space that would be sublet to unidentified advertisers.
Banners Broker is home of top earners Simon Stepsys and Jens Holvoet. MLM watchdog Rod Cook released earlier a scam warning about Banners Broker. David Hooker was hired as corporate executive but is not longer actively involved.
The company never circulated figures, either internally or externally, on the volume of money raised from Ireland or elsewhere. Canadian Rajiv Dixit was the chief operating officer for the ultimate parent company, Banners Broker International. He was previously linked to a pyramid scheme in Canada.
Banners Broker had vigorously denied it was a pyramid scheme, but has told investors its current difficulties arose because of a failure to attract enough new entrants. The company had an Irish agent, Paul McCarthy, who runs Maconne Online Marketing. He had hosted many information sessions across the country and publicly defended its operation.
He has now had to close his service centre on Dublin Hill in Cork City and pull out of a five-year lease he had on the premises. Mr McCarthy said his "life has been turned upside down" in the past month and the fallout has caused him the "world of hassle".
He is fearful of the consequences even though the company is still trading internationally. He was given a day's notice that the Banners Broker contract would be ended. At one stage, he employed 15 people.
Mr McCarthy said some money is being paid to people. Those who are yet to get back the value of their original investment are being treated on a preferential basis to those who already made their money back. Mr McCarthy said it is his understanding that withdrawals have been capped at $250 (€188) a week.
He said he has kept his phone on and is trying to chase the company on behalf of those with whom he had dealt. "The contract was pulled with a day's notice and all the support work was gone to an office in Belize," he said.
"People are ringing me 24/7, my number is the only one they have. I am just telling them what I can but it's a mess. Chris Smith [the general manager] is still giving a [web seminar] every Friday and there are details on that about what is happening, so I am giving that back to people."
Mr McCarthy said he has lost heavily as a result of his investment in the product, including the lease he took on the Dublin Hill office. Last November, the company decided to launch a worldwide promotional tour with a headline event at the Citywest Hotel in Dublin.
By that stage it had claimed to have attracted 9,000 Irish affiliates, many of whom had ploughed tens of thousands of euro into its advertising-based product. The company had refused to detail the precise nature of its product or reveal the websites that had hosted its adverts.
At recruitment events held across the country, including one recorded by the Irish Examiner, people were promised that everybody putting money into Banners Broker would make a profit.
A statement released to investors recently asked people to bypass the Cork office in favour of Central America. "All support queries will now be handled by Banners Broker International. All existing queries have been forwarded and will be processed by the Belize office directly," it said.
Source: Irish Examiner