Qnet Review 2013
September 21, 2013
By Team Business For Home
QNET Ltd, is a Hong Kong based direct selling company owned by the QI Group. The Company is one of Asia's leading direct selling companies, offering a wide range of life-enhancing products through its proprietary e-commerce platform to customers and distributors in over 100 countries.
QNet has around 25 offices and agency partnerships worldwide, and more than 50 stockists, in a number of countries. In Asia, the company's operational headquarters are in Malaysia where the company owns a 15-storey building named the QI Tower. The most recent office opened by QNET is in Rwanda, marking its first African footprint.
QNET is a member of the Direct Selling Association of Malaysia, Singapore, and the Philippines. Due to its focus on nutrition and wellness products, QNET is also a part of the Hong Kong Health Food Association and the Health Supplements Industry Association of Singapore among others.
In 2011 sales at QNET reached $430 million, according to a report in Forbes Asia. The company sells a variety of products including homecare, personal care, e-learning courses, nutrition, watches, jewelry and vacation packages.
The company's marketing strategy for QNet follows a multi-level marketing model, depending on independent representatives to refer its products to consumers and receive compensation based on the sales volume of their referrals and the sales volume of other independent representatives in their teams.
QNET is active in sports sponsorships around the world, including Formula 1, football, badminton and more, due to the company's strong belief that the drive, passion and teamwork of sports mirrors that of QNET. The most prominent sponsorship the company is involved in is a partnership with Team Marussia F1.
QNET also has a unique 24/7 mutli-lingual customer support centre that serves its global distributors in 28 different languages round the clock. This contact centre has won numerous awards at both the regional and the global level.
QNET is the home of Top earners and Network Marketing professionals as Sathi Senathirajah, Arun George, Adly Hassan and several others. Recently German Alexander Herr joined QNet in Europe.
The QNET advantage
https://www.youtube.com/watch?v=mOFgS_EnM_Y
INDUSTRY MEMBERSHIPS
Direct Selling Association Malaysia (DSAM)

Direct Selling Association Singapore (DSAS)

Direct Selling Association Philippines (DSAP)

Malaysian Direct Distributor Association (MDDA)

Business Ethics Institute of Malaysia (BEIM)

Hong Kong Health Food Association (HKHFA)

Health Supplements Industry Association of Singapore (HSIAS)

Contact Centre World Platinum Member (QNET Global Support Centre)

Customer Relationship Management & Contact Centre Association (Malaysia) (QNET Global Support Centre)
QNET Operational HQ In Malaysia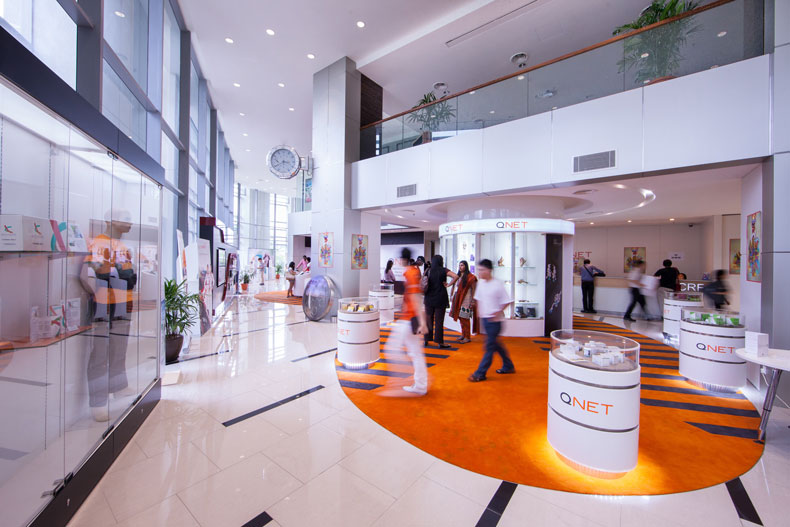 Qnet Products
What makes QNET unique is the diversity of its product range. Most products are sourced after extensive research and development through international suppliers from Germany, Morocco, Turkey, Australia etc. Currently, QNET offers a selection of attractive lifestyle products under the following categories:
Weight Management

Education

Holidays

Wellness

Luxury & Collectibles

Personal Care

Home Care

Communications
Qnet Compensation Plan
QNET offers one of the most dynamic and innovative compensation plans in the global direct selling profession. With 8 ways to earn and up to 50% of the sales paid out in commissions, QNET is a powerfully rewarding, unlimited opportunity.
Q1 RETAIL PROFIT
Q2 REPEAT SALES POINTS
Q3 EARLY PAYOUT
Q4 FIRST PURCHASE PROFIT
Q5 STEP COMMISSION
Q6 RANK ADVANCEMENT BONUS
Q7 YEAR-ROUND REWARDS
Q8 TRAVEL INCENTIVES
QNET's step commission utilises a balanced binary plan, if a distributor sponsors more than two distributors, the excess are placed at levels below the sponsoring distributors front-line. Each product offered by QNET now has a unique business volume. To recieve weekly commissions, distributors and their teams are required to accumulate a minimum of 3,000 BV's, and depending on rank may receive $200 to $300 per week.
Team QNET
The payout of this rank per step (accumulation of BV's) is USD 200. The maximum number of steps afforded to this distributor per week is 40. In this case, his/her maximum payout per week will be USD 6,800.?Upon accumulation of 3,000 BV's in a step , on both sides of a downline leg, a new cycle begins. There are 6 commission steps in 1 cycle. The payout increases as rank advances. Steps 1 to 5 will be in monetary value. At step 6 of each cycle, the payout will be in eVouchers, which are equivalent to 10 eVoucher Points (EP). These points can be used to redeem exclusive products in the QNET Redeem eStore.
For reps. worried you cannot accummulate the required 3,000 BV's, QNET has introduced the early payout. The Early Payout plan applies only to Cycle 1, Step 1 of any Qualified and Activated Independant Representative and is paid according to the commission schedule.
Qnet Social Presence
High Facebook presence: 169,629 likes, 5,235 talking about = 3,1% activity level Qnet fans.
Twitter – @QNETOfficial 13,056 followers
Youtube – QNETOfficial – 395 videos, 6k+ subscribers, 2 million + views.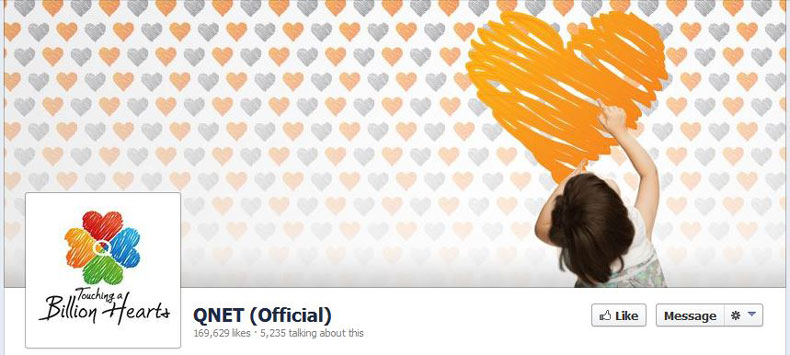 Qnet Founders and Management
| | | | |
| --- | --- | --- | --- |
| | | | |
| Vijay Eswaran – Founder | Joseph Bismarck – Founder | JR Mayer – MD | Donna Imson – Chairperson |
Qnet Opening Night Malaysia
Qnet Top Producers
| | | | |
| --- | --- | --- | --- |
| | | | |
| Sathi Senathirajah | Adly Hassan | Arun George | Ferdie Tolentino |
| | | | |
| Rosemarie Glenn | Ranjit Singh | Dev Wadhwani | Cherian Mathew |