QNET's African Footprint Starts With Rwanda
September 18, 2013
By Team Business For Home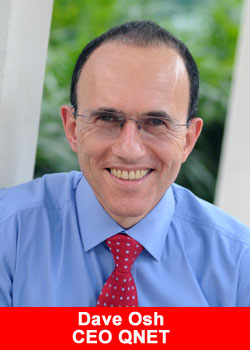 Asian Direct Selling powerhouse QNET has established a local affiliate, QNET East Africa Ltd, and launched its e-commerce platform in Rwanda, as the company prepares for business expansion on the African continent.
QNET East Africa plans to open its new office in downtown Kigali next month. The company recently opened its e-store to Rwandans at a soft opening ceremony on August 24.
The event was attended by QNET Senior Legal Officer Timothy Harney and Operations Manager Lordever Digan. The pair was joined by 130 of QNET's local Independent Representatives (IRs), or distributors, who directly market and promote the company's life-enhancing products to customers.
"We chose to establish our first African office in Rwanda because the country offers a business-friendly environment, sound infrastructure, and reliable IT platform," Mr. Digan said. "I have been very impressed with the entrepreneurial spirit of the people here, and I can see a bright future for QNET in Rwanda and East Africa."
In addition to managing the company's proprietary e-commerce platform, QNET East Africa will act as a customer service center, an import and distribution hub, and provide marketing support and professional training for IRs.
QNET senior executives have been in close contact during the past year with Rwandan government officials, as the company prepared to establish an official corporate entity in East Africa.
"On behalf of QNET, I want to thank the Rwanda Development Board, which was extremely helpful and informative during the incorporation process," Mr. Harney said. "We've also consulted with officers from the Ministry of Health and Revenue authorities to assure that QNET East Africa's operations comply with all Rwandan regulations."
QNET celebrates its 15th anniversary this year; it has been selling a wide range of products in the area of personal care, home care, watches, jewelry, vacations and many others in sub-Saharan Africa for four years already.
QNET executives said that once the distribution network has been firmly established in Rwanda, the Kigali office will serve as a regional hub for East Africa Community, a market consisting of five member states and a population of more than 135 million.
Senior QNET officials with Independent Representatives at the soft opening in Kigali.
About QNET
As a prominent Asian direct selling company, QNET provides a wide range of life enhancing products that are offered through its proprietary e-commerce platform to customers and distributors in more than 100 countries. The company also has some 25 offices and agencies worldwide, and more than 50 stockists, apart from localized operations or franchisees in a number of countries. In UAE QNET operates from 3 locations, offices in Dubai and Abu Dhabi as well as a logistics hub in Mussafah.
Established in Hong Kong in 1998, QNET is a member of the Direct Selling Association of Malaysia, Singapore, and the Philippines. QNET is also a part of the Hong Kong Health Food Association and the Health Supplements Industry Association of Singapore among others.
QNET is active in sports sponsorships around the world, including Formula 1, football, badminton and more, due to the company's strong belief that the drive, passion and teamwork of sports mirrors that of QNET.