Sean Haynes – Global Wealth Trade Top Earner Interview
September 12, 2013
By Team Business For Home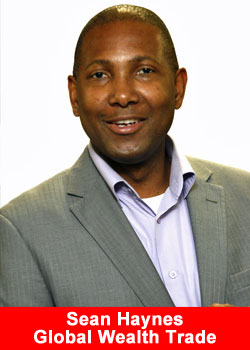 Sean Haynes, is one of the top earners of Global Wealth Trade (GWT) originally from Barbados and lives in Toronto, Canada.
He left a high paying job in the Wealth Management division of one of Canada's largest banks to build his GWT Team. Sean made over $500,000 in career earnings.
He has two sons that are his motivation for building GWT and Sean has built a team of 3,000 + consultants in 45 countries including 25 Caribbean islands and has earned the nickname Mr. Caribbean.
Ted Nuyten had the honor to interview Sean Haynes:
Sean, how did you got involved into the MLM Industry, who invited you and why did you accepted the invite?
I got involved in Global Wealth Trade through meeting our CEO Ramin Mesgarlou and Senior VP Sanaz Hooman at a personal development seminar. They shared with me the concept of using the most desired and lucrative products on earth to build a global business for residual income. Later they introduced me to the first Millionaire of GWT Reza Mesgarlou and I have been very fortunate to have the 3 of them as mentors for success.
Coming from a banking background seeing Million Dollar portfolios belonging to business owners I saw three things they did to create wealth and so I was looking for a way to duplicate that.
Being that Global Wealth Trade allowed you to build a global business, was in the business of Gold, Silver and Diamonds which the wealthy collect as a safe asset to grow their wealth while being able to take advantage of all the tax benefits of having a business and save $3,000 to $9,000 per year on taxes made perfect sense!
I realized that I could build a $Million Dollar business and a $Million Dollar portfolio of our products that I could pass onto his two young sons. In fact as I started my business I also positioned them with their own business which now has $Millions in sales volume providing for them an incredible foundation for a business that will keep them more than comfortable for the rest of their lives.
Finally the numbers and the compensation plan because of the high profit margins in Global Wealth Trade product lines with a product desired around the world for the last 5000 years made sense for me as an average person that I could achieve great success compared to the many MLM companies I had been shown with low profit items with MLM compensation plans that I never felt I could make it with.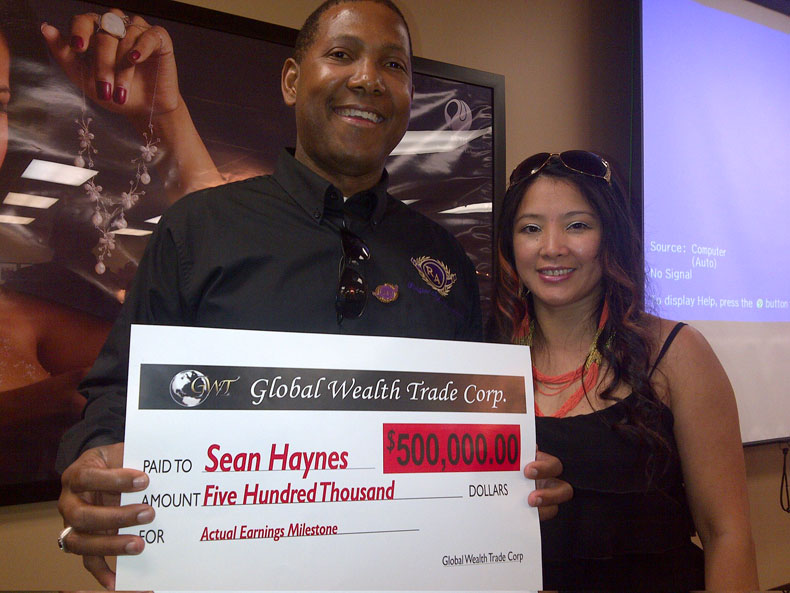 Is GWT a jewelry brand?
Global Wealth Trade luxury designer brands are FERI, FERI MOSH and POSH which are Bags, Belts, Cell Phone and Tablet Cases, Gloves, Jewelry, Shields (Sunglasses) and Timepieces.
GWT's designer jewelry and goods are not your typical department store brands, they are designed and manufactured to compete directly with ultra luxury likes of Cartier, Gucci, Chanel, Louis Vuitton and other designers.
In fact the FERI designer line of GWT has been the fastest growing in the world since 2007 and is worn by 120 celebrities and has been featured on the #1 TV talk show The View, Hollywood Movies, TV Shows, Hollywood Magazines, Fashion Shows and much more.
Sean Haynes Team Leaders among many others
| | | | |
| --- | --- | --- | --- |
| | | | |
| Shaan Singh | Junior Estoesta | Vernisha Charles-Jones | Kevin Tetreault |
| | | | |
| Shanyra Richardson | Bryan Barry | Daisy Kourkoulakos | Annie Dupervil |
| | | | |
| Arthur Anthony | Krystyna Sosnicka | Titus Preville | Thecla Augustin |
| | | | |
| Bruno Leonce | Svetlana Suarez | Reginald Alexandre | Margaret Chisholm |
Why are you succesfull?
Well they are many reasons for that. First I got to be mentored by our CEO Ramin Mesgarlou, our Senior VP Sanaz Hooman and the first GWT Millionaire Reza Mesgarlou. Among their advice is continuing personal development which includes reading books like Think and Grow Rich, turning your car into an audio library where I constantly listen to great training including the Forensic Networker, watching short daily inspirational messages my favourite being "It's Possible" by Les Brown.
In GWT we have the 3 GWT Whys which you need to know clearly the big reasons you are doing this business so you have the motivation to remain consistent and persistent through what our CEO calls the "hills and the valleys" of business. Having a weekly schedule and daily method of operation are important for success. In GWT not only do I have a great team with some wonderful leaders but our GWT Family spirit where we are building one team and one company with the culture no member left behind which definitely is key for success.
Having great tools and systems like the GWT Launch Pad and GWT 5 Minute Napkin Presentation and we have weekly training on Sundays and Tuesdays to stay plugged in for success which we record and I keep on our Millionaires in Motion team channel so all my team can plug into the great trainings over and over. Finally the revolutionary GWT Free Flowing Variable Compensation Plan has a tremendous amount to do with my success!!
Global Wealth Trade Show 2013
I salute those in this industry who have built teams of 10,000, 50,000, 100,000 and more but those are the Michael Jordans of the industry. I have spoken to a number of them and when I ask them how many people could realistically do what they did and their answer is usually about 1% which tells me right away that the majority of people including myself would never be able to do what they did.
Our CEO who was one of those who built teams of 100,000 but he knew that 99% could never do that and so for the average person to have success he needed to create a company with an unrestricted compensation plan with products with high profit margins. That is why in GWT we have been able to have many luxury consultants including myself appear in the top 8000 earners in the world of MLM as tracked by Business For Home with teams of just 500 to 4000 luxury consultants where many of the top earners in the world in MLM have teams of 10,000 to 200,000. We have also created $10K income earners and even $Millionaires in GWT with teams under 4000.
In GWT because we have products people want and desire and we have an unrestricted free flowing compensation plan without ranks that pays to infinity our annual retention ratio, monthly reorder ratio and earnings per distributor which are the 3 keys for residual income run up to 8 times the industry averages. That is why for the last 260 weeks starting from when my team was less than 500 luxury consultants I have been getting paid weekly residual income with GWT.
Sean Haynes in the Carribean
What are you most proud of achieving in GWT?
Three things. First setting my sons up in the business where today their business has 2000 consultants and $Millions in sales volume at the ages of 10 and 7. Second having a team that has been the fastest growing organization in Global Wealth Trade 5 years in a row. Third having been able to expand my business into new markets like the French market in Montreal and internationally to countries like Poland but most especially to the Caribbean.
In the Caribbean they have a great need and desire for the financial freedom that MLM can bring and it is the perfect vehicle and last bastion of free enterprise for the average person to hit a financial homerun. So the need in the Caribbean where the average income of many is under $1000 CDN per month, unemployment is high and pensions are non-existent for many for MLM is very great.
The challenge is with most Caribbean islands having small populations in many cases under 200,000 having to build a team of 10,000 plus in your average MLM company for big success which is a major challenge for most even in places like Europe and North America is definitely not feasible for 99% plus of people in the Caribbean.
From the time I saw Global W Wealth Trade I knew what it could do to help people in the Caribbean and it was one of my 3 GWT Whys to bring this business into the Caribbean islands. I am proud to say today that Global Wealth Trade has been in operation in the Caribbean for 3 + years with a Caribbean Regional Office in St. Maarten with 1,700 Luxury Consultants in 25 islands. For the past 3 months the fastest growing country in Global Wealth Trade has been the Caribbean island of St. Lucia with a population of 170,000.
The income earned by Luxury Consultants varies depending on the effort put in by the consultant but in the Caribbean we have had consultants earn $1000 CDN a month, $1000 CDN a week and even $10,000 CDN in a month. We have had people pay for university, put roofs on their homes, be able to travel and support charities through the business.
This business can definitely be a tremendous solution towards the unemployment situation currently affecting most Caribbean islands and also in allowing people in the Caribbean to create an additional income stream that will give them additional cash flow to improve their lifestyle while purchasing local goods and also bringing Canadian foreign exchange and goods into the islands which increases spending which will be a boost and benefit to the local economies of many islands.
So with GWT dreams indeed can come true and I know myself and the Caribbean Luxury Consultants among whom are some of the top leaders in GWT are very grateful to our CEO, Senior VP and first GWT Millionaire for their belief and support in making this dream for the Caribbean become a reality and our target now is to create many Caribbean Millionaires through the incredible vehicle of GWT.
Contact Details Sean Haynes:
www.gwtopportunity.com/globalcanada