Tina Hu – Jeunesse Global Hits $100,000 Per Month
September 28, 2013
By Tina Williams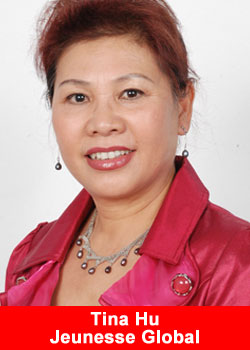 Jeunesse Global announced today that Tina Hu has reached their top level of Double Diamond Director — a level that can pays out $100,000 + a month in commissions.
She embarked on a journey of self-discovery, learning to develop her inner strengths and striving for the best. Hu says that if you can remain positive and persistent, you can attain Double Diamond rank, just like she did.
Tina, Business is such an unpredictable creature; but keep in mind that setbacks are always accompanied by triumps. I believe in optimism – it's a powerful thing. Never give up and continue pursuing your objectives; ignore the negativity of others.
She also continues, I promise to continue doing my best to assist everyone who pursues a future in Jeunesse. It gives me satisfaction to see my team members' aspirations fully realized.

They want to become Double Diamonds and I'm going to help them get there.
Tina says :I went from a struggling entrepreneur to becoming a multi-million dollar earner and a world-traveller.

The most priceless accomplishment of this endeavor is the journey to self-realization and gaining more insights about myself, people and life.

It's Your Dream. No matter how many rejections or how negative people are to me, they cannot stop me from pursuing my dream! Make sure no one can stop you, never give up!
Tina Hu Story
Jeunesse Global is a leading network marketing company devoted to encouraging healthy and youthful living. Their research focuses on adult stem cell technology, telomere support, DNA repair, and nutrigenomics.
Products are made in the U.S.A. and are exclusively formulated for Jeunesse. With a multi-lingual customer service, back office support team, global enrollment system, and in-house programming already in place, the company is fully operational in 20 offices around the world. Its shipping paths extend to over 85 countries.
Jeunesse Global Top Earners est. earnings are as follows:
[private_platinum]
[/private_platinum]