FERI Takeover Of The Emmy Awards
October 11, 2013
By Team Business For Home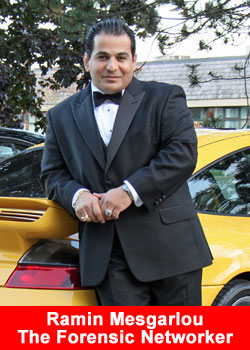 Global Wealth Trade's (GWT) luxury designer line FERI is the designer of choice for the elite shoppers, the red carpets and the global celebrities.
Home of Top Earners as Reza Mesgarlou, Sean Haynes, Rene Liaw among many others.
When you take a look at Global Wealth Trade and its luxury line FERI, you have to admit that they are a very interesting and intriguing Direct Sales company.
In fact most would say they would expect a company such as this to be on some fancy gallery on Rodeo drive in Beverly Hills than in direct sales.
Businessforhome.org first reported on Global Wealth Trade in 2009 and ever since we have been reporting on the progress of this high fashion company and we remain fascinated. WHY, to quote the venture capital companies "it's a sexy story".
Businessforhome.org is not the only media to come to that conclusion as Global Wealth Trade (GWT CORP) has been featured by scores of major international business and fashion media over the past 4 years.
The flow of accolades and coverage comes even as high as being featured on the cover of American Business Journal sharing the cover with Warren Buffet, Canadian business journal, Cover feature on the iconic Beverly Hills fashion magazine Regard (twice), cover features on the fashion design magazine Viva International & globally followed jewelry trade publication Canadian Jewelers magazine (three times) to name a few. GWT's designer lines are now considered the celebrity's designer line with over 120 celebrities from Hollywood, Middle East and Asia.
Most recently at 2013 Emmy awards in Beverly Hills, GWT designer lines once again mesmerized its celebrity clients and the media as they came in scores to see the latest GWT line up at the prestigious Montage Beverly Hills Hotel. Their response was nothing short of astonishing and due to its high popularity, FERI Fashion House is invited to all major events such as TIFF, CANNES, EMMYS, GRAMMYS, OSCARS etc.
2013 Emmy luxury lounge presented by FERI
2011 TIFF (Toronto International Film Festival)
FERI has also received many awards including the prestigious "Luxury Designer Of The Year" in 2011 and more recently "2013 handbag of the year" by Atlanta publisher Viva International. It is safe to say that it will be hard to find a more impressive media page anywhere than the one on GWT Corp.

We asked Ramin Mesgarlou CEO Global Wealth Trade the reason the media page is very impressive with all kinds of celebrities and media coverage. One might think that you must be spending millions in celebrity endorsements:
Ramin: It looks that way but I am proud to say that GWT Corp has not paid one cent for any celebrity endorsements in our history. If we did than by law we must write that these are "paid endorsements". I feel grateful that all our hard work and experience is paying off in a huge way. FERI highly appeals to celebs who very well know and understand fashion and quality and once you appeal to the elite shoppers than you have a winner line up for your independent Luxury Consultants to market.
Global Wealth Trade is a luxury designer with three verticals of products
POSH by FERI – HIGH fashion jewelry, 110 designs, price range $9 – $44

FERI – luxury design leather goods, Time Pieces, jewelry and sun shields, 900+ designs, price range from $30 – $4600

FERI MOSH- Prestige 19 – 21 Karat gold jewelry collection, 200 + designs, price range $2100 – $750,000 +
Emmy award winner Dan Bucatinsky showing off his
FERI at the FERI-Emmy luxury lounge in Beverly Hills
Ted: Ramin you must get this question a lot and that is why Direct Sales? With these popular and proven designer products you obviously have a great retail opportunity so why MLM?
Ramin: Ted you are correct and I do get this question a lot. In fact I even get this question from MLM lawyers who think we are too prestigious to be using this method of distribution. The response to this question is three folds:
I believe MLM is a prestigious profession hence a perfect home for our prestigious lines. This industry is the last bastion of free enterprise and the last chance for the average person to hit a financial home run. In fact I will go as far as saying that Direct Sales will ultimately save the global economy from collapsing, this is how important this profession is.

Our business plan from day 1 was to become a BILLION dollar corporation in 10 years. Our competitors from Europe such as LV, GUCCI, and TIFFINAY etc who have achieved this feat are over 100 years old. For us to be able to achieve this monumental target we need to reach the global market quickly. Direct Sales allowed us to expand to 81 countries in the first 8 years.

Direct Sales industry needed something different than the status quo. According to DSA there are over 2000 companies operating in MLM and 97% are health and wellness and high tech. In fact I declare that on a long run no company in Direct Sales is getting bigger and the competing companies are simply trading customers like Coke and Pepsi. We offer a definite home/internet based business alternative for entrepreneurs.
GWT's Prestige line FERI MOSH is regarded by jewelry trade experts from around the globe to be the best of the best even beyond the luxury bench marks such as Cartier and Tiffney due to its exclusive 19 Karat and 21 Karat gold composition, elaborate designs and calibrated diamonds. See the award winning 12-minute short film MODERN LEGEND – THE FERI MOSH STORY.