Malaysia To Play Key Role In Qnet's Quest To Achieve US$1 Billion Revenue
October 17, 2013
By Team Business For Home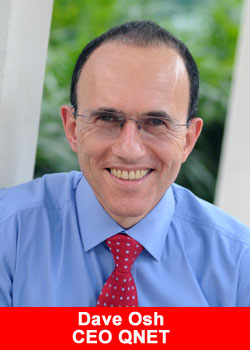 Malaysia will play a key role in Qnet's expansion target of becoming among the top 10 global direct selling companies with an annual revenue of over US$1 billion by 2018, Managing Director JR Mayer said.
He said Qnet, which markets a variety of products including wellness, personal and home care, weight management and holiday packages, currently ranked top five in the region and top 30 globally with an annual revenue estimated at US$500 million.
Malaysia is among the top 10 revenue contributors to Qnet and will be one of the key components that will contribute to the company's overall growth as many young Malaysians are excited on their prospects with the company, he told Bernama in an interview at the company's regional office here recently.
He said the direct selling and multi-level marketing industry was very strong and vibrant in Malaysia against a backdrop of a good legal infrastructure and support from the government which recognised the importance of the industry to economic growth.
Malaysia will be an important country for us as the economy has bucked the global trend to show a healthy increase last year.
Malaysia's vibrant business environment, the multi-cultural population and its image as a prominent tourism destination in South East Asia will all help us to establish a solid presence here, he said.
Describing the growth of the industry in Malaysia from zero to hero taking into the account the early days when direct selling was little known to the current booming scenario, he said:
With just a small population of 29 million people, Malaysia has done remarkably well to be ranked as the eighth largest direct selling country in the global market worth US$3.3 billion in terms of revenue last year.
We are optimistic that there is still room for growth in the industry.
Qnet, the flagship subsidiary of the QI Group founded in 1998 by a Malaysian entrepreneur, Datuk Sri Vijay Eswaran and a Filipino entrepreneur, Joseph Bismark, is one of Asia's leading direct selling companies and e-commerce provider in more than 100 countries.
Embarking on aggressive development plans for Malaysia, he said Qnet constantly re-innovated itself such as introducing new incentives in the commission or compensation plans to keep up with the pace of the industry as well as attracting new distributors.
He said the upgraded compensation plan, introduced two years ago, has been a great success in attracting new distributors due to the attractive new features introduced in the plan.
He said the company was constantly launching new products and working together with the company's research and development team and existing suppliers for new ideas.
Asked on the stiff competition in the local direct selling market, he said competition was good as it pushed a person to excel and motivated a person to give it all so they can achieve the greatest results possible.
More competition in this industry means that the taste of success becomes so much sweeter.
After all, you would have to put in your blood, sweat and tears into making it work, he said.
Celebrating its 15th anniversary, he said the company recently opened its regional office in Kigali, Rwanda, to manage Eastern and Central Africa, and was also considering opening a similar office in Western Africa.
Additionally, QNET has also ventured into the vast European market and would soon open its office in Germany.