QNET Marks 15th Anniversary With 15 Community Events
October 4, 2013
By Team Business For Home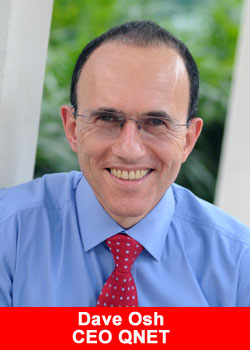 Prominent Asian direct selling company, QNET, celebrated its fifteenth anniversary by getting its staff involved in 15 different community development projects around the world.
Driven by the employees in various QNET offices, the fifteen events kicked off a new campaign called Touching A Billion Hearts that was launched by Vijay Eswaran, the founder of QNET. Eswaran said that instead of simply setting QNET's sights on becoming a billion dollar company, he wants to be a company that touches a billion hearts.
"The financial goals will follow," he said in a speech to mark the fifteenth anniversary. "Over the years, we have surmounted everything, all the doubters that came along the way and we are here today! We know we already have touched many through the people that have heard of us and the people that have benefited from our commitment to improving communities. Now we have set a new, aspirational goal of touching not nine million, not one hundred million, but one billion hearts, over the coming years.
"The way we will touch a billion hearts will be in any way, subtle but sure," he added. "Not conquering, just touching hearts so people know that they're not alone. As we grow stronger and bigger, we will touch more and more hearts through not just network marketing, but in everything we do."
The projects involved fundraising for a school for children with development disorders in Hong Kong, setting up an educational toy library for the aboriginal Orang Asli community in a village in Malaysia, donation of QNET's best-selling water purification system to a labour camp in Dubai, basic computer training program for a group of under privileged boys in a municipality school in Bombay, India, a trip to Siam Ocean World for 30 young girls from an orphanage in Bangkok and several others in Jakarta, Colombo, Koh Samui, Manila and Singapore.
Touching a Billion Hearts is not a CSR programme," Eswaran said. "It is a legacy campaign that includes multiple factors. We reinforce our focus on touching people's lives through our products, we go the extra mile to serve our customers, we enhance our technology platform to provide a delightful user experience, we give back to the communities that we operate in. Touching a Billion Hearts is about the various things QNET can do to impact and enhance someone's life as a business and as a corporate entity."
8 September 2013 marks the fifteenth year since QNET was born and all fifteen events were held during the anniversary week of 7 to 14 September 2013, titled the Touching A Billion Hearts week. Photos of the fifteen events were posted on the Touching A Billion Hearts Album in QNET's official Facebook page and featured on the SlideShare presentation entitled QNET Celebrates 15 Glorious Years.
About QNET
As a prominent Asian direct selling company, QNET provides a wide range of life enhancing products that are offered through its proprietary e-commerce platform to customers and distributors in over 100 countries. The company also has some 25 offices and agencies worldwide, and more than 50 stockists, apart from localised operations or franchisees in a number of countries.
QNET is a member of the Direct Selling Associations of Malaysia, Singapore, and the Philippines. QNET is also a part of the Hong Kong Health Food Association and the Health Supplements Industry Association of Singapore among others.
QNET is active in sports sponsorships around the world, including Formula 1, football, badminton and more, due to the company's strong belief that the drive, passion and teamwork of sports mirrors that of QNET.
For more information, please visit QNET's website at https://www.qnet.net.