Amway $38 Million New USA Plant On Schedule
November 6, 2013
By Team Business For Home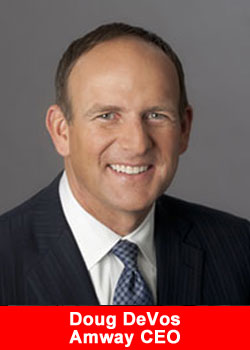 The Amway Corp. will open a new plant in Quincy, Washingtion, USA. next spring where it will manufacture concentrate from botanical plants grown in Washington, California, Mexico and Brazil.
Direct sales giant Amway is on schedule toward opening a $38 million botanical concentrate manufacturing plant in Quincy in six months.
Construction began in August 2012 at the 48,000-square-foot facility on 12 acres Amway bought from the Port of Quincy.
The plant will replace the extraction and concentrate operations of the company's plant in Lakeview, Calif., east of Los Angeles, that distills alcohol concentrate from milled herb and botanical plants harvested at Amway farms in Washington, California, Mexico and Brazil.
"The crops are grown according to organic standards, harvested and minimally processed prior to shipping to the extraction facility," said Susan Youngquist, a program manager for Nutrilite, a division of Amway. Proprietary concentrated ingredients from the plant go into Amway's Nutrilite vitamin and nutritional supplements sold around the world, she said.
Processing at the Quincy plant will be under "tight quality controls following proprietary processing conditions to provide the optimal nutrient recovery and product quality for our customers," Youngquist said. "This facility is extremely important to the Nutrilite brand and Amway Corporation."
Amway owns Trout Lake Farms, which grows organic herbs near Trout Lake and Mount Adams and near Ephrata, east of Quincy. The company has a milling plant in Ephrata.
Echinacea augustafolia and echinacea purperea, alfalfa, parsley and nettle root are the main plant material that will be processed at the new Quincy plant, said Dan Hanigan, plant manager. Others include blueberry, oregano, peppermint, valerian and dandelion.
The plant will convert about 4.4 million pounds of milled product into 440,000 pounds of concentrate annually, he said. From there it is used in tablets and softgel capsules made in Buena Park, Calif., he said.
Quincy was chosen for the new plant because of its proximity to Trout Lake's Ephrata operations and infrastructure and energy prices, Hanigan said.
The Quincy plant will employ 50 to 60 people, he said. Forty will be technical positions starting at $16 per hour, he said. Hiring is on schedule with offers made to 20 technicians who will start in February. The company plans to hire 18 more in May, he said.
The plant will begin production trials in May while the Lakeview plant is still operating, Hanigan said. The Quincy plant will ramp up to full operations in the first or second quarter of 2015 and the Lakeview plant will be shut down, he said.
Its granulation operations will move to Buena Park and its powder operations to Michigan where cosmetics are made, Hanigan said. Lakeview's equipment is old and its farming operation is in an area surrounded by commercial real estate that's becoming harder to farm, he said.
The Quincy plant is part of $185 million in U.S. manufacturing expansion announced by Amway early in 2012 to meet growing global demands for its Nutrilite brand vitamins, mineral and dietary supplements. Nutrition product sales in 2011 accounted for 45 percent, or $4.7 billion, of Amway sales.