Empower Network Hits $1,5 Million Per Week
November 21, 2013
By Team Business For Home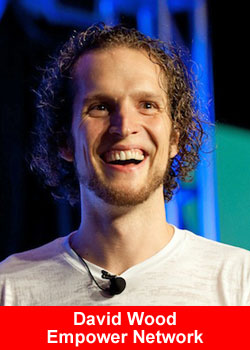 According to David Wood – CEO Empower Network – Facebook page the company has:
Grown from $1.5 million a month, to $1.5 million a week in sales.
Grown from around 50,000 customers, to over 197,000 customers.
Grown from 5 employees, to over 105 employees.
Recently Empower Top Distributor Shaqir Hussyin has hit the $1 million in combined earnings mark.
Empower Network hosts one of the largest blogging communities and publishing platforms online in addition to providing educational training products and services to online marketers and start-up, home-based and small businesses. Empower Network offers a program through which affiliates can earn commissions off the sales of Empower Network products.
Headquartered in St. Petersburg, Fla., David Wood and David Sharpe founded Empower Network in 2011 to empower small-business owners to make money online without dealing with the technical, marketing, payroll and overhead challenges that frustrate many entrepreneurs and small-business owners.
Empower Network's signature product is a viral blogging system geared toward helping its 30,000 affiliates and 70,000 members use the Internet to grow their businesses online, taking them from disenfranchisement to full self-empowerment through the use of blogs, direct sales and online marketing.
Visit www.empowernetwork.com for more information.
Empower Network Top Earners est. income for 200+ distributors:
[private_platinum]
Empower Network Disclaimer:
The amount of time it takes to achieve the stated income varies by participant. The estimates provided above were the result of an informal sampling of Empower Network participants. Basically, it takes hard work to make substantial income in this business. The income statistics above are for all active affiliates world wide for the date specified above, are based in US dollars, and update daily.
An 'active affiliate' is defined as someone who: 1) Has executed an affiliate application; 2) has an active membership with a minimum of the Empower Network blogging platform; 3)has received at least one direct commission in the last 30 days; 4) has either an approved merchant account, or integrated a payment method in the members area; and 5) has not been terminated, or chosen to discontinue for any reason.
[/private_platinum]