Cedrick Harris – MLM Top Recruiter Joins Organo Gold
January 6, 2014
By Team Business For Home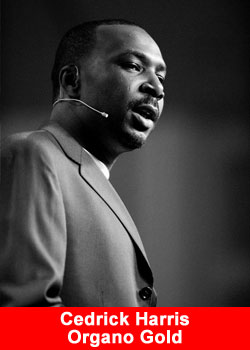 Cedrick Harris, one of Network Marketing's Top Recruiters, joins Organo Gold.
Cedrick Harris is known in the industry of Network Marketing as one of the few people that has recruited hundreds of people and has been #1 recruiter in various companies.
From his run back in My Lead System Pro in 2008, were he was the top income earner and recruiter for 2 years straight, he grow in MLSP to being the #1 recruiter in Numis Network with over 70% of the entire company in his organization.
As he built his online brand he became the Co-Founder of ImToolSuite and One Up Marketing. Following his passion of helping network marketers succeed, he has also spoke on stage in the internet and network marketing arena at events like More Heart Than Talent with Jeffery Combs and The No Excuses Summit.
Cedrick quickly became the #1 recruiter again and hit the top rank of 5 Star Ambassador in a record time of 6 months. Leading his team, within 18 months they were able to produce over $42 Million in revenue for his former company and create multiple 6 figure earners.
On April 1 2013 Cedrick decided to resign his position. In the last 8 months, Cedrick says he looked at 47 different companies and took countless plane flights to find a home for him and his team.
I wanted to make sure I didn't have to rebuild all over again. And after truly understanding that everything rises and falls on leadership, I was looking for leadership first, and not looking at compensation and product as the first two things on my list.
Cedrick stated that since he left the Mortgage industry in 2006, he has never had the RIGHT mentor that could guide and teach him exactly what to do.
He says network marketing should be treated like a business, and most people treat it like a hobby and don't use business minded principles first. You should be able to determine what will happen in a business if you are taught the right way and have those numbers accurate within a 5-10% margin of error as he learned from his mentor.
So after looking and looking and looking, he decided to join Organo Gold due to the undeniable leadership and a product that 70% of the entire world over the age of 18 consumes. Cedrick says after spending a lot of time with the #1 income earner in the entire world of MLM Holton Buggs, his leadership was totally impeccable and I knew if I learned from him, I could go from being good to being great!
Watching 40, 6 figure monthly income earners be produced in a 5 year time frame with 35 of them never having major success, thats something that no one can deny.
Cedrick says… I have won the top recruiter award in numerous companies, the MVP, Top Business Builder and all that, but there was no fullfillment because I wanted to win the championship. It's the same feeling that Lebron James had in Cleveland which is why he joined the Miami Heat even though alot of people didn't like it.
But after surrounding himself with the right role players, in 3 years he has 2 rings! He also stated, After looking at the coffee industry hard, you just can't deny the power. I have never sold any product in network marketing that was an addiction and that 70% of the entire world over the age of 18 already consumed.
It warms my heart knowing that if 70% of the world already drinks your product, even if a rep decides to quit the business, there is a great chance they will still consume my product, I like those odds! Cedrick also stated that being the #1 recruiter isn't all that it's cracked up to be.
Every true top income earner I have met has never recruited the numbers I have. This means to me, you build in depth, find leaders, build leaders, and when you do that, you build a legacy! There is no one in network marketing better to teach me that than Holton Buggs.
On Thursday night during his first pre-launch call, Cedrick and a select group of his leaders were able to have 1,143 people on this call, which proves that people are hungry for leadership and want to change their lives! After a significant amount of meditation, attending masterminds with 7 and 8 figure income earners, I know Organo Gold is the place for me to grow and help my team become a championship team.
And when you combine the #1 recruiter with the #1 income earner in the world, I promise you lives will be changed, period, space, space!
Contact Information For Cedrick:
www.facebook.com/cedrickharris
Email [email protected]
Direct Number 813.407.2743
Pre-Recorded Launch Call 805.399.1099 pin 750307