Nu Skin Receives Multiple Honors At Direct Selling News Global 100 Celebration
April 27, 2014
By Tina Williams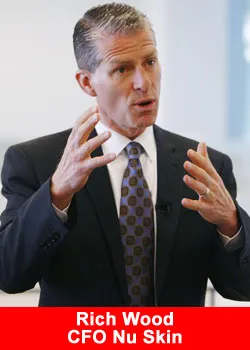 Nu Skin Enterprises received three separate awards from Direct Selling News (DSN) at the publication's annual awards banquet in Dallas, Texas.
Nu Skin president and CEO, Truman Hunt, was recognized with the Bravo Leadership Award, while the company was honored for its impressive 49 percent annual revenue growth in 2013. The company was also recognized for its jump to 7th on the DSN Global 100 list.
"It is an honor for Nu Skin to be recognized again by Direct Selling News for its continued growth and leadership in the direct selling industry," said Steve Lund, Nu Skin's board chairman.
"The Nu Skin family has long recognized Truman Hunt for his vision and leadership, and we applaud Direct Selling News for honoring his leadership role in the industry as well. As we celebrate Nu Skin's 30th Anniversary year, we have established a solid foundation for growth and look forward to achieving our long-term vision of becoming the world's leading direct selling company."
The awards were presented in front of hundreds of industry executives at the Direct Selling News Annual Global 100 Celebration in Dallas, Texas. This year marked the fifth year the magazine has conducted the research and compiled the revenue-based rankings. Direct Selling News will feature Nu Skin in its June 2014 awards issue.
Previously, the company received a humanitarian Bravo Award for its Nourish the Children initiative for its efforts to address the issue of hunger and malnutrition.
About Nu Skin Enterprises, Inc.
Nu Skin Enterprises, Inc. demonstrates its tradition of innovation through its comprehensive anti-aging product portfolio, independent business opportunity and corporate social responsibility initiatives. The company's scientific leadership in both skin care and nutrition has established Nu Skin as a premier anti-aging company.
The company's anti-aging products feature the new ageLOC line of products including the ageLOC® TR90™ weight management and body shaping system, ageLOC® R2nutritional supplement, and ageLOC® Transformation daily skin care system. A global direct selling company, Nu Skin operates in 53 markets worldwide and is traded on the New York Stock Exchange.