Kim Hui – Jeunesse Global Hits $400,000 Per Month
May 25, 2014
By Team Business For Home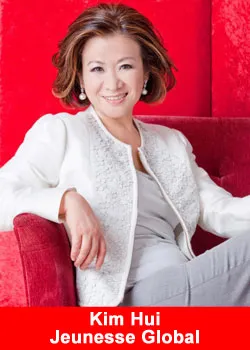 Kim Hui, double diamond director at Jeunesse Global born in China and raised in the USA, has hit the $400,000 or $4,8 million in annual earnings mark according to several well informed sources.
In 2013 Jeunesse reported record sales revenue of $257 million.
Growing up, Kim witnessed her parents struggle to find work here in the United States, and made a personal vow to never go without.
Then, after focusing on getting a good education, Kim became inspired by her husband's charity work and dedication to the community. She embarked on a journey of self-discovery, learning to develop her inner strengths and striving for the best.
Kim says :I went from a struggling entrepreneur to becoming a multi-million dollar earner and a world-traveller.
The most priceless accomplishment of this endeavor is the journey to self-realization and gaining more insights about myself, people and life.
It's Your Dream. No matter how many rejections or how negative people are to me, they cannot stop me from pursuing my dream! Make sure no one can stop you, never give up!
Kim Hui Story
Jeunesse is a leading network marketing company devoted to encouraging healthy and youthful living. Their research focuses on adult stem cell technology, telomere support, DNA repair, and nutrigenomics.
Products are made in the U.S.A. and are exclusively formulated for Jeunesse. With a multi-lingual customer service, back office support team, global enrollment system, and in-house programming already in place, the company is fully operational in 20 offices around the world. Its shipping paths extend to over 85 countries.
Jeunesse Global Top Earners est. earnings are as follows: