Youngevity Recaps Highlights Of Leadership Summit Convention
October 1, 2014
By Nicole Dunkley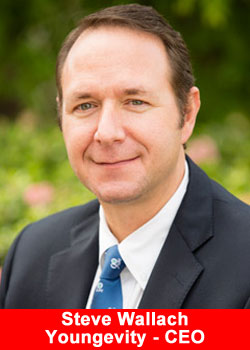 Youngevity Essential Life Sciences, a wholly-owned subsidiary of Youngevity International, Inc., welcomed over 1,500 distributors and customers from around the globe to Youngevity's first ever Leadership Summit Convention, which was held on September 25th through September 27th at the Red Rock Hotel in Las Vegas, Nevada.
At the Convention, speakers included Youngevity® celebrity brand ambassadors, Marilu Henner, Danny Glover, World Champion Natural Body Builder, Gene Nelson, former NBA All-Stars, Theo Ratliff and Mike Glenn, as well as special guest presenter Michael Bernoff, and nutritional pioneer and Youngevity founder Dr. Joel D. Wallach, BS, DVM, ND.
Convention highlights included:
Youngevity celebrity brand ambassador, Marilu Henner, inspired an audience of over 1,500 people with advice on how to live healthier, more active lifestyles.

Actor, producer and humanitarian, Danny Glover was introduced as our newest Celebrity Brand Ambassador. Mr. Glover's film credits include Lethal Weapon, The Color Purple, Places in the Heart, and an Emmy nominated portrayal of Nelson Mandela in Mandela.

David Ori, VP of International Development, announced international expansion plans which included Latin America, Israel, Russia, Eastern Europe, and the Pacific Rim.

Ricardo Spilman, Director of Sales and Operations for Eastern Europe provided an update on the Company's launch in Russia which he expected would take place in November of this year.

Susan Azocar, Director of Sales and Operations for Latin America provided an update on the Company's launch in Mexico which she advised she expected would take place in November.

The company's new website was previewed and is scheduled to be launched by mid-October. Youngevity has been investing heavily in technology and to the appreciation of its distributors this new web-based technology provides a seamless interface that integrates a multitude of processes that are currently found on separate sites.

MKCollab announced new Sale section to website, plus launches new fall jewelry with the fall collection expected to be available on Oct 15th.

Special guest presenter, Michael Bernoff, President and Founder of the Human Communications Institute, provided an inspirational and empowering speech to the Youngevity audience on Living Life Beyond Your Limits.

CFO Dave Briskie and Director of Youngevity Be the Change Foundation, Lisa "Sunshine" Briskie announced the launch of Random Act of Kindness Day, which will be on the 1st of every month, plus the addition of My Story Matters to the foundations charitable recipients.

CFO Dave Briskie announced coffee plantation updates including the recent opening of an abandoned school for the families of the plantation workers. Youngevity Be the Change Foundation is expected to provide distributor donated clothing and shoes to the families of its plantation and those in the surrounding communities.

The Greatest Networkers in the World written by New York Times bestselling author John Milton Fogg was released at the convention and hundreds of copies were sold to distributors after its announcement. The book tells the compelling stories of twenty-one top Youngevity distributors.

Introduction of new products, including:

Pollen Burst™ Plus Gushing Grape a gluten-free, all-natural energy drink with SOD and absorption boosting nutrients.

Youngevity's GOFoods line introduced an Apple Cinnamon GoFood Bar.

Youngevity launched the new gluten-free and soy-free Slender FX™ Meal Replacement shakes, Chocolate Fudge and French Vanilla, which includes a new advanced protein blend.

Youngevity launched the two newest additions to the Imortalium® product line, XeraTest™ and XeraFem™, advanced all-natural hormonal support for men and women.

Youngevity Essential Oils line which the company advised has grown exponentially since the beginning of the year, announced the new Essential Oils CEO Mega Pak™ and launched 8 new, specially-crafted essential oil blends.

Heritage Makers brand unveiled a new technology that will allow it to compete in the 7 billion dollar greeting card industry. The all-digital based system allows users to develop greeting cards online and then have them mailed directly to their loved ones.
"Our distributors and customers were excited about the new product announcements and the educational mentoring sessions hosted by some of the most successful leaders within the elite ranks of Youngevity," said Bill Andreoli, President of Youngevity. "We proudly welcomed Youngevity's newest celebrity brand ambassador, actor, producer and humanitarian, Danny Glover to our growing Youngevity family."
"This was Youngevity's first ever Leadership Summit and it was the ideal setting to recognize and appreciate all of the talented and remarkable people that are driving our growth," said Steve Wallach, CEO of Youngevity. "Our distributors and customers are very enthusiastic about Youngevity's international expansion plans and the new product launches to further strengthen our diverse product portfolio. Youngevity has an impressive growth rate over our 17 year history and we continue to experience an accelerated number of distributors and customers who are joining the Company each month."
About Youngevity International, Inc.
Youngevity International Inc., is a fast-growing, innovative, multi-dimensional company that offers a wide range of consumer products and services, primarily through person-to-person selling relationships that comprise a network of networks. The Company also is a vertically integrated producer of the finest coffees for the commercial, retail and direct sales channels, and has launched a new Green Coffee sales division to leverage its recently acquired coffee plantation and Green Coffee processing plant in Nicaragua. The Company was formed after the merger of Youngevity Essential Life Sciences and Javalution Coffee Company in the summer of 2011, and changed its name to Youngevity International Inc. from AL International, Inc. in July 2013.