Stormy Wellington Reaches Regional Director with Total Life Changes
December 10, 2014
By Team Business For Home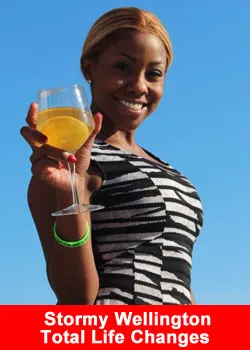 In just five weeks, Stormy Wellington, renowned Internet marketer, has reached the rank of Regional Director with Total Life Changes.
Stormy was introduced to Total Life Changes by Kenny & Chante Lloyd (Global Directors in TLC from Houston, Texas) and joined TLC on October 30, 2014.
Stormy has quickly made her way up the ranks. "I believe in moving fast… the speed of implementation creates the speed of your success. I first launched my business through a series of conference calls. Then I planned and implemented Iaso™ Tea parties, where I created a SkinnTea movement," Stormy explains.
Her steps to success include teaching her members to "know the number in order to hit the number." Stormy's first short-term goal was to get binary team qualified and then sell the heck out of Iaso™ Tea and NRG to customers.
"This is all part of the Retail to Recruit System, inviting others to experience the results from these amazing products. Getting them on these products as customers first and then sharing the business opportunity to help them financially. I want to help as many people as possible to reach the Director Rank and earn an extra $2,000 a month and beyond," adds Stormy.
What sets Stormy apart from many other networkers is her ambition, honesty and professionalism. She welcomes prospects to her home to sample the tea and nutrition products and follows up with daily calls to answer questions, announce her team's progress and plans for success. Meeting people in person, having real conversations with them, even over the phone, and following up helps her to determine who is serious about the business.
She focuses on those individuals and wants to help them reach six figures and beyond. "I will earn six figures a month with TLC and help others achieve greater health and wealth. TLC is a company for the masses. I have learned that this industry has more amateurs than professionals that just want extra income, and somewhere along the line, these other companies forgot about these kinds of people! Here, the amateur can have great success and the professional can have great success.
Basically WE all can win! This is what has kept me in the industry this long; the ability to help others. TLC has a simple strategy with high impact products that work. The products offer immediate gratification. The company implements a very lucrative compensation plan and guess what, I'm having fun again! I haven't had fun in the industry in a looooong time and that's a huge plus. I wake up everyday excited about my life and my future!
Stormy understands that Total Life Changes is a company designed for the average person. Anybody with desire, faith, and a solid work ethic can succeed. She teaches others that it doesn't take much skill. "It just takes Heart and Hustle! Don't miss this opportunity to have success in this industry. TLC is restoring hope and belief," Stormy concluded.
About Total Life Changes
Total Life Changes maintains an active vision of selecting and providing superior products that have a lasting effect on consumer's health while providing these same customers with an opportunity to CHANGE their socioeconomic status through a rewarding binary compensation plan.